NEW YORK, N.Y. (September 14, 2018) — Yamaha today unveiled the MODX - a line of compact, lightweight, hybrid synthesizers inspired by flagship Yamaha synth technology to offer dynamic, expressive music-making at an affordable price.
This successor to the popular Yamaha MOXF line will be available in three models – MODX6 (61 semi-weighted keys), MODX7 (76 semi-weighted keys) and MODX8 (88 weighted and graded keys) – to fit the needs of synth players, keyboardists and pianists alike.
The power of the MODX offers musicians unlimited potential to create their own unique sound. The MODX sound engine draws on the same technology powering the flagship MONTAGE synth: AWM2 (Advanced Wave Memory 2) sample and synthesis engine plus a pure FM-X (Frequency Modulation) synthesizer modernized for dynamic synthesis and complex sound design. The MODX also incorporates Motion Control, a highly programmable control matrix for dynamic sound interaction. This gives musicians unparalleled ability to direct and manipulate their sound by interacting with their Performances in fine detail.
The MODX expands on the MOXF by offering a wide array of control and workflow elements. Seamless Sound Switching has been introduced in the tradition of MONTAGE to allow switching between Performances without any sound cutoff. MODX has DSP power with up to 13 simultaneous dual insertion effects and 3 system/master effects. MODX polyphony has been increased to 128 notes of stereo AWM2 (sample- based) plus 64 FM-X (Frequency Modulation synthesis.) The control panel now includes four faders, multi-function Super Knob and a touchscreen display.
At the same time, the MODX is housed in a lightweight body that makes it easy to carry to sessions, gigs and rehearsals. Also, like its predecessor, the MODX comes bundled with Steinberg Cubase AI DAW software for creating and producing music on the computer.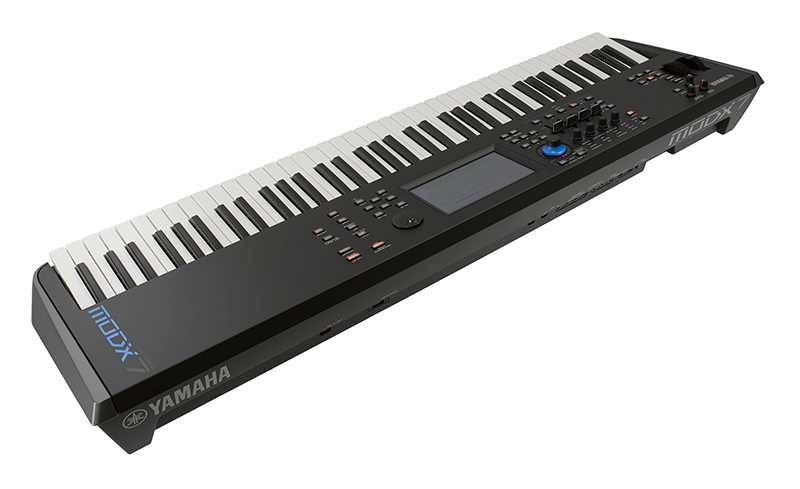 Synth players and sound designers will appreciate the deep programmability of Motion Control and the MODX FM-X synth engine. The versatility of the MODX and the wealth of onboard keyboard, synth, brass and strings sounds will appeal to keyboardists needing a wide variety of sounds, and 88 weighted-action keys, designed with the benefit of over 125 years of Yamaha piano craftsmanship and over 40 years of synth innovation, will suit any pianist.
"MODX sets a new standard for mid-range synthesizer sound, control and mobility," said Nate Tschetter, marketing manager, Yamaha Synthesizers. "With advanced flagship technology in a lightweight, accessible package, MODX excels on stage, in the studio and in a wide array of creative situations."
Pricing and Availability
The Yamaha MODX6 (MSRP $1,649), MODX7 (MSRP $1,899) and MODX8 (MSRP $2,399) are scheduled to ship September 27.
For more information, please visit http://4wrd.it/MODX