It's been a short few years since Carvin Corporation, founded in 1946 by Lo

wel C. Kiesel, split the business into Kiesel Guitars and Carvin Corporation which continued to operate Carvin Audio and Carvin Amplifiers. But in 2017, Carvin Audio shocked and saddened its loyal and faithful customers by announcing its factory closure. Thankfully, only a few short months later in the beginning of 2018, Carvin Amps & Audio announced they were relaunching.
One of the first, all-new, products to emerge from the re-energized Carvin is the X1 Tube Preamp Pedal, designed to bring back the legendary Carvin X100B amplifier tone in an all-tube pedal design. The classic X100B amp was originally released in the '80s and developed a loyal following thanks to famous players such as Frank Zappa, Steve Vai, and Craig Chaquico.
Category

Value

Rating

Features

20%

Usability

25%

Sound

25%

Documentation & Support

10%

Price

20%

OVERALL RATING = 3.6 Stars, which earns it a
WIHO Award!


3.6 stars or better: Outstanding, WIHO Award




3 stars or better: Worth considering




2 stars or better: Suited to specific needs




1 star or less: Not recommended
Sporting a familiar visual interface and equally familiar, classic Carvin amp tone, it's hard not to fall in love with the X1 Tube Preamp pedal. And it also makes us wonder, just what will Carvin Amps & Audio surprise us with next?
Features
The design criteria for the X1 pedal, as Carvin Amps & Audio states, was to deliver the classic sounds of the X100B amplifier in a compact package with added, modern connectivity—goals we feel were easily achieved in this pedal.
Unlike so many preamp-type pedals that include one tube, the X1 pedal incorporates two 12AX7 preamp tubes set up in four stages, just as found in the original X100B amplifier.
The X1 pedal features two independent channels plus a master volume control. The first is a rhythm channel for your clean tones, while the second is a lead channel that goes from classic overdrive to blistering hot gain with the addition of a gain switch. The Bright switch for the rhythm channel adds additional sparkling shimmer to the clean tones.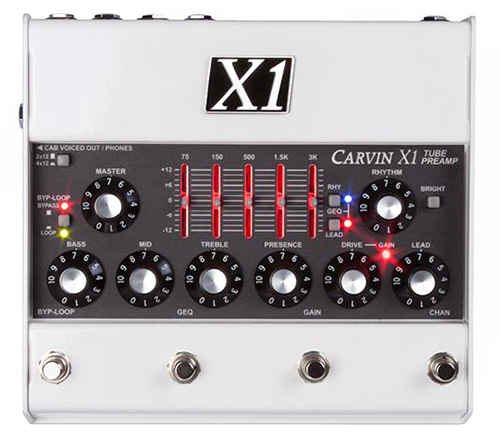 The tone controls for the bass, mid, treble, and presence use the original circuits of the X100B amp. And if all that was not enough, the pedal also sports a five-band EQ with +/- 12dB of boost/cut to further sculpt your tone, add some warmth to single coils, add some higher end brightness to vintage humbuckers, and so on. The graphic EQ's backlighting appears in different colors based on channel selection (red for lead channel and blue for rhythm channel). When the Graphic EQ is engaged, the LED lighting inside the slots will add yellow in the center area, orange-yellow on lead channel or blue-green on rhythm channel.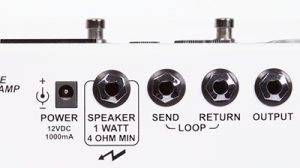 The pedal includes a number of output options. Of course, there is the standard mono out which can go to another pedal, directly to the front end of an amp, or back to an effects loop return. Now this is cool for practicing on your own: the pedal features an internal 1-watt amp that enables you to connect (via a TRS cable) a speaker cabinet directly to the pedal!
The pedal also includes a cabinet-voiced output for plugging directly into an audio interface for recording to a DAW. The active cabinet voicing emulates the response of a 2x12 or 4x12 guitar cabinet. You can alternately connect headphones for quiet practice. And finally, there is even an effects loop!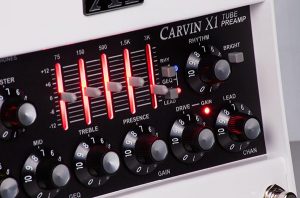 The X1 is not a small pedal, measuring 3.875" H x 8.687" W x 8.312" D and weighing 3.9 lbs. The pedal requires DC power, and a 12V DC center positive adapter is included. The X1 pedal provides true bypass operation.
Usability
The X1 was easy to start up and start playing. It had the familiar interface of an amp—one with a clean interface layout. With a little help from the manual, it was straightforward putting it to use in each of the different settings the pedal can facilitate, whether be in front of an amp, connected directly to a speaker cabinet, in front of a computer audio interface, or as a standalone device with headphones (or straight into a PA system). Connecting other effects pedals via the send and return effects loop was no different than an amp, and we're glad that a pair of quarter-inch jacks are provided (some pedals include a stereo TRS jack requiring use of special insert cables).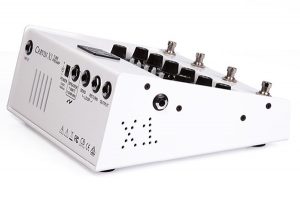 The assembled-in-the-USA unit itself was very study and the knobs, buttons and plugs all seemed to be high quality. And there were no problems knowing whether we were on the clean or lead channel, or whether the EQ was engaged, thanks to the multicolored backlighting within the unit.
The knobs for the bass, mid, and treble were useable throughout their sweep. The volume knobs for the lead and rhythm channels were more of linear increase with no sudden surprises. The added master control volume allowed for fine tuning the balance of tone and volume for each channel while tailoring the total volume to the setting.
The unit was very study, with nice grips on the bottom. This thing isn't tiny, but is sized appropriately given that you're getting a preamp, a mini practice amp, an overdrive pedal, a distortion pedal, and an EQ in one box.
Sound
We tested the unit with a number of different guitars including Stratocasters, Telecasters, Les Pauls, a P90 equipped semi-hollow body, and Danelectros with lipstick pickups. Although we didn't have a X100B amp to compare it to, there are plenty of YouTube videos demonstrating the monstrous tone of that amp, not to mention all the classic songs in our music library. Carvin Amps & Audio did a great job capturing their own classic tone and stuffing it onto your pedalboard.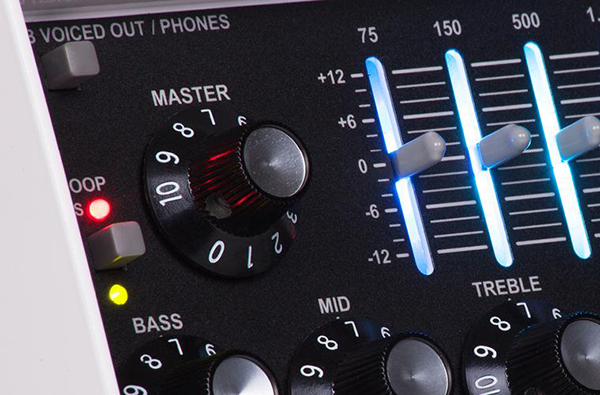 First, we tested the X1 pedal in front of a few amps (Blackstar HT20 with Weber Blue Dog speaker and a re-issued Supro Dual-Tone) and immediately noticed an overall improvement in tone similar to what would happen with a buffer or clean boost that doesn't color one's tone. This was most pronounced with the single-coil equipped guitars. Alternately, the pedal could be used to drive the amp at lower volume or add drive or distortion at lower volume. We were able to get glassy single-coil tones with added clarity and chime, and the X1 was also excellent for expanding the tones of a somewhat thin and harsh bridge pickup. The Mid tone control, when cranked up, worked very well as a mid-boost, taking our single-coil bridge pickup into more humbucker territory. With lipstick pickup-equipped guitars we were able to beef up the punch and sustain (which can be lacking). Humbuckers sounded stellar all along the sonic gamut, and delivering screaming high-gain tones that could be used in any style of heavier music.
The lead channel's gain was extremely versatile, enabling us to go from textured harmonics with mild tube overdrive to increased harmonics and sustain to full blown distortion. We completely agree with the manual's commentary on tone: "With the gain off, the drive control has the range to go from a warm clean sound, to a bluesy breakup, to a dynamic crunch overdrive. Gain on increases the amount of drive available, allowing thick distortion harmonics while still retaining 12AX7A tube dynamics. Hi-gain sounds are available without the need for additional pedals that can limit dynamics." In addition, we also found that cranking the gain and rolling down some of the tone achieved near-fuzz-like tones.
Plugging directly into a speaker cabinet with 1-watt of power produced bedroom level sounds that made playing at home or recording very practical. In a pinch, you could probably mic a cabinet and play a gig like this, though the sound isn't in the same ballpark as running this pedal in front of a nice guitar tube amp.
If you are a slide player, you will really enjoy the sustain achieved from the lead channel without the need for a separate compression or drive pedal. Notes rung forever when unleashing our inner bluesman.
Finally, we decided to see how this beast fairs with a bass guitar plugged through our DAW and we were again impressed. This isn't the first pedal designed for guitarist that could also be useful for a bass guitar, and in fact many legendary bassists achieved their trademark sound playing through guitar amplifiers. We were able to clean up some muddiness and increase the midrange presence thanks to the five-band EQ. We could see this as a very useful pedal for recording both guitars and bass.
The two cabinet simulations (2x12 and 4x12) were really hard to differentiate sonically regardless of what channel we were on or what guitar we used, and they didn't achieve the quality of today's amp sims. But again, it really didn't detract from all the other great features since in our minds, these are simply "bonus features." Used primarily as a tone shaping tool in front of an amp, this pedal delivers classic Carvin Amps tone.
Documentation and Product Support
The X1 comes with one of the best manuals we have seen recently that made understanding the X1 extremely easy (you can download a copy to check it out here).
Whereas a lot of manuals are lacking any real useful content or seem to be written by some engineer who doesn't actually play guitar, this one actually was very clear and concise, and remarkably useful for the average guitarist. It was also very accurate in its description of the different tones the pedal can deliver.
Price
The Carvin Amps & Audio X1 Preamp Pedal sells for $449. This is comparable to other fully functional, preamp-in-a-pedal designs.
Contact Information
Carvin Amps & Audio
www.carvinaudio.com