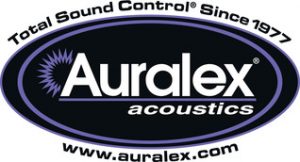 Indianapolis, IN, January 14, 2019 – Auralex® Acoustics, Inc., the world's leading brand of acoustical treatments, is offering two seminar sessions as part of the AES@NAMM Pro Sound Symposium: Live & Studio, held concurrent with The 2019 NAMM Show in Anaheim, California, January 24-27, 2019. Both sessions will be held in coordination between Auralex and award-winning studio design firm Carl Tatz Design.
Carl Tatz himself, alongside Auralex's Robb Wenner (Marketing Manager/Artist Services), will explain strategies and solutions for making dramatic improvements to existing monitoring systems and troubleshoot common issues, such as:
Getting the center image correct
Getting the low end accurate
Subwoofer placement
Being confident with your mixes.
These sessions will take place at the Anaheim Hilton Hotel's NAMM U Education Center on the fourth floor, room C2. The first session will be on Friday, January 25, from 4 to 6 p.m., and the second session will be on Saturday, January 26, from 4 to 6 p.m.
Registration for The NAMM Show and AES@NAMM are separate; visit https://www.namm.org/thenammshow/2019/badges and http://www.aes.org/events/AESatNAMM/2019/ for more details.
For more information, please visit www.auralex.com/.
About Auralex® Acoustics, Inc.
Located in Indianapolis, Auralex® Acoustics was founded in 1977 with a mission to provide top-performing acoustical treatment products at the best possible value. Since then, thousands of satisfied Auralex customers have experienced improved acoustics, expert advice and exceptional customer service. Auralex products enjoy widespread use among prominent artists, producers, engineers, corporations, celebrities and government agencies worldwide.
Auralex Acoustics has become the industry leader in innovative sound control solutions and continues to enjoy rapid growth through an international network of authorized dealers. Visit the Auralex Web site at www.auralex.com. Auralex can be reached via email at auralexinfo@auralex.com or by calling 1-800-959-3343.