Derek Smalls has released a special message to his friends and fans, as guests such as Steve Vai, Steve Lukather, Dweezil Zappa, Paul Shaffer, Donald Fagen and the Snarky Puppy horns prepare for all-star extravaganza at the Palace Theatre in Los Angeles on January 23, 2019
Los Angeles CA, January 16, 2019 — The excitement is electric in anticipation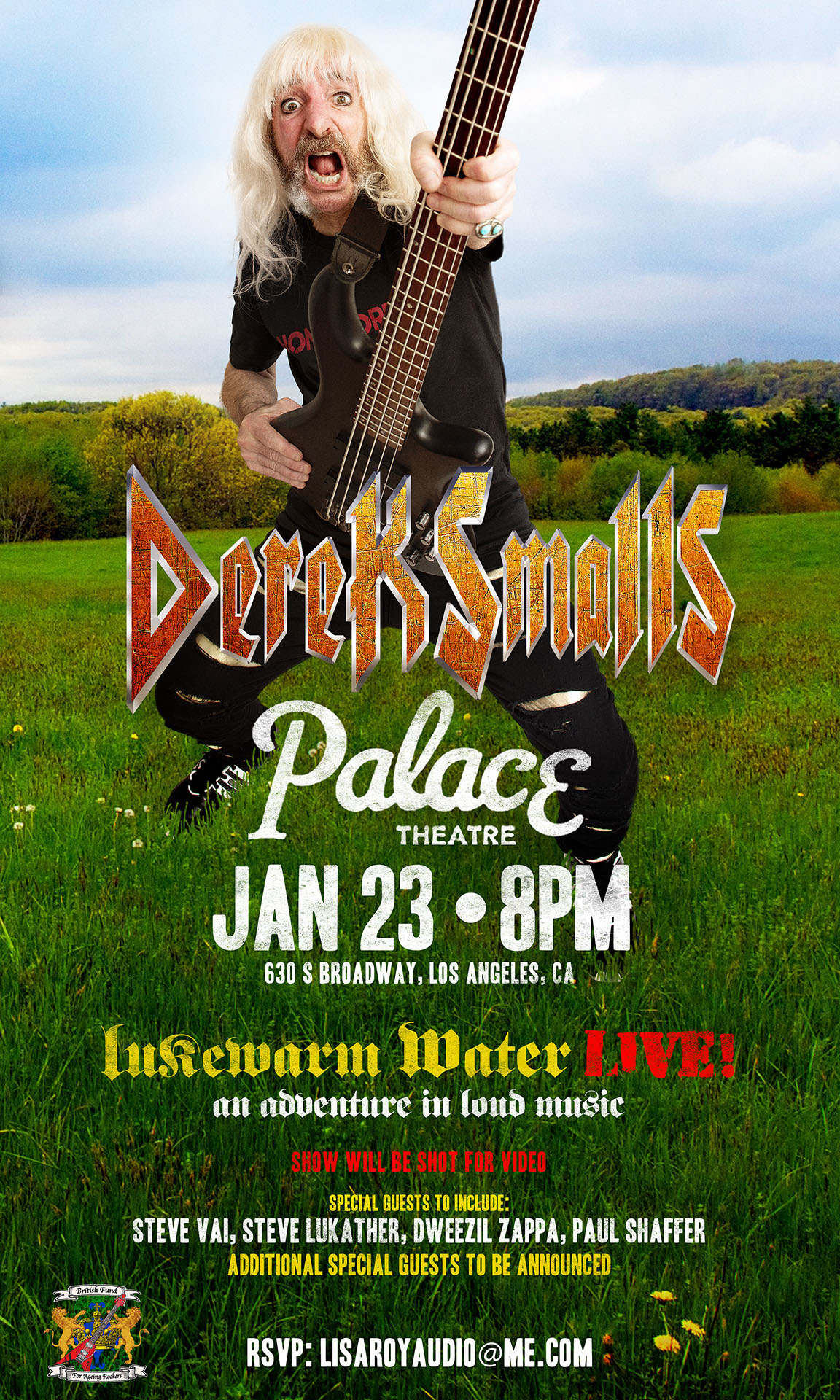 of the upcoming event "Lukewarm Water Live! An Adventure in Loud Music," featuring Derek Smalls, formerly of the band formerly known as Spinal Tap, taking place at the Palace Theatre in Los Angeles on January 23, 2019 (the eve of the annual NAMM Show in Anaheim). This exclusive VIP event is a preview showcase of Smalls' first (and last?) tour to promote his record Smalls Change (Meditations Upon Ageing), playing music from that album plus Spinal Tap favorites.
Commenting on the evening's festivities, Derek Smalls remarked, "Once you miss it, it will remain forever missed."
In preparing for the show, Derek Smalls has released a special audio message to his friends and fans. Click here to listen to this message, and interested parties should RSVP here.
Of particular note are the guest artists who will be joining in the evening's festivities: Steve Vai, Steve Lukather, Dweezil Zappa and Paul Shaffer have jumped at the chance to reprise their roles from the Smalls Change (Meditations Upon Ageing) album, and live satellite hookups will enable guest spots from Donald Fagen and the Snarky Puppy horns. The night will feature Smalls in concert with a full symphony orchestra and the aforementioned guests. Noted composer and producer CJ Vanston will serve as musical director.
These guests are all looking forward to sharing the stage with the legendary bassist. Commenting on his participation, Steve Lukather stated, "There is a tumescence to Derek's music that is intoxicating! It beckons me."
Interested parties should RSVP to Lisa Roy, Rock & Roy Entertainment, lisaroyaudio@me.com.
Video preview: https://vimeo.com/301573942/677c4d66da
Visit Derek Smalls online at http://www.dereksmallsmusic.com/.