February 26, 2019 - Los Angeles, CA - George Thorogood and the Destroyers announce their "Good To Be Bad: 45 Years of Rock" tour, starting April 4 in Scottsdale, AZ through August 3 in Sturgis, SD, with additional dates forthcoming.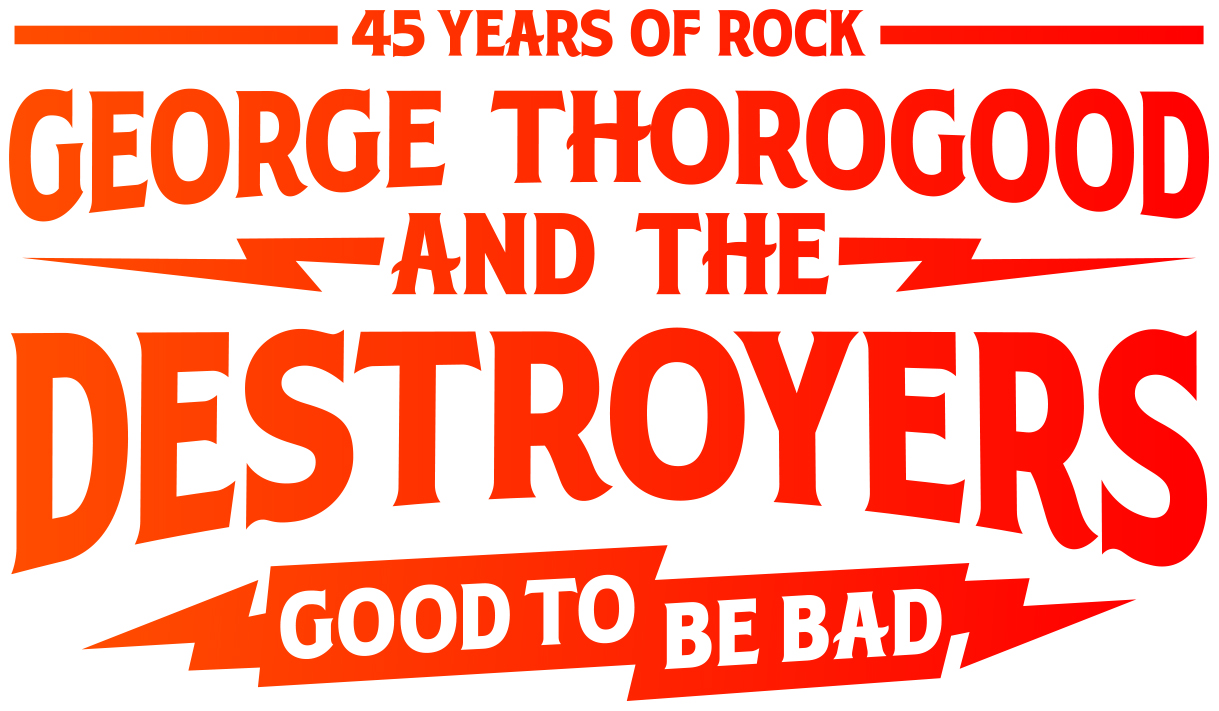 The group is beginning their fifth consecutive year of supporting the Leukemia & Lymphoma Society (LLS) by donating $1 from each ticket sold on their "Good To Be Bad: 45 Years of Rock" tour to LLS. They will also continue donating 100% of the net proceeds from the sale of their LLS-branded Destroyers shirt to the organization.
In 2018, the band released a top-selling limited edition 7" single for Record Store Day, saw the 180-gram vinyl re-issues of their Bad To The Bone, Born To Be Bad and Greatest Hits: 30 Years Of Rock albums, and performed over 70 dates throughout North America on their "Rock Party" tour. Thorogood was presented the 2018 B.B. King Award from The Montreal International Jazz Festival, and his Party Of One album continued to be his fastest-selling disc in over 20 years.
It's on tour that George & band flip the switch nightly, delivering what The Toledo Blade calls a "gut-bustin', guitar-wailin', face-meltin', take-no-prisoners, good old-fashioned lunch bucket rock-and-roll show." The Sacramento Bee says, "The Destroyers remain as they have been for years - Jeff Simon on percussion, Bill Blough on bass, Jim Suhler on guitar, and Buddy Leach on saxophone. They are without doubt one of the best touring bands in blues-rock history."
Or as Rolling Stone once raved, "George Thorogood & The Destroyers play rock & roll hot enough to melt the polar icecaps and flood the world's major population centers."
"GOOD TO BE BAD: 45 YEARS OF ROCK" 2019 TOUR DATES:
*All dates on sale TBA. Check venue websites for more information.
4/04/19 Arizona Bike Week Scottsdale, AZ
4/05/19 Route 66 Casino Albuquerque, NM
4/06/19 Plaza Theatre El Paso, TX
4/09/19 House Of Blues Houston, TX
4/11/19 House Of Blues Dallas, TX
4/12/19 Golden Nugget Casino Lake Charles, LA
4/13/19 Graceland Soundstage Memphis, TN
4/14/19 The Carson Center Paducah, KY
4/25/19 Prairie Band Casino & Resort Mayetta, KS
4/26/19 Ralston Arena Ralston, NE
4/27/19 Riverside Casino & Golf Resort Riverside, IA
4/28/19 Hoyt Sherman Place Des Moines, IA
4/30/19 Pikes Peak Center Colorado Springs, CO
5/03/19 Snoqualmie Casino Snoqualmie, WA
7/19/19 Casino Rama Rama, ON
7/20/19 Kemptville Live Music Festival Kemptville, ON
7/28/19 Outlaw Jam Crownsville, MD
8/03/18 Buffalo Chip Campground Sturgis, SD
For more information please visit:
http://www.georgethorogood.com/
http://www.rounder.com/