BAND COMMEMORATES 20th ANNIVERSARY IN 2019 WITH YEAR-LONG CELEBRATION
INCLUDING WORLDWIDE TOUR AND 21-SONG CAREER RETROSPECTIVE COMPILATION
"Taking Back Sunday's stunning popularity was a combination of talent, timing and tenaciousness. The band took the poignant punk style of the existing Long Island music scene and made it more melodic and memorable…"
– Glenn Gamboa, Newsday, October 31, 2018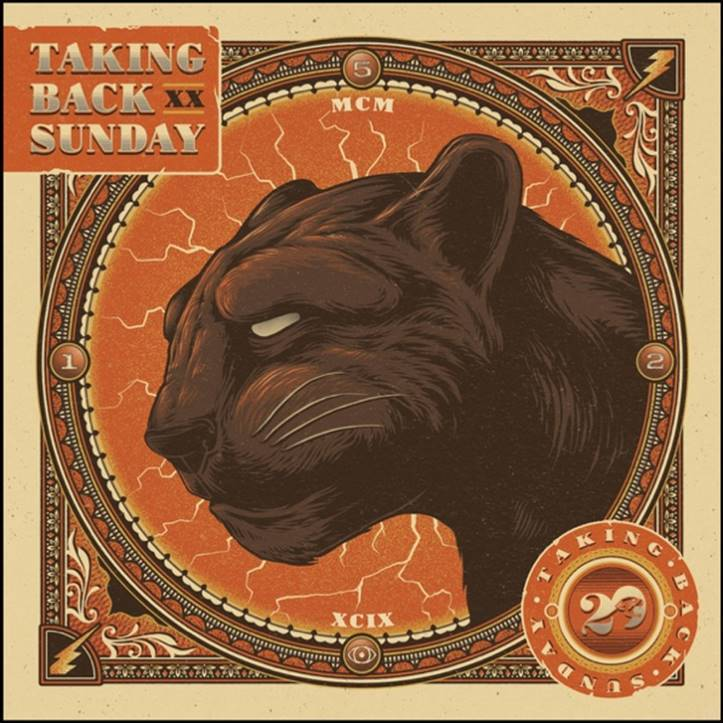 Throughout 2019, Taking Back Sunday is celebrating their 20th anniversary with a year-long celebration, including an extensive worldwide tour, paying tribute to their catalog – and their fans – with full album performances, plus a 21-song career-spanning compilation (featuring two new songs), titled Twenty, available now on Craft Recordings.
Today (2/26), the internationally celebrated mainstream rock band from Long Island announced the second leg of their U.S. tour, kicking off September 13 in Kansas City, MO and including stops in Atlanta, Nashville, Cleveland, Detroit, Toronto, Boston, Washington, D.C. and Philadelphia, among others, before wrapping up with two nights at New York's Terminal 5(November 15–16).
The first leg of the North American tour begins with two nights in Houston (March 25–26), and by the end of this year the 20th anniversary tour – described by Brooklyn Vegan (12/18) as "a night of nostalgia and fun…a history lesson as much as it was an authentic performance…a blessing for a nostalgic fanbase" – will have visited Australia, Asia, Latin America, the U.S., Canada, the U.K., Ireland, Spain, Netherlands and Germany. A full list of dates is available below for both legs of the North American tour. For tickets and VIP packages, visit: TakingBackSunday.com/tour.
At all shows, Taking Back Sunday – vocalist Adam Lazzara, guitarist John Nolan, drummer Mark O'Connell and bassist Shaun Cooper – will be performing their debut album Tell All Your Friends in its entirety. For tour stops where the band are performing over two nights, each nightly set will offer a double-album play – using a specially designed coin, Taking Back Sunday will flip to play either their Where You Want To Be or Louder Now, in addition to Tell All Your Friends. In headline cities where they are playing only one night, they'll perform Tell All Your Friends, plus a selection of fan favorites from their extensive catalog.
Watch a video of Adam elaborating on the coin toss concept, when the tour was first announced in 2018 here:
Celebrating not only their career-defining moments but also landmark albums that chronicle the band's story, Twenty includes 19 catalog tracks from all seven of their full-length albums, plus two new studio recordings (single "All Ready To Go" and "A Song For Dan"), which hint at the direction the band is heading in. Substream Magazine shares, "No matter the era they've released great tracks…'All Ready To Go' finds the band as good as they've ever been." In premiering "A Song For Dan," Rolling Stone noted, "the iconic quartet's…pop-conscious hooks and knotty, post-hardcore riffs…helped provide a blueprint for many other melodic punk and hardcore groups over the next 20 years."
More praise for Twenty:
"…Twenty serves as a phenomenal mile-marker for both the past and present, and shows off just what a phenomenal and important band Taking Back Sunday were, are and will continue to be."
– Kerrang, January 10, 2019
"The album, packaged beautifully, essentially serves as a highlight...Forget nostalgia; it's a perfectly curated collection of spellbinding songs that have truly stood the test of time."
– Punktastic, January 10, 2019
"Listening through the compilation will allow you to feel all the feelings, or maybe just remember how you used to feel…the new tracks give you two different sides…the softer piano-driven side with 'A Song For Dan' and a rocker ['All Ready To Go'] that is emotional and aggressive, perfectly nostalgic and very 2019."
– The Current, January 10, 2019
Recently, Taking Back Sunday premiered the debut episode from their eight-part "album-by-album" series, featuring the band looking back on one album from their discography in each episode. Watch the first episode featuring the guys share insight on the making of their new compilation and how they're feeling about the band's 20th anniversary here:
Click here to buy and/or stream Twenty (available in CD, 2-LP, and digital formats).
Watch the video trailer for Taking Back Sunday's 20th anniversary celebration here:
First leg of North America tour (previously announced, on-sale now):
March 25 & 26: House Of Blues, Houston, TX
March 28 & 29: Emo's, Austin, TX (3/29 sold out)
March 30 & 31: House Of Blues, Dallas, TX (3/30 sold out)
April 1: Charley B's, Lubbock, TX
April 3: Sunshine Theater, Albuquerque, NM
April 4 & 5: Marquee Theatre, Phoenix, AZ
April 6 & 7: The Observatory North Park, San Diego, CA (4/6 sold out)
April 9: 1933 Club, Bakersfield, CA *
April 11 & 12: Hollywood Palladium, Los Angeles, CA
April 13 & 14: The Warfield, San Francisco, CA
April 16 & 17: Ace of Spades, Sacramento, CA (both sold out)
April 19 & 20: Crystal Ballroom, Portland, OR (both sold out)
April 21 & 22: Commodore Ballroom, Vancouver, BC
April 24: MacEwan Hall, Calgary, AB
April 26: Burton Cummings Theatre, Winnipeg, MB
April 27 & 28: First Avenue, Minneapolis, MN (4/27 sold out)
April 30 & May 1: The Summit, Denver, CO
May 2 & 3: The Complex, Salt Lake City, UT
May 4 & 5: House Of Blues, Las Vegas, NV
July 18: Great South Bay Festival, Patchogue, NY *
* Newly announced dates
Second leg of North America tour (announced today, on-sale details below):
September 13: Kansas City Live!, Kansas City, MO
September 19: Waterside District, Norfolk, VA
September 20: Power Plant Live!, Baltimore, MD
September 21: Ballpark Village, St Louis, MO
October 3 & 4: Fillmore, Charlotte, NC
October 5 & 6: The Masquerade, Atlanta, GA
October 8 & 9: House Of Blues, Orlando, FL
October 11 & 12: Revolution Live, Ft. Lauderdale, FL
October 16 & 17: Marathon Music Works, Nashville, TN
October 18 & 19: Bogart's, Cincinnati, OH
October 24 & 25: St. Andrew's Hall, Detroit, MI
October 26 & 27: Danforth Music Hall, Toronto, ON
Oct. 31 & Nov. 1: Buffalo RiverWorks, Buffalo, NY
November 2 & 3: Upstate Concert Hall, Clifton Park, NY
November 5 & 6: Webster Theater, Hartford, CT
November 8 & 9: House Of Blues, Boston, MA
November 10 & 11: Fillmore Silver Spring, Washington, D.C.
November 13 & 14: Franklin Music Hall, Philadelphia, PA
November 15 & 16: Terminal 5, New York, NY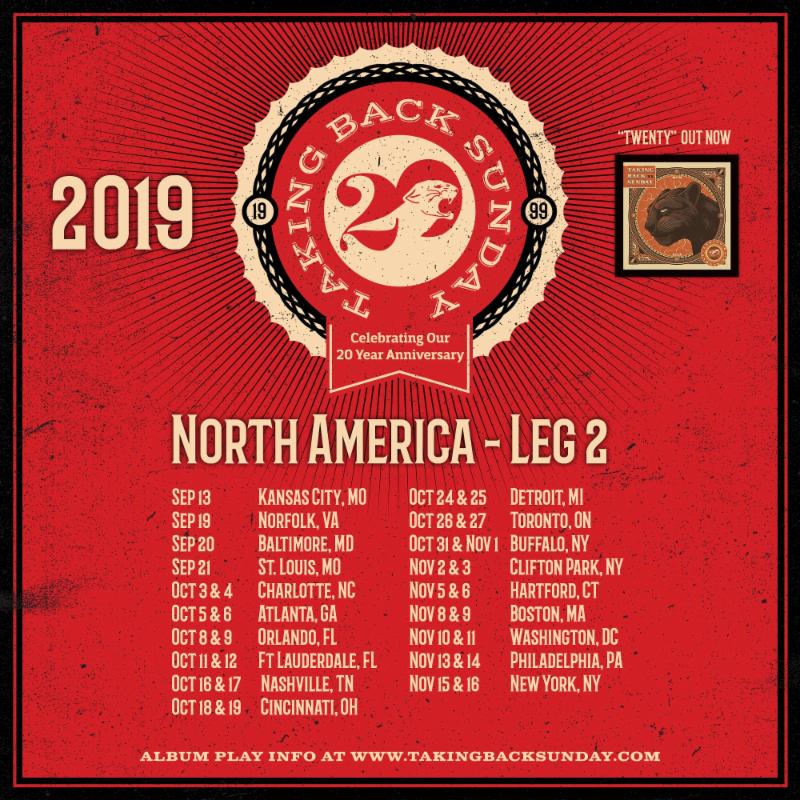 VIP on-sale date: Wednesday (2/27) at 12:00pm ET / 9:00am PT (no password required)
Public on-sale date: Friday (3/1) at 10:00am local time
For tickets and VIP packages for all tour dates, visit TakingBackSunday.com/tour.
For more info, visit TakingBackSunday.com and follow on Facebook, Twitter, Instagram, YouTube, and Spotify.