One of the great things about working at MusicPlayers.com is all the cool stuff we get to play with. Fortunately, this is not only gear from the "Big Guys" like Yamaha, Roland, and Korg, but also smaller companies, who deliver hidden gems that might otherwise get overlooked. One clever and thoroughly enjoyable virtual instrument that came for review is Renegade SoundPlay's first offering, High Score. If you're thinking video games, you're right! High Score recreates the sounds and music of classic video games and computers from the 1980s. It is the brainchild of David Molnar, whose engineering credentials including designing significant hardware products for Line 6 and Moog Music.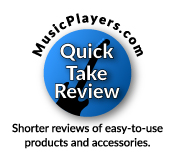 High Score runs in Kontakt 6 or the Free Kontakt 6 Player version 6.4.2 or later from Native Instruments on Mac or Windows. High Score is fully NKS compatible.
Installation was very easy via Native Instruments Native Access, NI's free front-end installer ubiquitous for installing all Native Instruments software.
So what exactly is High Score, anyway? Basically, there are 300 presets built from sampled sounds taken directly from popular 1980s gaming consoles and computers. Those of you who are familiar with 1980s tech like the Atari 2600, NES console, TI 99/4a, Commodore 64, Apple ii, and popular video games from that era will easily recognize the sounds. However, to avoid copyright issues, the sounds are not always named as you would think, and often take on whimsical descriptions for the preset name. Some might argue that part of the fun is remembering which console/game the sound is from!
Category

Value

Rating

Features

20%

Usability

25%

Sound

25%

Documentation & Support

10%

Price

20%

OVERALL RATING = 3.7 Stars, which earns it a
WIHO Award!


3.6 stars or better: Outstanding, WIHO Award




3 stars or better: Worth considering




2 stars or better: Suited to specific needs




1 star or less: Not recommended
We installed High Score 1.0.1 on our Different PC DPC1 audio workstation without any issues and ran it via Native Instruments' free Kontakt Player.
Once opened within Kontakt, the GUI provides a whimsical but very usable interface, clearly embracing '80s-style color and graphics. The bottom of the window has tabs for the four main screens you can toggle between: Generator, Filter, Arpeggiator, and Effects.
The Generator panel is the main panel for shaping your sound. Here, you will find controls for three wave generators. There are 25 waveforms to select from, and the last five are particularly interesting. Soundwave #20 is a "custom" wave, meaning that when you select it, an edit window pops up and you can graphically draw your wave. One minor improvement we'd like to see is that once you have drawn your wave, you can only see it in the Edit window, not as a smaller representation under the Wave 1/2/3 title. Additionally, the wave editor window can only be opened and closed, not dragged to a different part of the screen. Neither of these were big issues, but would be nice additions.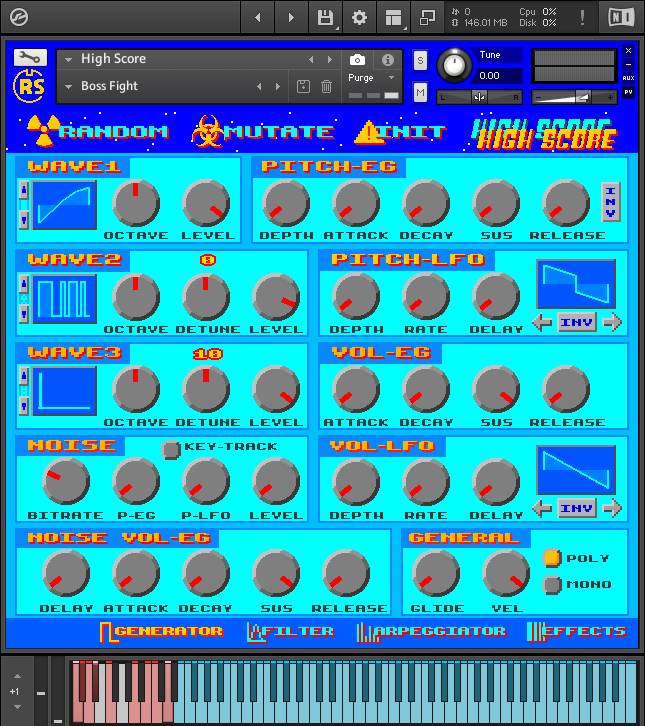 Those of you who remember Berzerk and Frenzy arcade games will definitely recognize waveforms 21-25. These are robotic vocalizations, including "ahh," "eee," and "ohh," and even better, waveforms 24 and 25 have a single word mapped to each key. You can get the infamous "Intruder Alert" vocalization from Berzerk with the right key presses, but there are plenty of other words to get you going, and a complete list of the words is included in the instruction manual. We thought this was pretty cool. Perhaps the one thing that could make this feature better is to allow a typable phrase that could be spoken, but that undoubtedly would require a whole new level of programming to emulate the original vocalizer chip. Dare to dream though!
Getting back to the Generator page, there are also controls for Detune, Bit-rate, pitch envelope generator, pitch LFO, level, and key track. Of note, the noise generator has its own volume envelope generator, which is useful for controlling where the "noise" is placed during a sound. There is also controls for glide (note-to-note pitch transition), velocity (for MIDI velocity), and a poly/mono selector.
The Filter page has additional controls to shape the sound. You can assign the filter to any of the three wave generators and/or noise generator, and you get four filter types:
Low Pass, High Pass, Band Pass, and Notch (4-pole only). The filter has its own envelope generator as well.
The next page is the Arpeggiator page. It looks like so: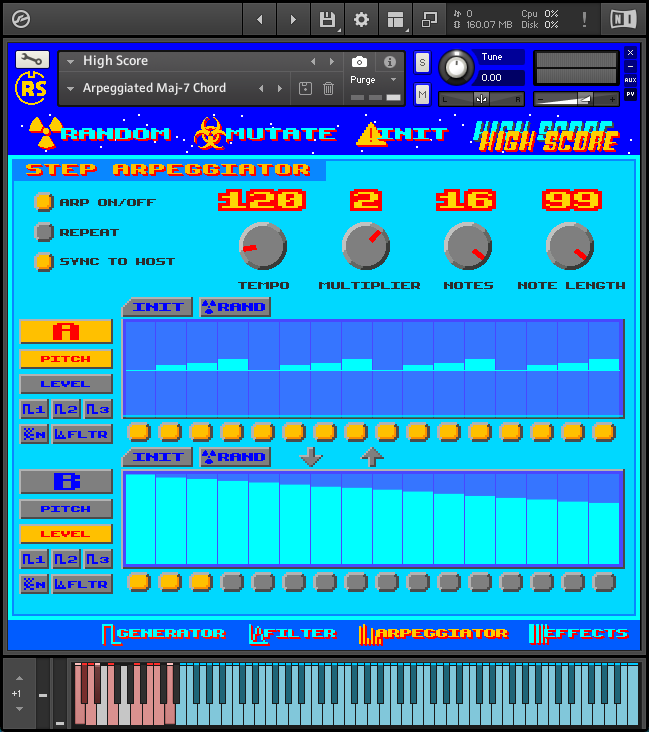 High Score features a dual 16-step arpeggiator. This page enables you to directly draw what you want, in a very easy-to-use way. Pattern A and Pattern B can be daisy chained or played at the same time. High Score allows tempo sync to your DAW, as well as a multiplier for step arpeggiator speed. There's a surprising amount of control and tweaking possible here despite the sound source being 8-bit video games!
The effects page looks like so: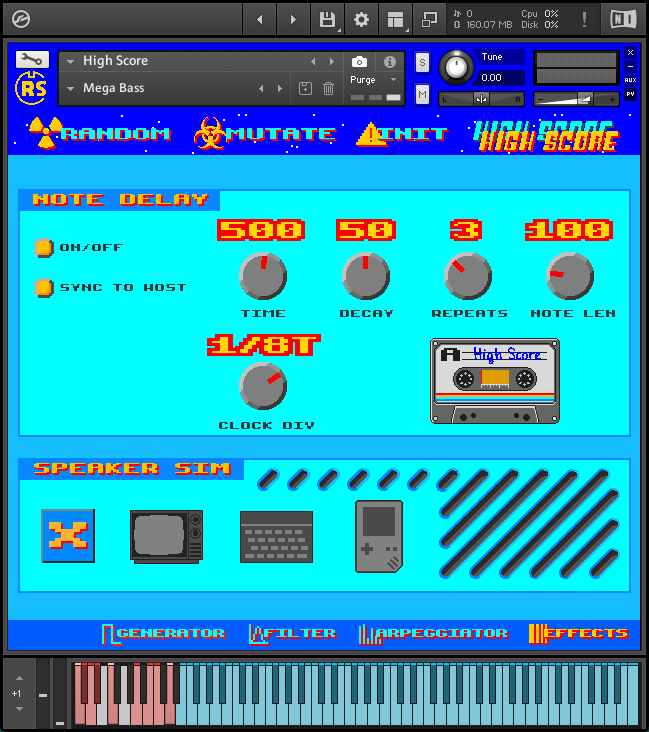 There isn't much here, but you really don't need much, either. What you do have are Note Delay and Speaker Simulation. Speaker Simulation is particularly neat, making it sound like your tone is coming out of either a 1980's CRT monitor speaker, ZX spectrum built-in speaker, or a Gameboy built-in speaker. These truly do sound different from each other, and we recommend auditioning through some decent studio monitor speakers to appreciate the difference (at first, we didn't notice much when we first fired things up on a MacBook Pro laptop's internal speakers).
There are some additional features worth mentioning. The red-colored keys in the graphical keyboard are key-switching keys, which are useful for turning on/off patterns and wave generators.
At the top of the screen, there are the words Random, Mutate, and Init, which are mostly self-evident. Clicking Random opens a menu of categories (i.e., explosion, laser, bass, etc.) and will randomly create a sound within that category type, overriding your current settings. Clicking Mutate takes your current sound and changes only one aspect of it, with unpredictable results. Since you are only changing one aspect, the resultant sound is usually not terribly different than the original. We would love to see this feature expanded with a control that allows you to adjust the amount of mutation in order to achieve even wilder results.
Finally, the Init button put High Score in a "simple state," to quote the manual. Only one wave generator is used and it is set to the basic square wave. From there, you can build a sound as you see fit.
So… what did we think of the sounds? Totally awesome, Dude! No. Really. This is a fun virtual instrument, and you can make some surprisingly intricate sounds with just a little bit of tweaking. Because sounds were well organized by category, it was easy to find what we wanted, and some of the pads had a surprisingly Roland Juno-esque quality to them (that's a good thing). We particularly liked Phoenix Piano, Chomper Siren (Pac-Man), the 2600 P-Fall sounds (Pitfall), just to name a few.
The original Kickstarter video is full of sound demos of High Score.
If there were features we would like to see, one of them would be to allow sorting of sounds by game/computer systems and/or year, so we could go straight to classic Commodore 64 sounds, Apple II sounds, Atari 2600 sounds, and so on. If a television/film music supervisor asked you, "Hey, I need a sound from a 1983 Apple II," High Score could become the de-facto go-to plug-in for that situation.
The other thing we'd like to see included is a complete drum kit. There are some percussive sounds included, but we'd love to see a preset with different drum sounds mapped across the keyboard, and the ability to create (and/or have a preset) that is a drum loop. High Score creator David Molnar has hinted that may very well appear in a future update, and we look forward to it when it does!
Overall, High Score v1.01 is a great virtual instrument that is not only fun and easy to use, but also has very real applications for sound design, whether you're writing music for video games or crafting modern songs in need of vintage sounding effects (or even as the foundation for a complete tune). Given David's commitment to evolving High Score further, this plug-in will only get better with time. If you're a fan of "the classics," you really should check High Score out!
Contact Information
Renegade Soundplay
www.renegadesoundplay.com