Dream Theater, Distance Over Time
Genre:
Prog Metal
Musicianship:
Songwriting:
Production & Engineering:
Vibe:
Overall Rating:
3.89
"They're here," she says with a cautionary voice. But we're not being haunted by poltergeists. We're actually celebrating the new Dream Theater album, Distance Over Time, which many longtime fans will find to be something of a return to form.
The rulers of the prog metal kingdom like to keep things fresh. Their last release, The Astonishing, was a monumental concept record that combined prog rock with musical theater in a way that was classic (and outstanding) Dream Theater, but a little lighter than some of the band's more metal-minded fans cared for.
Those fans have nothing to fear with Distance Over Time, as it grabs you from the opening track and rocks as heavy as anything the band has ever put forth in its vast catalog of work. In fact, we were a bit worried that the record was going to be more typical of recent Dream Theater records, but as the beauty of Distance Over Time continued to play, we found ourselves growing more and more excited by the record. Having listened numerous times now, we would have to say that the vibe here sometimes takes us all the way back to Awake, with John Petrucci's classic, "liquid lead tone" all over the place. So many songs are full of his soaring melodies that it is sure to delight his disciples. There are epic moments at every turn on this record.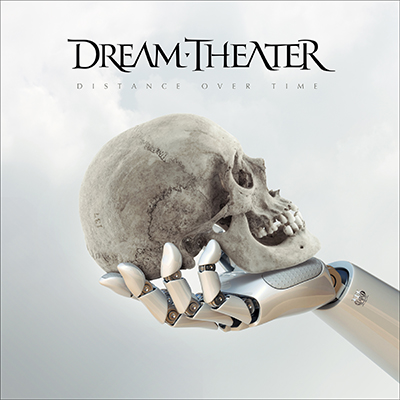 Some songs shred as heavy as the band has ever been, and I swear that Petrucci has somehow managed to up the BPM once again on some of his riffs (don't forget to breath while listening to "At Wit's End"). And something I noticed about Jordan Rudess's playing: more classic performance and solos from the organ. I think Keith Emerson and Jon Lord both looked down from the heavens smiling when they heard some of the ripping leads that Rudess pulls off on that iconic, classic rock instrument. And then the band displays its classic prog influences, like on "Barstool Warrior," which opens with a classic Rush guitar and bass riff backed by a classic Yes keyboard movement before opening into one of Petrucci's soaring melodies.
And then just when the shredding across this record has blown your mind away, the band breaks down into moments of grand piano, angelic voices, and soaring melodies. The ballad, "Out of Reach," is the only breather you'll get on this rocking ten-song collection. Fortunately, the musical assault is easily embraced, with no songs breaking the ten-minute mark, full of fantastic moments throughout every song. Distance Over Time is not a concept record, but rather a collection of superb prog metal songs that are here to remind you just why these guys are the masters of their domain. And when they throw in bits of blues and classic rock, it just adds to the drama that this record delivers.
James LaBrie sounds fantastic as usual, as do John Myung and Mike Mangini, who deliver a rhythm section that is every bit the match to their bandmates (and sometimes takes front and center appearance, too), full of performances that mere mortal musicians can only hope to learn random portions of. The band wrote this record in classic band fashion, spending a few months living together on a farm in upstate New York, and the results are a truly great, cohesive record. Distance Over Time is consistently strong throughout and a definite treat for all Dream Theater fans. It delivers everything you expect of the band firing on all cylinders.