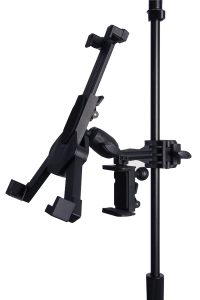 On-Stage Debuts Lightweight, Durable TCM1500 Tablet Holder
 The smartphone/tablet holder weights less than a pound and is constructed of heavy-duty plastic
 Berlin, CT — August 12, 2019 —On-Stage, a division of The Music People, has released its new TCM1500 tablet and smartphone holder. Adjusting from 8 inches to 12 inches high and 3.5 inches to 9.5 inches wide, the holder accommodates a wide variety of tablets, including the iPad Pro and Microsoft Surface.
Weighing in at less than a pound, the TCM1500 is constructed of strong, durable plastic with soft protective padding at contact points — assuring that your tablet or smartphone will be safely secured. An assembly adapter allows the holder 180-degree tilt and 360-degree rotation for ease of use during performance. The TCM1500 also includes a battery/cell phone holder that adjusts from 2.5 inches to 4 inches.
"The new TCM1500 delivers ergonomic access to your tablet or cell phone during live performance," said Leann Ryan, On-Stage Product Line Manager. "Providing users with a variety of attachment and orientation options, the TCM1500 makes playing with a tablet or smartphone easier than ever."
An included clamp attaches directly to any ¾- to 1-inch stand or desktop.
For more information, please visiton-stage.com.