Ibanez is known for delivering high quality and value across their entire family of instruments, and their SRF700 series basses are definitely no exception.

This is the first time we have gotten our hands on an Ibanez fretless bass, and we're happy to say that it delivers all that we could have hoped for in terms of sound and playability.
Number of strings aside, this highly versatile, pro-level tone monster shares all of its generous features with its four and six-string siblings, the SRF700 and SRF706, all at a very reasonable price.
Category

Value

Rating

Features

20%

Usability

25%

Sound

25%

Documentation & Support

10%

Price

20%

OVERALL RATING = 3.6 Stars, which earns it a
WIHO Award!


3.6 stars or better: Outstanding, WIHO Award




3 stars or better: Worth considering




2 stars or better: Suited to specific needs




1 star or less: Not recommended
Given the number of included features, ease of playability, wide versatility in tone, level of construction, and affordable price tag, this bass is worthy of consideration for anyone looking to expand their bass tones and add a fretless to their lineup.
Features
The Ibanez SRF705 is both a site to behold just sitting on a stand as well as an addicting and fun instrument to play. We have to admit, it's hard to put this bass down. With its flat/satin-like "brown burst" coloration on the Okoume wood body and smoothly contoured body shape, and the absence of typical fret line markers, everything adds up to a clean and sophisticated appearance.
At first glance, the five-piece neck-through design might not be immediately obvious until turning the bass over, revealing more of a separation between the maple/walnut neck and mahogany wings. The 34" scale fretboard itself is made from bound Panga Panga hardwood, and neck width measures 45mm at the nut, and 68mm at the 24th fret. Thickness comes in at 21.5mm at the first fret, and 23.5mm at the 12th fret. Radius is stated to be 305mm.
Being a fretless bass and allowing full string-to-fretboard contact, the SRF700 series basses come with flatwound strings as standard equipment to avoid digging into, and thus compromising, the fretboard's finish. We appreciated the side benefit of these strings being easier on the fingers compared to typical roundwound strings.
For reference, the SRF700 series basses include side dots and fret markers on the top edge of the neck, which are clearly visible when glancing down at the instrument.
Ibanez did not skimp in the tone department, installing two USA Bartolini MK-1 passive pickups and a custom bridge (with 16.5mm string spacing) that houses the AeroSilk Piezo pickup system.
As expected, the three larger controls closest to the strings separately control pickup volume and physically relate to the three pickups above the respective controls (neck, bridge, and piezo). The smaller three tone controls may function differently than you might expect at a glance, however. The two controls closest to the neck are shared between the Bartolini pickups, the first one controlling bass, and the middle controlling treble. The tone control furthest from the neck is a single tone control delegated to the Piezo pickup system. To our ears, it sounds like a variable low pass filter. Turning this control clockwise reveals more brightness from the Piezo pickups. Unlike the Bartonlini bass and treble controls, this control is not detented in the center. The detented position on the bass and treble controls indicate a flat response (no cut or boost in frequency).
Finally, if the aforementioned controls aren't enough, trim pots for each string on the piezo pickup system are accessible via the backside of the instrument using a mini Phillips screwdriver. Our instrument under review came shipped with these controls set to maximum (no attenuation), and is what we recommend as a starting point to maximize signal-to-noise ratio. Be forewarned that these controls are made of soft material, so care should be taken when making adjustments.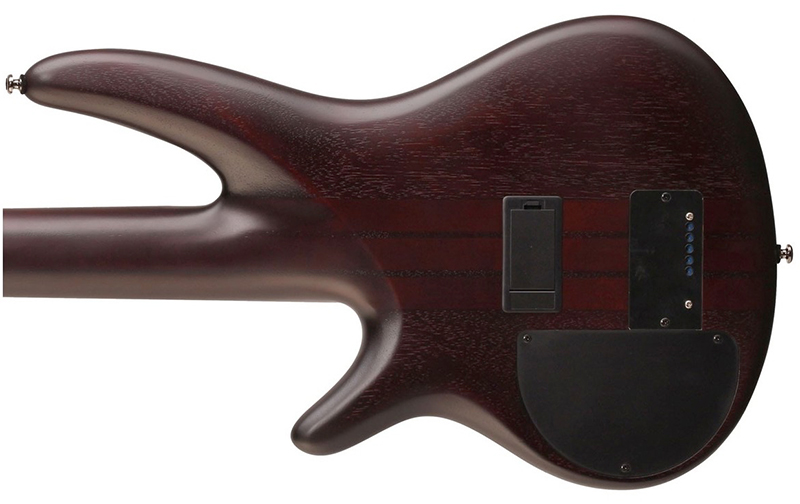 Usability
As far as basses go in general, a fretless may not be the first choice in most modern rock and pop music today. However, you might be surprised at the result when incorporating a bass with as many tonal options and features as the Ibanez SRF705. Since we have become acquainted with what this bass has to offer, it has opened our eyes as to what, in fact, is possible, and we are now more eager to try it on many future projects where we might not have thought to make use of a fretless bass.
Usability goes hand in hand with playability, and this bass was, to our surprise, very easy to play, even for players that had never picked up a fretless before. The width of this 5-string neck has proven to be very accommodating when making the transition from most 4-string basses, too.

Intonation was spot on from the factory when utilizing the side markers on the neck as reference, and of course buzzing was not an issue. The smooth feel and shape of the neck, in addition to the action and flatwound strings, made for a really enjoyable playing experience.
As far as weight goes, we would not call this a heavy bass at all, and the weight seems to be distributed very well, providing a nicely balanced instrument, contributing to a pain-free playing experience for hours on end.
We also appreciated the smooth, but heavy-duty feeling, volume and tone controls, as well as the recessed cable input on the face of the guitar, which serves to protect the cable. Our only gripe, which won't matter in the studio, but might be an issue for some live players, is that there is no direct/instant pickup selection. You have to roll off various volume knobs to achieve the desired pickup sound you're after, which is fine from song to song, but too slow if you're hoping to change tone in the span of an eighth note.
Sound
Out of the gate with all tone controls set flat, the sound produced from the SRF705 from only the bridge pickup was big, full, and rich with plenty of sustain. We felt that these basic settings and the single bridge pickup alone covered a lot of territory. Just this combination alone running through an audio interface in the studio left little or nothing to be desired in a full mix. Now, when combining all three pickup systems and associated volume and tone controls generously provided here, the possibilities and versatility in tone become seemingly endless. We were able to vary the tone coming out of this instrument more than we initially thought possible due to these added features. The AeroSilk Piezo pickup system, in combination with the two Bartolini pickups, is what really puts this bass over the top in terms of sonic versatility.
Mind you, the Ibanez SRF705 is a fretless bass with a fretless "sound." If you are wanting a low-end foundation in your music with more of its own voice that can draw more attention to itself, the SRF705 can definitely fill this need, depending on how it's played. Knowing that this is more of a function of technique rather than a function of the bass guitar itself, we were able to get a distinctive and prominent "mwah" sound from the SRF705 as well, regardless of pickup combination. In other words, we didn't feel that this particular attribute was more evident when only utilizing the Piezo pickups, for example.
On a related note, you may be wondering if the AeroSilk Piezo pickups mimic the sound of an acoustic upright bass. From our experience in working with this instrument, we can only say that it hints at that tone. So, it should go without saying that this is not a replacement for an upright bass, if you are wanting THAT particular sound, but Piezo pickups on an electric bass can provide fantastic note definition, and blended to taste with your magnetic pickups is where you get really special tones.
In the studio, we were more than comfortable running the tone controls flat, at their center detented positions. This, along with running the output volume controls at maximum provided the best signal-to-noise ratio, and provided more sound sculpting options in post without the added noise of boosting the treble control on the bass itself, for example. In addition, this calmed our fears of wondering if we could reproduce the same tone again in future takes. Keeping the tone controls at the aforementioned positions solved this dilemma.
In a live setting, we were able to audition the SRF705 through a number of bass amps with good success. The combination of high tonal versatility of this bass and the amps' tone controls allowed us to go to uncharted tonal territory. The only problem we had was stopping the tweaking to focus on playing, because there was just that much tonal variety to explore.
Documentation and Product Support
Ibanez provides a comprehensive manual that covers a wide number of their current models of basses, in addition to the SRF705's unique feature set.
Price
The Ibanez SRF705 sells for $999 MAP, which we consider a good price based on its feature set, versatility, playability, solid workmanship, and sound.
Contact Information
Ibanez
www.ibanez.com