When legendary drummer Carmine Appice (Vanilla Fudge, Cactus, Beck, Rod Stewart, among others) announced that he was reissuing his famed Guitar Zeus project in one big, remastered compilation (with additional music), we were ecstatic at the opportunity to give it a listen!
Carmine Appice, Guitar Zeus
Genre:
Hard Rock, Metal
Musicianship:
Songwriting:
Production & Engineering:
Vibe:
Overall Rating:
3.38
Originally released as two records in 1995 and 1997, Guitar Zeus was a one-of-a-kind project, and quite an exciting one for Appice to take on. Including all the songs from his original Guitar Zeus releases, plus five newly recorded tracks, this 2019 remastered reissue sounds fresh and new. It successfully expands on the energy that the original release brought us over two decades ago, rather than watering it down.
Appice delivers a raw, grungy and fuzzy tone on most of the tracks, and his drumming expertise is on full display. He keeps steady, well-paced and rocking rhythms all throughout, and is nothing short of what we'd expect from the senior Appice brother. In addition, the vocal performances on the album, whether from Carmine himself or otherwise, are quite impressive and flexible, and perfectly accompany the fuzzy grunge sound he was going for.
What really makes the record come alive is the massive lineup of guest guitarists that join Appice on it. Each of these players really fit the moniker of "Guitar Zeus" in their own way, making this line up of guests a genius assortment. Appearing on the album in collaboration with Appice include Brian May, Zakk Wylde, Ted Nugent, Warren DiMartini, Yngwie Malmsteen, Bruce Kulick, Slash, Ron "Bumblefoot" Thal, John Norum, and MANY more. The guitarists tones, solos, and riffs blend with Appice's drumming seamlessly, and quite impressively. Banding together a grouping of some of the finest guitar virtuosos and shredders rock has to offer, Guitar Zeus is undeniably a team effort, uniting truly talented musicians.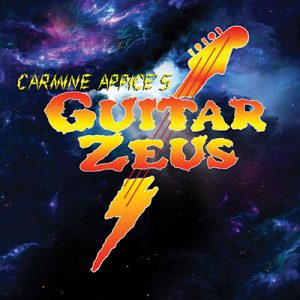 In fact, Appice and his core band, featuring Tony Franklin (The Firm, Blue Murder) on bass and Kelly Keeling (TSO, MSG) on vocals wrote the basic song ideas with each specific guitarist in mind, so none of the performances feel forced.
The tracks hit the listener like a bolt of Zeus's lightning, with distinct grooves that only Appice and each of his guests could deliver. Opting for a grungier hard rock and metal sound, with psychedelic hints to it, Guitar Zeus has a considerably Seattle-scene vibe behind its tone (it was originally recorded in the '90s, after all). Traces of early Hendrix, late Nirvana, and Soundgarden are easy to pick up on.
It isn't the fastest or heaviest of records, so don't expect a speed metal shred fest, but this record's unique energy is enough to get heads banging and fists pumping on some tracks, and feet tapping on others. Even if this grungy sound isn't your cup of tea, there's still something for every heavy listener on Guitar Zeus. Your humble reviewer really enjoys "Nobody Knew (Black White House)" featuring Queen's Brian May, and Carmine's re-recording of the Rod Stewart classic, "Do Ya Think I'm Sexy?," which the latter two originally co-wrote.

"Mothers Space" featuring Ron "Bumblefoot" Thal
With such a massive lineup of guitar gods (or whatever the plural of Zeus is), and with Carmine Appice in command, this is one album you'll want to give a few listens to for full effect. We really love that it finally got the remastering treatment it deserved, and its release on vinyl and CD demand us to make some room for iton our shelves. If this re-release is your first sampling of this unique project, consider yourself lucky to finally be able to hear it! Packed with 32 solid tracks from Appice and company, there's hardly a dull moment on this fine record, and it's an album that we could spend hours jamming to from top to bottom.

"This Time Around" featuring Yngwie Malmsteen and Dug Pinnick