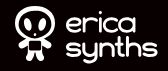 Now shipping: New Eurorack module from Erica Synths includes built-in vactrol based audio compressor
Riga, Latvia, November 13, 2019 — Erica Synths announces that its widely anticipated Black Spring Reverb Eurorack module is now shipping.
The Black Spring Reverb offers a completely different take on spring reverberation units, providing live performers and studio musicians with a ton of sonic flexibility. Firstly, it has built in vactrol based audio compressor, and secondly, the unit can operate an external tank, or a combination of both internal and external tanks — resulting in effect combinations never heard before. Thirdly, in order to animate reverberation, the module has built-in feedback effects, such as pitch shifters, delay and a ring-modulator. Feedback amount and effect parameters can be controlled manually or via CV, making the module an experimental instrument all on its own.
Black Spring Reverb sound demo video:


Black Spring Reverb includes a compact spring reverberation tank which can be easily installed in most Eurorack cases. The unit is designed to be used with wide variety of spring tanks, but for best results, users should use tanks with low input impendance - 8-200ohm.
Black Spring Reverb is available now for €270. For more information or to order, please visit the Erica Synths product page.
· Compact spring reverberation tank to install in a skiff case
· Manually and CV controlled feedback amount
· Vactrol-based compressor
· 7 distinct feedback effects
· Selection between internal, external reverberation tanks or combination of both
· Feedback Send and Return jack sockets
ABOUT ERICA SYNTHS
Erica Synths team of visionaries, engineers and musicians have been working hard to bring you modules and instruments that will set your modular system apart from mass in terms of how it sounds, looks and functions.