G-Sonique EDM / BIGROOM AMMUNITION is probably only one thing you need to create EDM / BIGROOM dancefloor killing hits instantly. If you want to be successful DJ/producer travelling from gig to gig worldwide, enjoying fast supercars, open-air festivals, girls n champagne in backstage, check this monster.
EDM / BIGROOM Ammunition is plug-in multi-instrument/rompler created for EDM, DANCE, TRANCE, BIGROOM, HOUSE music producers, but can be used in other music styles (Trap, Pop, Rave, Electro, Dubstep, Melodic Drum&Bass / Drumstep) or experimental genres.
EDM / BIGROOM AMMUNITION include 139+ high quality, multi octave / multi-layer instruments/sounds ready for music production. Most of sounds are processed with analog hardware (Tube Equalizers and Compressors for FAT MASSIVE SOUND (Avalon VT747sp used, recorded via Cranesong HEDD AD/DA, custom made California sound LA1975 used for fat bass and colored trebles, Bedini B.A.S.E for wide 3D sound)
EDM / BIGROOM AMMUNITION  makes your production faster and sounding better, you can choose from hundreds of high quality sounds made by professional producers in speed of just few seconds, modify them with internal parameters or use external vst effects. Creating just one sound with standard synthesizers can take long hours or days + months of learning, with EDM / BIGROOM AMMUNITION your production become more professional, faster and you can fully focus on creating melodies, arrangements, beats, mix etc. EDM / BIGROOM AMMUNITION also saves lot of your CPU and RAM (it is much more effective than standard synthesizers). This plug-ins includes various styles of EDM leads, Bigroom squelchs / Blibps, Bass, Plucks, EDM tape-stop sounds, speaking synths / vocal / voice synths, basses, lasers, bombs, orchestral hits and horns, supersaw leads, FX and much more. Listen to the demo videos or better DOWNLOAD DEMO with few example sounds. FULL VERSION of EDM / BIGROOM AMMUNITION include huge library of 1.8 GB (1800 MB) internal files packed together with plug-in!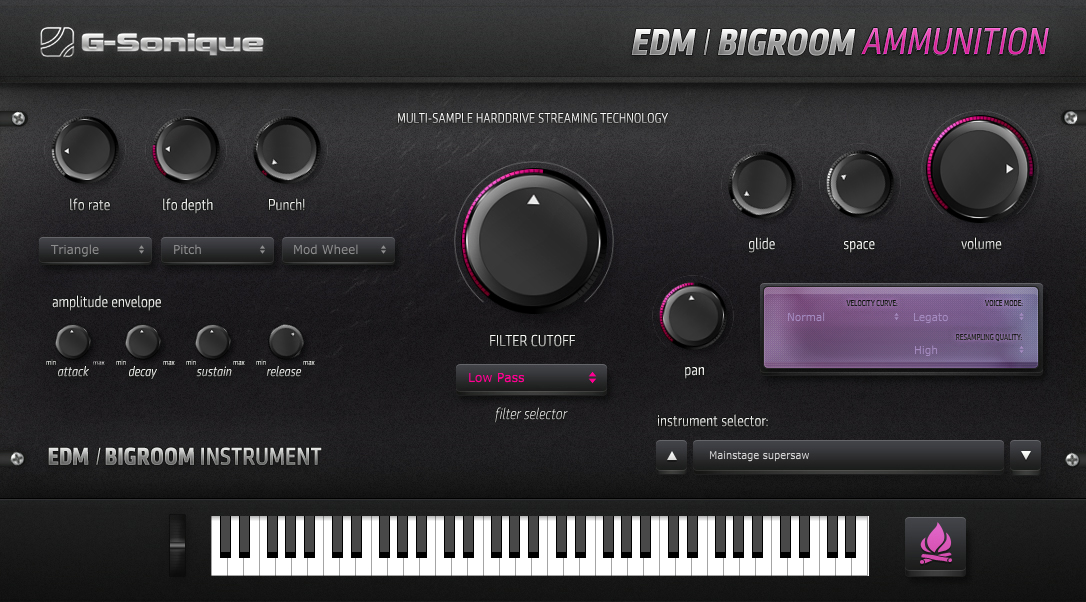 All instruments/sounds can be additionally modified with LFO (rate and depth) modulating volume/expression, Panning, Pitch, amplitude envelope – attack, decay, sustain, release, Pan, Space, you can choose glide (+ glide time), mono, legato or polyphonic modes, load additional bonus instruments etc. You can layer two or more instruments together to create new kind of sounds (use two EDM / BIGROOM AMMUNITION Layered together with different instrument/preset but with same melody) and use various external G-Sonique VST effects to modify the sound to brand new level. EDM / BIGROOM AMMUNITION uses special multi-sample/multi-octave Hard drive streaming technology which saves your RAM (data are loaded from hard drive) with precise hiqh quality sound interpolation. EDM / BIGROOM AMMUNITION  is available for Windows and Mac (VSTi plug-in in x32/x64bit for Windows, VSTi plug-in for MAC, AU Audio Unit plug-in for MAC)
TOP FEATURES:
- 139+ high quality multi-octave instruments with class A audio interpolation/resampling 1,8GB Huge library!
- LFO Modulation with depth and rate knobs (modulates: volume/expression, panning, pitch) with triangle, sinus, square, saw, and exp shape
- Glide knob
- Space knob
- 3 modes: Polyphonic, Mono, Legato
- Amplitude envelope with attack, decay, sustain, release knobs
- Resampling quality selector
- Velocity curve selector
- Pitch bend knob
- Pan knob
- Possibility to load external bonus instrument (will be distributed to clients as special bonus)
- Multi sample hard drive disk-streaming / memory reading mode (for saving RAM capacity)
- High quality resampling / interpolation engine
- VSTi plug-in for Windows (available as x32 / x64bit VSTi instrument )
- AU Audio unit plugin and VST for Apple MAC OSX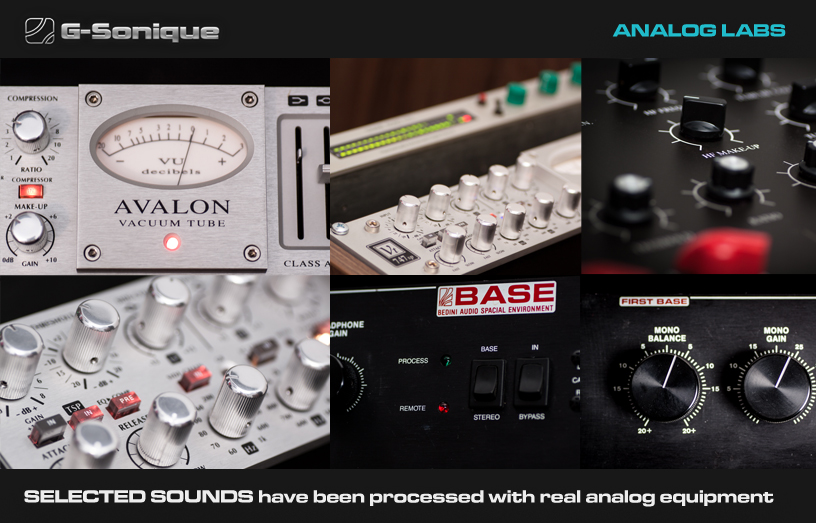 LIST OF MULTI-INSTRUMENTS: (139 instruments – 1,8 GB huge library included in plug-in!):
PRODUCT URL: https://www.g-sonique.com/edm-bigroom-ammunition-vst-au-audiounit-plugin.html
FREE DEMO DOWNLOAD:  https://www.g-sonique.com/demos.html
Price: 28.90 Eur (Introductory price 24 Eur only for first 100 CUSTOMERS!)