Eplex7 DSP Forest Film Pads 1 is VSTi & AU plug-in instrument for Windows and Mac and can be used also as expanding instruments library in our FREE Eplex7 Player or in our plug-in instruments. Available as Win VSTi x32 / x64 bit, Apple MAC OSX Audio unit or Mac VST3 plug-in.
Forest Film Pads 1 is collection of forest pads, soundscapes, textures and special atmospheric strings for film / cinematic / video game music especially historical, gothic or fantasy films. These instruments can be perfectly used also in any possitive music like chillout, ambient, ezoteric / relaxation music, orchestral music, historic music, Intros in various styles of electronic music from progressive psytrance to melodic liquid drum & bass.
Sounds can be used also in darker and more mysterious tracks and intros (for example darkpsy dark intros / outros or neurofunk dnb intros, Horrors or war film music).
Collection consist of spiritual film pads, magic soundscapes, bird singing pads, forest animal pads, atmospheric evolving soundscapes, combined orchestral-synthetic pads, strings, dark gothic pads with horns, synthesizers, atmospheric textures and more.
Forest Film Pads 1 is modern plug-in instrument for MAC & Windows / VSTi / AU / Mac VST, x32/x64bit and include multi-octaved / multi-sampled sounds, instruments, waveforms and synths which sounds perfect in wide range of tones / octaves from C3 to C7 or more.
All sounds can be modified by internal parameters like LFO rate/depth (Triangle, Sinus, Saw, Square, Exponent) with Pitch, Expression and Pan modulation. Low pass / High pass filter with cutoff, Reverb / Space, Amplitude envelope, Pan. You can play in various modes: polyphonic, Monophonic or Legato with Glide function. You can use external VST plug-in effects from Eplex7 or other manufacturer to significantly modify all included instruments and create brand new sounds fast and easy.
Forest Film Pad 1 Video:
Features:
- Plug-in INSTRUMENT for MAC & Windows / VSTi 2.0 & 3.0 / AU / Mac VST, x32/x64bit
- Low pass / High Pass filter with cutoff
- High quality sound engine, disk streaming technology (saving RAM memory and very low CPU consumption)
- LFO with rate/depth (Triangle, Sinus, Saw, Square, Exponent) with Pitch, Expression and Pan modulation
- Fast preset / sounds browser with menu / arrows
- Reverb/Space
- Glide function (Legato mode), Mono mode and Polyphonic mode
- Pan knob
- Amplitude envelope (Attack, Decay, Sustain, Release)
- Velocity mode selector
Specification:
- Compatibility: plug-in instrument that can be used also as expanding instruments library in our Free Eplex7 Player or in our plug-in instruments
- Requirements: MAC & Windows / VSTi 2.0 & 3.0 / AU / Mac VST, x32/x64bit
- File formats: *.MSE
- Size: 242 MB
List of multi-octave instruments:
- Black forest choir
- Burning strings
- Dark forest portal
- Evil knights are coming
- Fat strings
- Forest flutes
- Good Knights
- Magic morning
- Northdorea forest
- Soft forest horns
- Witchcrafts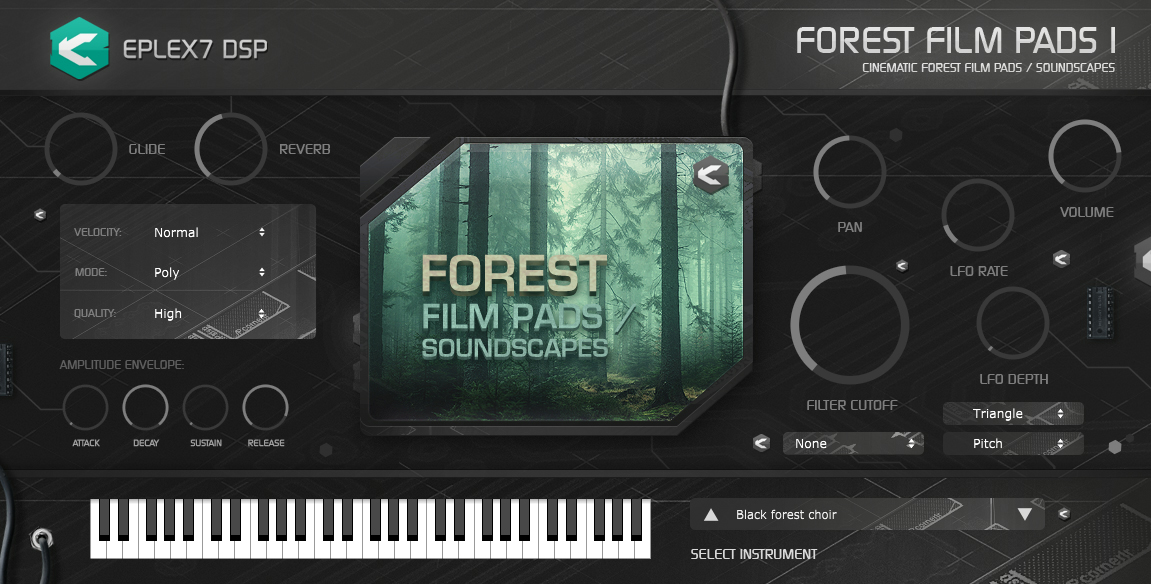 Download link for Free Eplex7 player VST & AU: https://eplex7.com/eplex7dsp/index.php/product/eplex7-player-free-plug-in-instrument/
Product page: https://eplex7.com/eplex7dsp/index.php/product/forest-film-pads-1-plug-in-instrument-win-mac/
Price in currency:  7,90 €, Introductory time-limited price: 5.90 €
Price in credits: 4 Credits (save up to 70% or more)