While many players today jump right to a red Nord when they think of the modern stage piano, other companies have been producing stage pianos for years as well, and there are, in fact, great alternatives to consider.
Case in point—the KORG Grandstage, which is a fabulous stage piano with a lot to offer. Sonically it is quite stellar, and operationally it is very easy to use. When you consider the praise bestowed on KORG's historic BX-3 and the outstanding sampled pianos in the mighty Kronos workstation, overlooking this stage piano product (if that's what you're shopping for) would be downright inconceivable. So, is the GrandStage right for your rig? Let's find out!
Category

Value

Rating

Features

20%

Usability

25%

Sound

25%

Documentation & Support

10%

Price

20%

OVERALL RATING = 3.6 Stars, which earns it a
WIHO Award!


3.6 stars or better: Outstanding, WIHO Award




3 stars or better: Worth considering




2 stars or better: Suited to specific needs




1 star or less: Not recommended
Features
At first glance, the dark, symmetric layout looks sort of like a cross between a KORG M1 and the KORG SV-1 reviewed here.
The Grandstage comes in 88 keys (our review model) and 73 keys, weighing in at 44 and 37.5 sounds respectively. Both utilize KORG's RH3 (Real Weighted Hammer Action 3) keybed, which is velocity sensitive but does not support aftertouch. There is a thin, red velvet liner at the top of the keybed, which is a nice touch that adds to the acoustic piano aesthetics.

There are 500 sounds at your fingertips, generated by seven "sound engines:"
SGX-2 (Acoustic Piano Sound Engine)
EP-1 (Electric Piano Sound Engine)
AL-1 (Analog Modeling Sound Engine)
CX-3 (Tonewheel Organ Sound Engine)
VOX Organ (Transistor Organ Sound Engine)
Compact Organ (Transistor Organ Sound Engine)
HD-1 (PCM Sound Engine)
Interestingly, the polyphony varies depending on which engine you use. For example, You can play up to 36 voices with the analog modeling engine, but 240 with the acoustic piano engine. We will explore the somewhat unusual way sounds are combined later, but as there are 19GB of PCM samples on board, there should be something for just about every need.
Fortunately, in the center of the keyboard and above the keys are large buttons labeled Favorites. The top row is labeled A-H, and below this are buttons 1-8, providing shortcuts to 64 favorites (eight sets of eight). This comes with the first 32 preloaded, though they can be overwritten as you choose.
To the left and right of these buttons are two KORG Monologue-like screens. The screen on the right side is associated with the "Keyboards" rotary knob selector (the categories on the Keyboards knob are Grand, Upright, EP Rd, EP Wl, EP Syn, Clav, Organ, and Ensemble), and the screen on the left side is associated with the "Ensemble" rotary knob (the categories are Strings, Brass, Synth, Lead, Bell/Gtr, Bass, SFX/Hit, and Keyboards). Each side has a level knob, as well as a Variation knob to scroll within each category, and the name appears in the (tiny) LCD screen.

Further to the left are the delay and reverb controls, set up in a similar way as the presets with an On/Off toggle and a rotary knob to select. A much-appreciated tap-tempo button is also nearby to get those effects in sync with your live drummer. There's a knob for depth of the effects, and a button to call up system items such as tuning, MIDI channel, and manipulating the glowing KORG logo that faces out to the audience (which you can turn off, set to a desired color, or cycle through all colors). You can even make the backlight pulsate and respond to your playing velocity!
The GrandStage also has a three-band EQ with three sliders, a Dynamics button/knob to control volume response to playing the keyboard, a Master volume knob, pitch bend wheel, modulation wheel, and SW1 and SW2 buttons (for real-time controllers).
Conveniently near the middle is a dedicated Split button, as well as Swap and Write buttons for quick access to saving and moving your sounds around.
Connectivity on the back includes Damper, Switch, and pedal connectors, MIDI In/Out, USB A for connecting USB storage (to load favorite banks, not samples), USB B to connect to the computer as a MIDI interface (alas, no audio), R/L XLR balanced out, and R/L TS quarter-inch jacks for unbalanced out. A quarter-inch headphone jack is located on the front of the keyboard.

Usability
Turning on the GrandStage turned all the red backlighting on, which then dimmed. We then noticed on the right LCD a percentage countdown for the system loading. While it was not "instant on," startup time was quick enough, around 30 seconds in total.
The sounds were pretty easy to navigate. You can think of the left hand as the ensemble section, or the "what goes layered with the piano sound" section. Turn the knob (after turning the section on with the corresponding button) and select your sound. You can then think of the right hand as the keyboard section, or the piano sound. Interestingly, the Ensemble side allows you to pick any Keyboard sound, and the Keyboard side lets you pick any Ensemble sound, so in reality, any sound is available from either side.
Creating splits was easy—just press the dedicated split button! If you want to change where the split point is, just hold down the split button and press the key you want to split at. That's it! You only get one split point, but each part gets its own MIDI channel. The swap button switches the upper and lower parts. Layering was also very easy and achieved in a similar manner via a single button push.
Speaking of changing sounds, we did notice the change between sounds was very smooth. KORG calls this the "Smooth Sound Transition" (SST) function, which creates seamless changes when you switch between sounds and effects, even while you perform. For many players, this is an essential feature.
As for the actual feel of the GrandStage, we found the action was a little stiffer than some of the other 88 key, weighted keyboards we have played (which often use Yamaha or Fatar keybeds). This certainly isn't bad, just a matter of personal taste, and it did not impair or slow down our playing in any way. We would certainly feel comfortable playing on the GrandStage in the studio or live for any professional engagement.
While we were glad there were screens to display preset names and other information, we were baffled why an 88-key or 73-key stage piano like the GrandStage was burdened with the ridiculously small displays from the -logue series products. There is plenty of real estate on top of these keyboards for larger displays. Even with 20/20 vision, we found the displays infuriatingly small.
Related, there's a knob directly in front of the screen, which, depending on your position, could obstruct our view at times while playing. With the GrandStage on the lower tier of a keyboard stand, we found the viewing angle slightly compromised.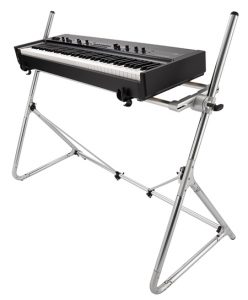 Speaking of stands, KORG does make a special, single tier stand for the GrandStage that reminds us (somewhat) of a classic Rhodes stand. We suspect most players will be divided on how it looks vs how practical it is, particularly if you're gigging with multiple keyboards.
Other than very basic MIDI control, we wouldn't pick the GrandStage if we were shopping for a live rig master MIDI controller. Besides the lack of aftertouch, the keyboard doesn't provide any facility through which to transmit MSB/LSB messages necessary for selecting banks of sounds in other devices. Used as an interface to computer-based virtual instruments, however, this is not an issue.
While not the end of the world, we noticed that tapping on the Tap Tempo button did not show the actual tempo on screen (something we appreciate on other products with tap tempo). This would be a useful addition, coupled with the ability to dial in the tempo value while watching the numeric display.
Sound
This is the GrandStage's strongest suit, and the best reason to own one. Starting with the acoustic pianos, there are several to choose from: German, Japanese, and Italian to name a few. Each sound great and have their own character. Perhaps due to many years of piano lessons on Steinway and Yamaha pianos, we gravitated to these sounds more, but they really all sounded great. Some of the variations you can choose include bright, dark, and even chorused and flanged pianos. Of course, you can make up those presets from scratch too if you choose! The upright pianos sounded good, too, with the inclusion of "honky-tonk" piano sounds as well.
Moving to electric pianos, you get Rhodes, Wurlitzer, Clavinet, and Pianet sounds. The Rhodes in particular, with Mark I, II, and V variants, were particularly warm and grabbed our attention. The effects were also very good on these, and really got that retro vibe these keyboards were so famous for. Similarly, the Wurlitzers were good too, in the form of a 200 and 200a. While it would have been nice to have seen some other models, like the 140B that tends to have a little more bite, we could still come close to that sound with some minor effects adjustments. Even the famous (or infamous, depending on your taste) DX7 FM Rhodes piano sound was well represented, so you'll be just as ready covering Whitney Houston as you would Supertramp or the Doors.
The oggan sounds were nice, but keep in mind you are largely limited to presets as there are no drawbars to control the sound. Having said that, there are many different presets with different drawbar settings, so you should be well covered sonically if you can live with patch changing on the fly.
Vox and Farfisa sounds are also done well, and we were impressed with the pipe organ sound, which really got our Bach in G minor, organ fugue on. We particularly liked the preset named in tribute of the Who song, "Won't Get Fooled Again." It was right on the mark!
The Ensemble sounds are essentially everything else. Here you will find strings, woodwinds, synth pads, lead sounds, and sound effects. While many can be used to layer under a piano sound, they do sound good enough to be used by themselves. A few had whimsical names, like Power of Synth (synth sound from "Power of Love?"), and Lucky Man (clearly a Keith Emerson lead sound). These sounds are of good quality, and could certainly fill in the gaps in a pinch outside of more traditional piano-family sounds.
Documentation and Product Support
The Grandstage includes a printed manual that makes operation pretty clear, though we barely needed to make use of it with this keyboard. There's also some information online on KORG's website, as well as videos and sound clips.
Price
The 88-key KORG GrandStage (MSRP $2,499) sells for approximately $2,200, and the 73-key version is just under $2,000. Of note, the price includes a custom stand. The GrandStage sounds great and is really easy to use—despite the ridiculously tiny displays.
For a great-sounding stage piano that's easy to use and has enough additional sounds to cover most needs, this will be the perfect solution for many gigging artists. However, the lack of MIDI controller functions might be a turn off for others. Either way, it's worth your consideration.
Contact Information
KORG
www.korg.com
Evaluation Short List:
Roland RD 2000
Nord Stage 3