BLOOFIELD, CT, November 25, 2019 — Rhythm Tech, creator of the crescent-shaped tambourine, today added another first to its long list of industry-leading product innovations with the market introduction of the world's first Djembe that features a built-in snare that can be turned on or off with the flip of a single lever.
Available in a brown and black swirl finish, the 12" Rhythm Tech Palma Djembe Selvato™ is a high-quality PVC Djembe that delivers warm highs, punchy mids and booming lows.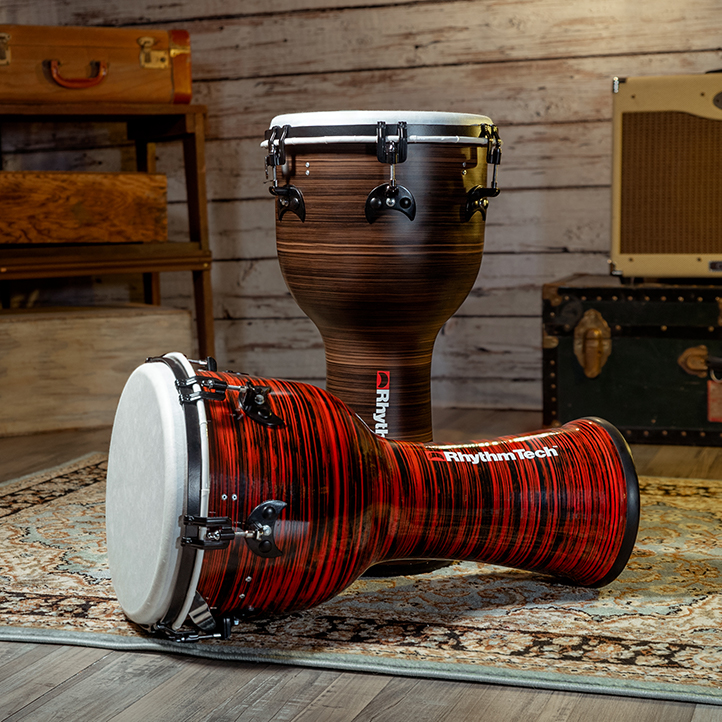 It's top-tuning hardware makes tuning a breeze with a standard drum key — eliminating the need for special wrenches. Playing the Rhythm Tech Palma Djembe is enhanced thanks to the comfortable, player-focused positi'oning of the rim that enables players to play their best.
Sporting a red and black swirl finish, the12" Rhythm Tech Palma Djembe Selvato™ Roja is available exclusively through Guitar Center. Both models carry a Manufacturer Advertised Price of $199.99.

Artists are saying that the Rhythm Tech Palma Djembe is the perfect instrument when you need a wide range of sonic soundscapes from a single instrument. Delivering great, truly inspiring sound, this is the perfect addition to any drummer and percussionist's performance rig.
The internal snare provides percussionists with many new options. The exclusive snare on-and-off selector empowers players to go from traditional Djembe to modern backbeat with a quick flip of a switch. Its topside drum key tuning makes head changes and tuning fast and easy, and its superior-quality PVC shell delivers added projection and stronger attack.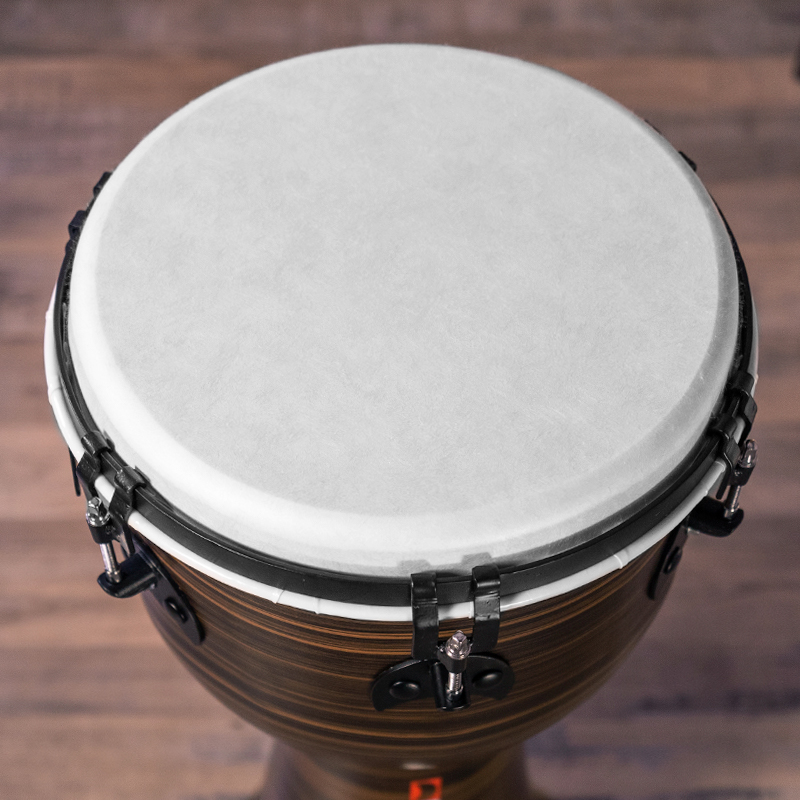 About Rhythm Tech: Founded in 1980, Rhythm Tech is a world leader in the design, manufacturing, and marketing of innovative percussion instruments and drum accessories that constantly extend the performance capabilities of contemporary percussionists. World-renowned for its development of the crescent shaped tambourine, now on permanent display in the Museum of Modern Art in New York, the company maintains its pursuit of excellence today with a complete line of Hand Percussion, Mounted Percussion, Drums, Accessories, and Pre-Packs that continues to set new standards for performance, value, and reliability. Rhythm Tech is a division of JAM Industries USA. For more information, visit www.rhythmtech.com.