SISKA will perform with GEOFF TATE on the 22nd of December at the Revolver Club in San Donà di Piave, Italy.
Geoff Tate is the former singer of QUEENSRYCHE and with their millions album sold, he is one of the most appreciated voice in the Rock-Metal scenario and a real protagonist of the golden hard rock era together with bands like Iron Maiden, Ozzy Osbourne, Dio etc.
Siska band released their first album "Romantic Dark & Violent" worldwide (Tuna Records) on vinyl, cds and on all digital music platforms. After that they were chosen to be support band of WHITESNAKE in the Bucarest Arena in front of more than 8.000 fans, they played with Tim Owens of Judas Priest and got gig in Europe and South America.
They also got invitation to take part as a support band in very important Heavy Metal festivals sharing the stage with SONATA ARTICA, CHILDREN OF BODON, EPICA, SOULFULLY and DREAM THEATER at the Metaldays in Slovenia.
For all who love Hard Rock and Heavy Metal!
Siska is a hard rock band born in October, 2015. The band was formed by Mattia Sisca the guitarist, who played as a supporting act for Blaze Bayley (Iron Maiden, he was lead guitarist for his tour too), Jennifer Batten (Michael Jackson), Dennis Stratton (Iron Maiden), Michael Angelo Batio and many others! He did shows across Europe and South America as a Headliner and supporting band with Lunar Explosion and International Artists.
The first video of the band "Sally", has been shot for the first time by a rock band in the "Staglieno Cemetery" in Genova (IT). The location is a UNESCO's world heritage site.
In September 2016, Siska started the first tour of the Band in Brasil with Tim Ripper Owens (Judas Priest, Iced Earth, Malmsteen), playin' succesful sold out shows and conquering the hearts of the rockers of the country. In this tour, Siska played in important venues where bands and artists like: EUROPE, VINCE NEIL (Motley Crue), MEGADETH, SKID ROW, members of GUNS N' ROSES, members of KISS, EPICA, Firehouse, Richie Kotzen, Kip Winger, Danger Danger, Angra, Firehouse, Steve Morse, Michael Angelo Batio and many others played in the last years.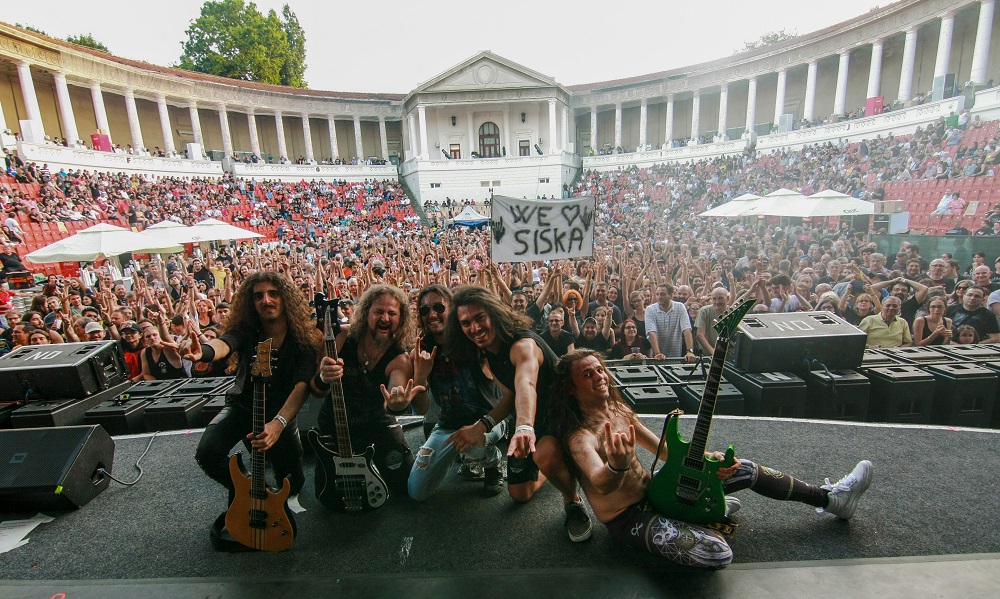 In May 2018, SISKA released two singles: "Nothing left to say" and "Waiting now". At the same time, SISKA were chosen by legendary SKID ROW to take part to their United World Rebellion tour across Europe.
In July 2018, the band took part in Metalhead Meeting in Arenele Romane, Bucharest and play in front of thousands and thousands of people together with Children Of Bodom, Sonata Artica, Epica, Soulfly and many others. That month, on July 13th, 2018, SISKA released their first album "Romantic Dark and Violent" with Big Tuna Records\SONY. CDs and vinyls are available in the best world music shops.
SISKA were chosen as a special guest by Enuff Z 'Nuff (Frontiers records), an historical hard rock band from the 80s, taking part to their tour across Europe in February 2019. SISKA were also selected by the legendary WHITESNAKE as the only opening act in Romania for their "Flesh and Blood" World Tour, playing in front of 8,000 people that same year.
In July 2019, SISKA performed at Metaldays Festival in Tolmin, Slovenia with Dream Theater, Tarja, Dimmu Borgir, Philip H. Anselmo, Demons & Wizards.
Diego Trenti (Lead vocals)
Mattia Sisca (Lead guitars)
Marco Fragalà (Guitars)
Bunny Bertetti (Bass)
Max Zerbini (Drums)