LOS ANGELES, CA, USA/HONG KONG, CHINA: musician-empowering musical instruments creator Ashun Sound Machines (ASM) is proud to advance its innovative Hydrasynth digital wave morphing synthesizer — launched late last year to widespread critical acclaim as its inaugural hardware product, produced as a keyboard variant (featuring a proprietary PolytouchTM 49-note polyphonic aftertouch keybed and a user-assignable ribbon controller) and desktop variant (with 24 velocity- and polyphonic aftertouch- sensitive pads, plus an included 19-inch rack-mount kit) — with welcomed new features, thanks to a major firmware update, ultimately coinciding with the first day of The 2020 NAMM Show, January 16-19, Anaheim, CA, USA, where both variants of Hydrasynth will wow visitors for the first time for sure…
Anchored around a unique digital wave morphing synthesis engine as an eight-voice polysynth whose three oscillators can all make use of any one of the 219 single-cycle waveforms available, while flexibly facilitating defining eight waveforms into a list and then morphing from one to the next using extensive movement-inducing modulation sources with Wave Scan mode (for OSC 1 and OSC 2 only), ASM's avant-garde Hydrasynth made musical waves when unleashed upon an unsuspecting world with keyboard and desktop variants late last year. Said synthesis engine also features four mutators for further tonal modification, while two filters can be configured in parallel or series. Perfectly paired with an equally powerful effects section comprising four fully-independent modules, all creatively combine to produce sounds that have to be heard to be believed! Better still, the Hydrasynth keyboard's proprietary PolytouchTM 49-note polyphonic aftertouch keybed instantly struck a major (and minor) chord with musicians wishing to better express themselves without having to master a new keyboard technique, while connectivity to the wider world is as far reaching as it comes, courtesy of a full-blown MIDI (Musical Instrument Digital Interface) implementation — including the usual connection compliment of MIDI IN, MIDI OUT, and MIDI THRU on five-pin DIN, as well as USB — complimented by conveniently-positioned CV/ GATE connections for mini-jacks (so playing nicely with the likes of today's ever-widening world of Eurorack modular gear, vintage synthesizers, and more, is perfectly possible).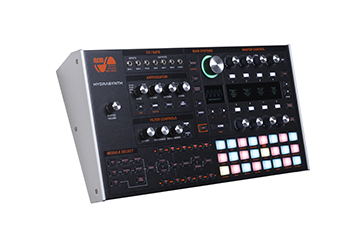 As ASM advances both Hydrasynth variants with the timely introduction of the Version 1.3.0 firmware update at The 2020 NAMM Show, its innovative instruments now support MPE (MIDI Polyphonic Expression). An advancement of the MIDI specification used by many alternative controllers, this allows for true polyphonic pitch bend as well as two dimensions of control between compatible controllers and sound generators. Get this, though: those musicians wishing to better express themselves are going to have a field day with Hydrasynth as ASM advances its innovative instruments ever closer to performance perfection! With Warm mode's musically-pleasing arrival — also a result of the Version 1.3.0 firmware update, shaping the sound to better emulate the frequency response of some vintage synthesizers by rounding out the high end of any patch while giving it a gentle boost in the low end to create characteristic 'warmth' overall, surely sound designers are also going to be happy bunnies! Both performers and sound designers will welcome Hydrasynth's MPE modulation additions via Version 1.3.0 — namely, new modulation sources, such as MPE-X (normally pitch bend control), MPE-Yabs (absolute mode, referred to as controller 74 in some devices), MPE-Yrel (relative mode, also referred to as controller 74 in some devices), and MPEoffVc (note off velocity).
Timed to coincide with those welcomed advancement announcements, ASM is also offering its inaugural artist patch bank of 128 sounds — courtesy of Matia Simovich (a.k.a. INHALT) — as a downloadable creative collection focusing on classic, stable, and highly-playable, expressive synthesizer tones to complement Hydrasynth's factory presets.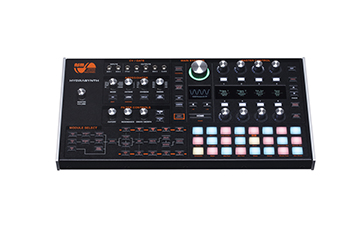 Hydrasynth is available to purchase through ASM's growing global network of authorised dealers at an MSRP of $1,599.00 USD ($1,299.00 USD MAP) for the keyboard variant and at an MSRP of $999.00 USD ($799.00 USD MAP) for the desktop variant.