ANAHEIM, CALIFORNIA, January 7, 2020 — Washburn, an American musical instrument icon that's been making guitars since 1883, will add to its celebrated history at Winter NAMM 2020 with the introduction of a new Michael Sweet acoustic guitar (MSJ40SCE) that features a large jumbo body that delivers a big, booming and powerful tone that's based on the vintage Washburn J40 guitar.
The new Michael Sweet model will be introduced at Booth #6813 in the Orange County Convention Center where guitarists can play the guitar and see for themselves what all of the excitement is about, according to Washburn Vice President of Sales James Tsaptsinos.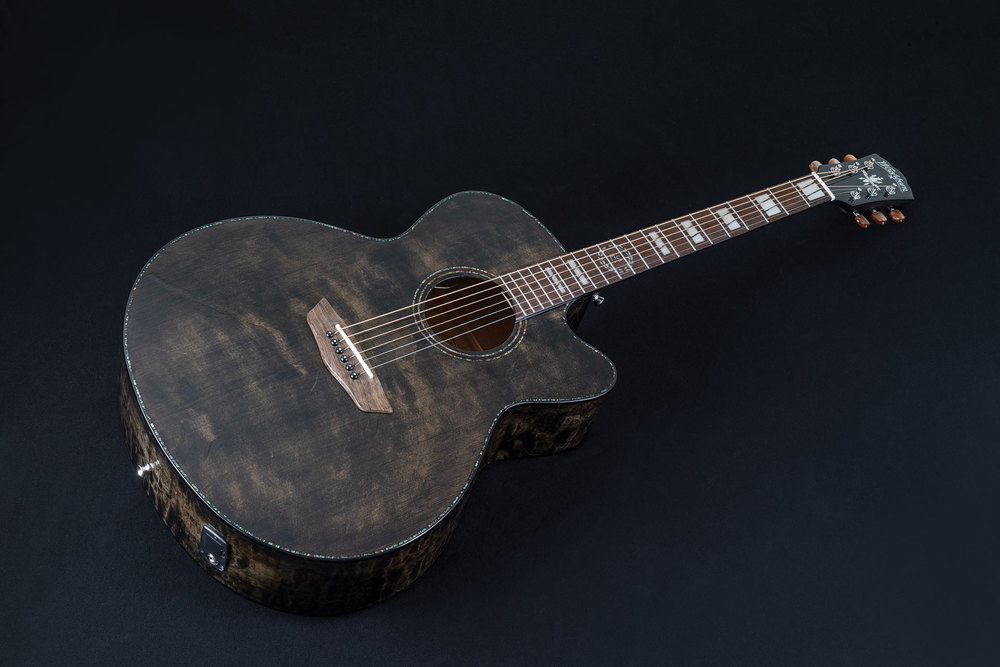 "Last year Washburn debuted the Michael Sweet V model guitar to great success, confirming Michael Sweet's impact and influence on today's players," said Tsaptsinos. "For 2020 we went back to Michael again for his take on a new acoustic guitar that we believe will be every bit as successful as the V was last year."
The new Michael Sweet acoustic model really stands out with its solid bearclaw spruce top that adds a touch of the exotic to the instrument. It also features integrated Barcus Berry active electronics, as well as a deep and rich transparent black finish that lends a perfect accent to the figured woods used to make the guitar.
"It wouldn't be a true Michael Sweet guitar if it didn't also come with a little bling," Tsaptsinos added. "And this new Michael Sweet is well appointed with lots of pearl and abalone that includes a nice real abalone purfling to outline its top and soundhole. In every respect, this new guitar lives up to the artist who stands behind it. We're proud to make it available to our dealers."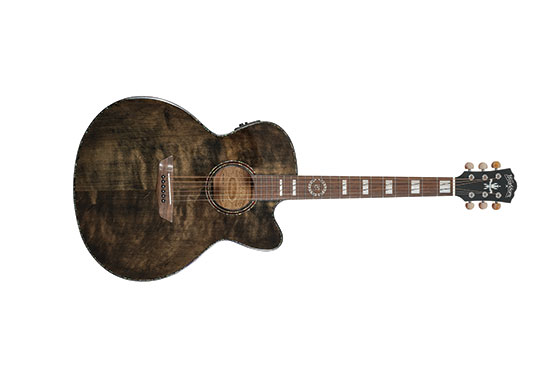 Michael Sweet is a singer and guitarist best known for being the co-founder, writer, lead guitarist, lead singer and frontman for Stryper, one of the most popular, multi-platinum crossover Christian metal bands of all time, with more than 10-million albums sold. He was also the singer and guitarist for Boston from 2007 to 2011.
About Washburn:
An authentic American original since 1883, Washburn Guitars has been designing and manufacturing stringed instruments —guitars, mandolins, banjos, and ukuleles— for some of the biggest names in rock, folk, and blues who have made some of history's most famous music with a Washburn.  While its roots are firmly planted in providing some of history's most well known, best valued, and best selling acoustic and Americana instruments, Washburn is committed to fulfilling the highest dreams of today's players, at every level, with a complete line of contemporary Acoustic Guitars, Electric Guitars, Bass Guitars, Americana and Ukuleles, Signature Series Guitars, and Accessories.  Washburn is based in Chicago, Illinois and is a division of JAM Industries USA.  For more information about Washburn, visit www.washburn.com.