Two notes Audio Engineering announce the Torpedo Captor X at Winter NAMM 2020 (Hall D, Booth 5647). Two notes CEO, Guillaume Pille, "Playing your tube amp in a great sounding room with an exceptional choice of perfectly matched speaker cabinets and microphones is truly joyous and an unparalleled experience. Torpedo Captor X is for tube amp lovers who crave this every time they play - no matter the environment."
Torpedo Captor X is a premium compact reactive load box, tube amp attenuator, miked cab simulator, IR loader and stereo expander for home, live and studio use with a compelling price point of $549 / €549 / £469. Two notes pioneered the digital load box and over the last decade, thousands of Two notes hardware users have captured and enjoyed the harmonic complexity and responsiveness of their tube amps both in the studio and on-stage.
Torpedo Captor X allows you to go directly to the PA and audio interface with studio-grade cabinet simulations using Two notes Virtual Cabinets and 3rd party IRs. It is also a portable solution to your amp being too loud; you can play your tube amp at its sweet spot and control your volume with the attenuator, anywhere. You can even enjoy your 100 watt rig in silence with an immersive headphone experience.
Torpedo Captor X brings new features to the Torpedo Captor family including a Stereo Expander (Stereo Reverb and Twin Tracker), Enhancer, Voicing, Noise Gate and XLR DI outputs with 3 routing options (Stereo, Dual Mono and Dry / Wet). Two notes offer a legendary backline of speaker cabinets and microphones and you can pair Torpedo Captor X with your phone, tablet, computer or MIDI controller for effortless control.
Guillaume Pille: "No other compact reactive amp attenuator offers so much control of the miking chain and with dual miking per cabinet, you may never use a real mic again. At Two notes, we believe you deserve to sound awesome, anywhere."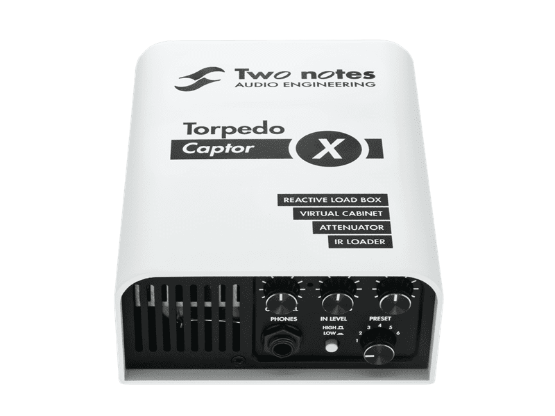 Two notes Torpedo Captor X ships in March 2020.
Find out more at https://www.two-notes.com/torpedo-captorx