Surfing. Aliens. James Bond. Man, you need mooooooore tremolo! Tremolo is a tricky little thing sometimes. Not enough and it gets lost in the mix and you can't hear it. Too much and it sounds like the aliens are coming. We need our tremolo to be flexible for different styles, depth, and speed to get just that right mood. And sometimes, we just want something a little bit different for inspiration and ideas.
Fender has really expanded their line of ruggedly built pedals over the last few years, and given how nice they are, this is welcome news. New to the line of tube-based pedals, the MTG Tube Tremolo joins two tube distortion pedals. Not just the product of Fender engineering, this pedal was actually designed in collaboration with famed amp builder, Bruce Egnater. The results of this collaboration? Fabulous!
Category

Value

Rating

Features

20%

Usability

25%

Sound

25%

Documentation & Support

10%

Price

20%

OVERALL RATING = 3.6 Stars, which earns it a WIHO Award!


3.6 stars or better: Outstanding, WIHO Award




3 stars or better: Worth considering




2 stars or better: Suited to specific needs




1 star or less: Not recommended
Features
The MTG Tube Tremolo features include an analog tremolo with a U.S.A. made NOS 6205 preamp tube, tap tempo, three different tremolo modes, compatibility with most pedalboard power supplies, and a surprise boost feature.
The pedal is housed in a stylish, yet very solid, anodized aluminum, brushed orange housing that includes LED illuminated controls. It features three oscillator wave shapes to tailor your sound: smooth sine wave, a cyclical triangle wave, or a rigid square wave easily accessible by a chrome three-way switch just to the left of the Wave knob. There are four dials with sleek black knobs and blue LED lights to adjust the level, speed, intensity, and waveform. And if you need to get that tremolo to sync perfectly with your groove, have no fear because there is a tap tempo footswitch!
For tone purists, Fender thoughtfully includes an optional true bypass. There are also red LEDs above the Bypass and Tap footswitches to let you know those are on/off. [insert pics of front, front with lights on, angled views]
Thoughtfully, a switch on the back of the pedal turns the blue LED indicator lights on the knobs on/off if you want to minimize illumination on your pedalboard (this has no effect on the red lights above the bypass and tap switches).
The unit requires 200mA 9V power (a PSU is included). There is no battery option. Guitar input is located on the right side of the pedal and output on the left side. They are purposely misaligned to make the most of space on a compact pedalboard, and the staggered input/output jacks fit well alongside other Fender pedals.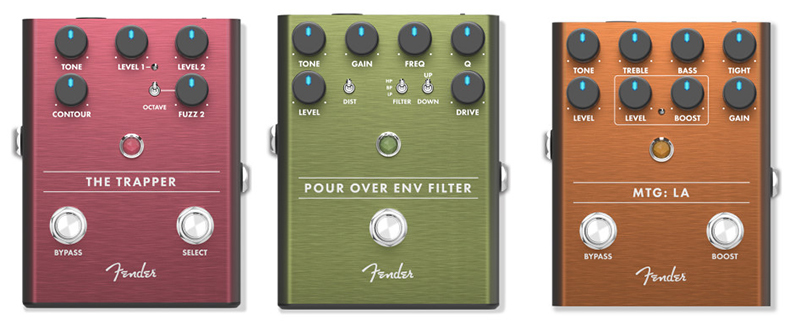 Usability
The level knob controlled the gain through the tube stage of the pedal. Settings below 9:00 gave unity gain (input and output levels equal), while above 9:00 added a nice tube boost. With the level adjusted above 9:00 and the intensity dialed all the way down, the pedal functioned essentially as a tube boost. Speed adjusted, well, speed. Between the Speed knob and the tap switch, the one most recently adjusted will take priority.
The speed control features useful indicators on the body of different time signatures as a point of reference for what may fit your song. The intensity, when dialed all the way down, had zero depth while when turned all the way up, there was a valley in the waveform where audio was cut off. As intensity increases, overall volume dropped a bit which could be compensated for by increasing the level. The wave knob worked along with the waveform selection switch. In the up position there was triangle to square, middle was sawtooth to triangle for various degrees of wobble, and the down position was pulse width, which offered various stuttering types of effects. The wave knob enabled us to morph between the different forms for each position. All were straightforward and easy to adjust to get the right sound for whatever song or style we were playing.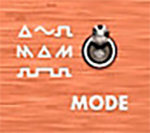 Our only real complaint was that it was very difficult to read the labels for each knob when standing up. White print on a metallic light orange casing looks cool but is hard to read in dim lighting or with light reflecting off the casing. You would want to get very familiar with the pedal before playing itlive.
Sound
We tested the Fender MTG Tube Tremolo pedal with some of our single coil, humbucker, and P90 equipped guitars through a number of different. The speed, intensity and wave options really allowed us to dial in the exact tremolo we wanted for any style of song we were playing. The tap feature allowed us to get things right in time if that was what we were looking for. We were also able to create some crazy sounds that when done right, were pretty tasty!
We did, however, notice a little noise from some of the settings that may be related to having an actual tube and analog circuit inside the pedal.
We cannot overemphasize the benefit of having a level knob for the tremolo, which is more of a wet/dry mix control. This really facilitates allowing the guitar to cut through the mix in a live situation and not compromise the tremolo effect you desire. There is nothing worse than being in the middle of a song, stepping on a tremolo effect, and all of sudden you can't hear the guitar. Yes, this happens. But not with the Fender MTG Tube Tremolo.
A big surprise was the boost feature. If you turn the intensity all the way off, the level knob functions as a pure tube boost. At lower levels, it seems to increase the clarity and make the micro harmonics jump out. At higher boost levels, it crept into more of a tube overdrive, but subtly (no big distortion here). Once we started playing with it, we couldn't turn it off! You know that boost pedal from the early '90s that has become infamous? Well, this sleeper feature on the pedal may just turn it into the pedal you always have engaged. Turn the intensity off for boost without tremolo and simply dial up the intensity you need when it's time for tremolo.
Documentation and Product Support
The pedal includes a printed manual. It has Fender's standard parts and accessories 1-year limited warranty.
Price
The Fender MTG Tube Tremolo sells for $199. This is a fair price for a premium, tube-driven tremolo pedal with some very useful capabilities.
Contact Information
Fender
www.fender.com