Category

Value

Rating

Features

20%

Usability

25%

Sound

25%

Documentation & Support

10%

Price

20%

OVERALL RATING = 3.5 Stars (out of 4)


3.6 stars or better: Outstanding, WIHO Award




3 stars or better: Worth considering




2 stars or better: Suited to specific needs




1 star or less: Not recommended
Players familiar with the classic, early '90s Korg Wavestation synths and related sound modules have had a decades-long love affair with the ever-evolving sounds, lush textures, and ambient sounds that the Wavestation was capable of producing. There have been glimpses of Wavestation technology in other keyboards such as the OASYS and Kronos, and there's even Korg's own virtual recreation of the Wavestation in the form of a plug-in, but the Wavestate is a new piece of hardware, fully dedicated to wave sequencing and synthesis. In fact, Korg is calling it "Wave Sequencing 2.0." Like it's ancestors, the Wavestate is capable of producing unique and often fantastic sounds.
Even better, operating system version 2.01 was just released as we were getting to writing (we started at version 1.05), which added new features such as support for user samples (up to 4GB!), an editor/librarian, and a number of other enhancements to add even greater possibilities. It's a shame that such sonic greatness is married to a juvinile, 37-key keyboard. But if you can get past that design characteristic, there's plenty to love here.
Features
The Wavestate is a wave sequencing synthesizer, and it sports a 37-key keyboard that is both velocity and release-velocity sensitive. Polyphony is 64 voices, and the massive library of on-board sound includes over 240 Performances, 740 Programs, and 1,000 Wave Sequences. Korg states there is enough storage for tens of thousands of user Performances, and you can now import up to 4GB of your own multi-samples into the Wavestate (using the new Sample Builder application, for both Mac and Windows). While it is unclear as to the exact number of built-in samples, Korg also describes this as "gigabytes." Remember the days when we thought 32 MB of samples was amazing? How far we have come!
Since the keyboard is so narrow, all of the controls are directly atop/behind the keys, with nothing on the sides. At the top center is the now all-too-familiar, small, monochromatic LED screen. To the left of this are four Layer buttons, and moving down, are the wave sequence lane controls, and then eight white modulation knobs. These are particularly distinctive as all other buttons/knobs are dark gray or black (all will be explained later in more detail).
In the filter section, you'll find a lot of options: 2-pole LPF, 2-pole HPF, 2-pole BPF, 2-pole Band Reject, 4-pole LPF, 4-pole HPF, 4-pole BPF, 4-pole Band Reject, Multi Filter, MS-20 LPF, MS-20 HPF, and Polysix.  There is also a dedicated vector button in this section and holding it shows both values and graphical representations of the vector joystick position. Yes, the original Wavestation's vector joystick has returned for real-time adjustments of the balance between wavesequence layers.
Below this are Set List and Sequencing Step buttons. There are sixteen lighted buttons here, the first four of which can be toggled by holding the shift key down while pressing (and the shift button at the top has similar effect on many of the other buttons too, giving various buttons multiple functions).  A Set List, familiar to Kronos users, lets you group and arrange Performances (i.e., for a live gig). A Set List has 64 slots, arranged in four banks A-D (each having sixteen slots). Similarly, when the "wseq steps" button is pushed, these same buttons represent 64 steps per lane, in four banks A-D. An important thing to mention, is that with OS 2.0, these buttons also become category selections for presets.
The effects section features several categories of effects based upon their placement in the signal path. The Pre effects consists of Decimator, Graphic EQ, Guitar Amp, Modern Compressor, Parametric EQ, Red Compressor, Ring Modulator, Tremolo, and Wave Shaper; the Mod effects consists of Black Chorus/Flanger, Black Phase, CX-3 Vibrato Chorus, EP Chorus, Harmonic Chorus, Modern Chorus, Modern Phaser, Orange Phase, Polysix Ensemble, Small Phase, Talking Modulator, Vintage Chorus, Vintage Flanger, Vintage/Custom Wah, and Vox Wah. The dedicated delay effect has L/C/R Delay, Multiband Mod Delay, Reverse Delay, Stereo/Cross Delay, and Tape Echo; the reverbs, which apply to all the lanes simultaneously (unlike the others which are independent on each of the four lanes) contain early reflection and Overb. Similarly, the 4-band parametric EQ simultaneously affects all four lanes.
The rear of the Wavestate includes MIDI In and Out, output L/R, a headphone jack, damper/sustain jack, and a USB B port. There is also an AC adapter jack for a DC 12V wall wart rather than an internal power supply. As you can imagine by the 37 keys (and lack of internal PSU), the Wavestate is very light—just shy of seven pounds. It's a very portable sonic powerhouse.
We also need to mention the new software that comes with Wavestate OS version 2.0.  Korg has released the Wavestate Editor/Librian software and Sample Builder software as well. This is a welcome addition, as the Wavstate's number of sounds and sonic possibilities are much easier to explore with a full-fledged editor. And the Sample Builder software makes it relatively painless to load samples into the Wavestate.
Wave sequencing may not be familiar to everyone, but even for the initiated, the Wavestate's architecture is quite a bit different than the classic Wavestation.
To create sounds, the Wavestate utilizes something called Lanes. Starting with the Sample Lane, this is the starting point of a sound. It's where the samples (waves) are, and a sample lane can have up to 64 samples in sequence (you can think of each sample as a step in the 64-step sample lane). Once the samples are in place, you can choose the order they are heard by creating a loop that can play forward or backward (or both!), and where the start and end points are.
Each sample duration within the Sample Lane can be different from one another, and this is controlled in the Timing Lane. To make sound design even more intricate, the Timing Lane can have a different number of steps than the Sample Lane. So, the interplay of samples and timing differences can produce some very complex and interesting sounds.
As the old infomercials used to say, "But wait! There's more!"  You also can control the pitch of each wave… yup, you guessed it, in the Pitch Lane. This is also an independent lane, meaning it can have a different length from either of the previous lanes (sample or timing), as well as different loop points and direction.
If that wasn't enough, you have an additional four lanes. The Shape Lane applies a contour within a given step; the Gate Lane determines how long a given wave sounds within its step; the Step Seq Lane generates a modulator that you can direct to a myriad of destinations; and the Master Lane, which allows you to reinitialize the other six Lanes after a chosen amount of time.
Finally, many of the parameters determining each Lane can be modulated using LFOs, contours, the vector envelope and the Wavestate's four arpeggiators, and you can even point multiple modulators at a single destination simultaneously. You can even program randomization into the way steps are played, including skipping steps. There's a huge number of possible combinations, and this is the very reason that the depth and breadth of the Wavestate is possible.
Korg's Quickstart manual provides this overview of the architecture: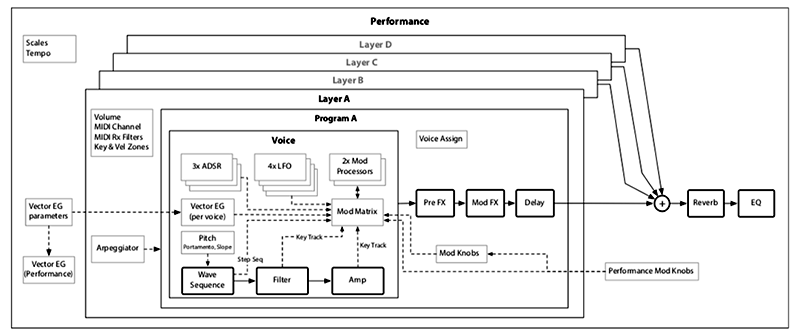 If you're still with us, there's still a bit more explaining to do. A Voice is a wave sequence that then passes through a filter and amplifier, and each voice includes three ADSR contour generators, four LFOs, and two modulation processors. Interestingly, every modulator can also be modulated, so again, there are many possibilities.
A Program, as seen in the graph above, adds three dedicated effects to the voice (the previously described Pre/Mod/Delay effects).  A Layer contains all of this, and adds the arpeggiator, volume, MIDI channel, and key and velocity zones. Up to four of these layers (Layers A through D) comprise what is called a performance and adds a vector envelope generator, a global reverb, and a four-band parametric EQ. Additionally, you can choose alternative tunings.
Usability
So really, how is the Wavestate to actually play? That starts with the keyboard, or lack therof. We were incredibly disappointed that this dream follow-up to a legendary synth shipped with a 37-key keyboard that features velocity and release-velocity sensitivity but lacked aftertouch. This is a polyphonic masterpiece that is crippled by a lousy form factor and limited keyboard that makes little sense attached to such an otherwise expressive instrument. However, if you plan to control the Wavestate from a more robust keyboard in your arsenal, not only does the synth respond to aftertouch from incoming MIDI, but aftertouch is fully assignable to any choice of modulator.
The Wavestate offers great sounds right out of the box. If you're familiar with wave sequencing, you will likley be able to get up and going failry quickly with adjusting and creating sounds. If you're new to wave sequencing, fear not, as the Wavestate has many more hands-on knobs and buttons than its predecessors to facilitate an easier time sculpting and creating. Having said that, we strongly advise taking a look at Korg's collection of demo videos to really get to know this beast of a synth.
Even though we have years of experience with the original Wavestation (and still own a few), not everything is obvious, and more than once we found ourselve asking, "How do we do xxx?" We were usually able to find the answers, but to get the most out of the Wavestate, be prepared to do at least a little bit of reading and video watching.
Selecting one of the keyboard's presets is done by pressing the Performance button, and then scrolling through the many presets. This worked, but was clearly not the most efficient way of navigating the entire library. Fortunately, The Wavestate has a customizable category select feature (hit shift and > while in a performance) that makes it easier to search through performances or individual layers. And, with OS version 2, Korg released an Editor/Librarian for the Wavestate that made finding and organizing sounds much easier.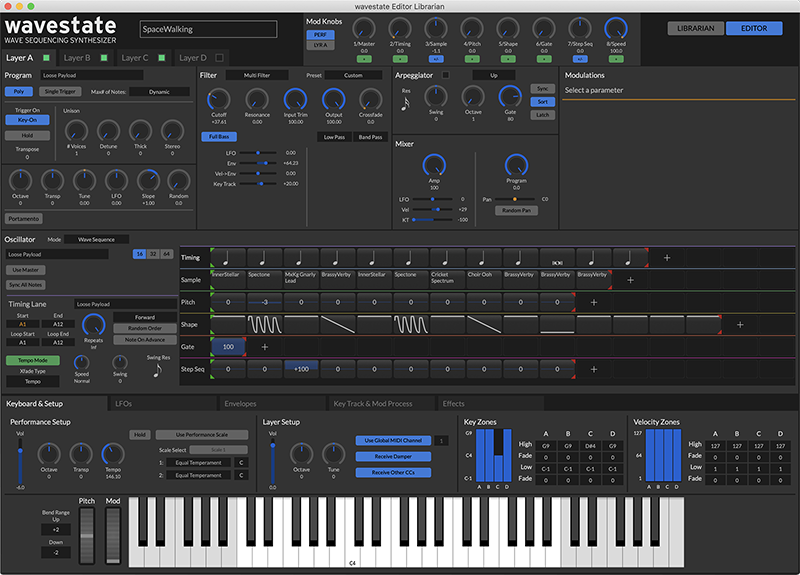 The above screenshot is the software in Editor mode, which definitely helped with visualizing all the different parameters at once, something not so easily done on the Wavestate's tiny screen. The same software also works as a librarian, breaking down all the performances to their components. Even if you never use the editor, just having the librarian to quickly sift through presets (and your own sounds) is a huge help.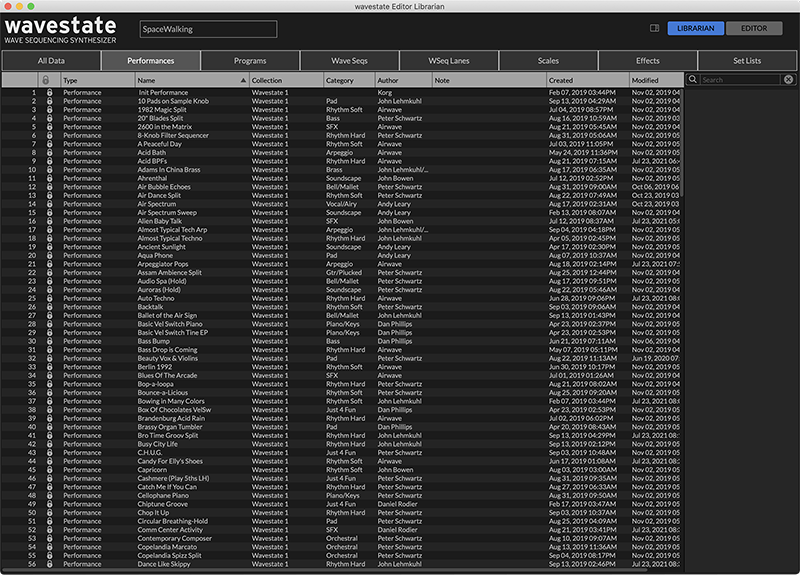 Speaking of additional content, that is one of the other big updates with OS 2.0. You can now load your own samples: up to 4 GB of content. The software from Korg is called Sample Builder, and is another free download.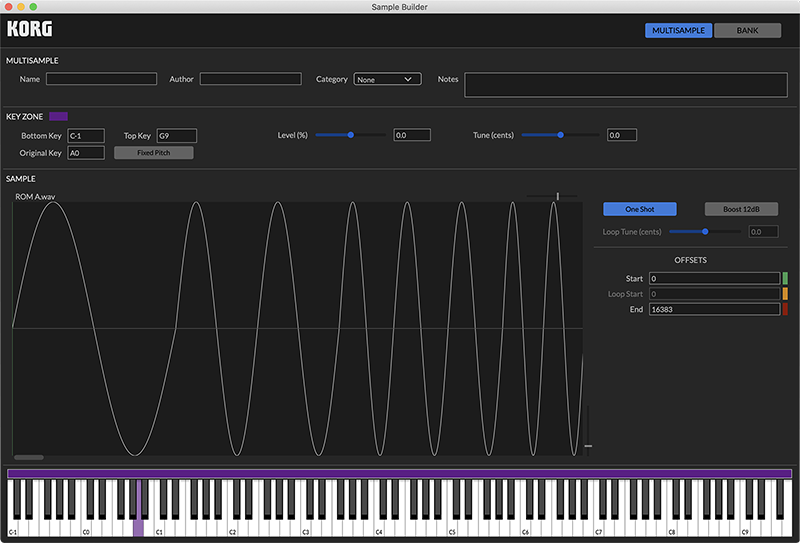 Korg's website has a decent video demonstrating how to prepare your samples and load them into the Wavestate.
Bascially, you create your .wav files (method of your choice), import them into Sample Builder, edit them as you see fit, assign samples to an on-screen keyboard, and then simply click the "Transfer" button to get them into your Wavestate. The transfer button will be green if your Wavestate is connected, meaning you're good to go to transfer.
Sound
That's what it's all about in the end, isn't it? The Wavestate does not disappoint, and arguably this is its strongest point. The SOUND! What can't this thing do? Haunting soundscapes, moving pads, complete techno backbeats, sound effects, and yes, there's even a good Rhodes piano in there, too. A few of the sounds were reminiscent of other Korg synths (i.e. a few sounds were reminiscent of our Triton), but most were sounds you can't find elsewhere. And that's the thing. When you hear a Wavestation, you know it's a Wavestation. And following in those footsteps, when you play or create evolving sounds on the Wavestate, you have another singularly unique sound machine creating truly original and inspiring soundscapes. If you already have your acoustic sounds keyboard and your classic analog polysynth, the Wavestate is a perfect compliment to add a wide range of "other" sounds you just don't get from the other keyboards, though it does include more than a few bread-and-butter sounds for players who just can't bring the entire rig to the gig.
There were a few whimsical sounds we found as well, including "Video Games" which sound like a combination of 1980s staples Pac-man and Galaga. The preset "2600 in the Matrix" while perhaps an ARP reference, to us also sounded a bit like an Atari 2600 Space Invaders sound. There's a wide variety of sounds, and with the hands-on controls, experimenting isn't as daunting as it used to be. And one big improvement over the classic Wavestation: your sounds can sync to an incoming MIDI clock! Anyone else remember having to reprogram the time divisions in wave sequences in order to match specific tempos on a click track?
You can hear demos of the Wavestate in Korg's highly useful tutorial videos here.
Documentation and Product Support
The Wavestate comes with a large, folded paper Quick start guide that is exactly that. It will get you started, but really not much beyond that, given the power and depth of the Wavestate. The complete manual is available online and is much better at explaining and giving examples of how to navigate around this synth. It includes some very useful diagrams on the different filter and resonance types, as well as additional information on vector synthesis.
Equally important are the videos available on Korg's website that demonstrate how to achieve a number of different things using the physical hardware.
Price
The Korg Wavestate (MRSP $1,099.99) sells for approximately $750 USD. On the one hand, you have an immensely powerful and versatile synth that can produce sounds you just won't get anywhere else. The ability to load your own samples leaves the door open for essentially unlimited possibilities.
On the other hand, we suspect many players (like us) will be extremely disappointed in the lack of a real keyboard. Throw in a cheap wall wart instead of an internal PSU and you have a machine that sounds like a million bucks but has a hard time finding a home in live performance keyboard rigs. If all you care about is cool sound design in the studio and can stick the keyboard somewhere attached to a better controller keyboard though, there's obviously a ton of great sounding stuff on tap at a very reasonable price.
Currently, Korg is bundling the Wavestate with additional software not related to the Wavestate. This includes Korg Gadget 2 LE, Korg module, Kork M1 le, UVI digital synsations, Reason Lite, and several other lite versions of software from AAS and iZotope.
Contact Information
Korg
www.korg.com