Make room on your pedalboard by combining two essential pedals in one? Sign us up! Already boasting a line of well-respected and widely used volume pedals, Ernie Ball now offers a 2-in-1 volume control pedal with a digital chromatic tuner on the footboard that is both functional and easy to use. First unveiled at The 2019 Winter NAMM Show, the pedals are finally available, and they are a worthy addition to any pedalboard.
Category

Value

Rating

Features

20%

Usability

25%

Sound

25%

Documentation & Support

10%

Price

20%

OVERALL RATING = 3.7 Stars, which earns it a
WIHO Award!


3.6 stars or better: Outstanding, WIHO Award




3 stars or better: Worth considering




2 stars or better: Suited to specific needs




1 star or less: Not recommended
Features
The Ernie Ball VPJR Tuner & Volume Pedal consists of a rugged metal housing and features a durable PVC coated Kevlar cord under the hood for consistent tension throughout the foot sweep. The footbed is covered in a durable, textured coating that is well secured and should not peel off over time or in the heat.
There are two i/o options, starting with the instrument In and Out—familiar stuff, and it is recommended that this pedal be first in your signal chain to get the best signal detection for the tuner. There are also Effects Send and Return jacks. The effects loop connects to other pedals and places them under volume pedal control, and the output level of this buffered loop will remain the same as the input level at all times. There are basically four rig set-ups you can use. You can use the loop as a gain control for an amplifier, as a gain control for pedals, as a master volume for pedals, and as a gain control and master volume control.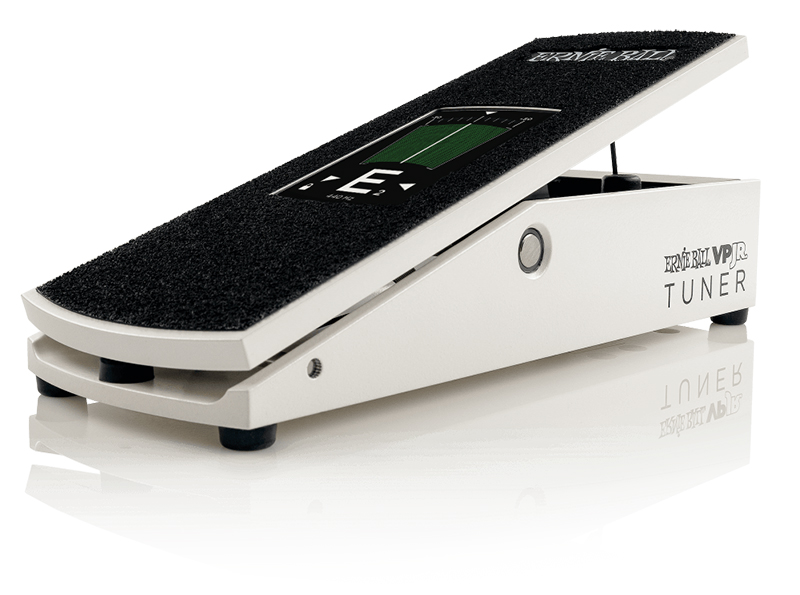 The chromatic tuner allows for one string to be tuned at a time. The note, octave, reference pitch, and sharp/flat indicators appear at the bottom of the screen in white with black background. The middle of the display is blue and when you get the note perfectly in tune, it turns green. The in-tune indicator, which is a white, illuminated triangle, shows when you are perfectly in-tune (triangle middle fills in), is located at the top of the screen and below that are the cent markers. The needle sits right in the middle and is easily visible.
Although you will most likely be using a 440 HZ reference pitch, you have the option to adjust the pedal tuner up to 447 Hz or as far down as 432 Hz in increments of one Hz.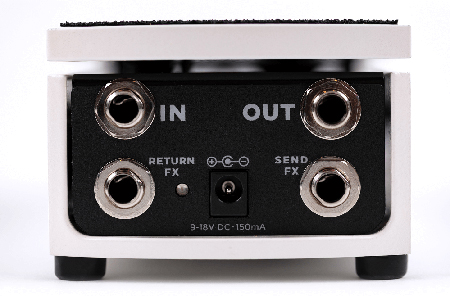 Since this is not a passive volume pedal like others in the Ernie Ball product line, it requires power for the tuner and volume pedal functions, which can be powered by any DC power supply in the 9-to-18 volt range. Any routine pedalboard power supply should meet these requirements. There is no option for battery power.
There is also a blue power LED light that lets you know your unit is powered up on stage. Of course, the screen won't turn on if there isn't power so there are two ways to know it is on and working.
We reviewed the classy, stealth black pedal, but it comes in three additional matte colors: red, white and silver.
Usability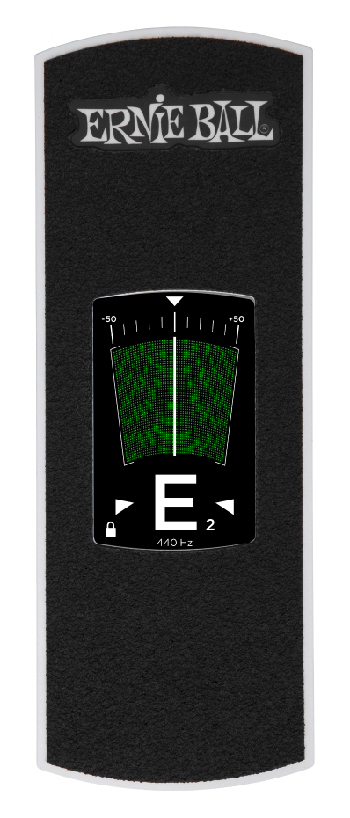 Since we already had an Ernie Ball Volume Pedal on our pedalboard, this was an easy swap. And since we didn't need the existing tuner on our board, we stole the power cable from that pedal to power the VPJR pedal. Volume pedals are pretty straightforward. Heel down and the signal is off, and toe down sets the volume at max. This pedal had a very smooth and easily controllable sweep, and we love the added feature where the digital display let us know exactly where were from 1-10 on the volume sweep. If you want to pre-set a precise volume level for a particular song or passage, it's nice not having to rely on your amp or monitoring solution when you can figure out your mix level in advance and just set the volume pedal at a specific value.
The clear, glossy, digital screen is well lit with a black background and white lighting for all letters, numbers, and indicators. The virtual lock/unlock button is located at the bottom left of the screen and must be pressed for five full seconds to lock and unlock the screen to get at menu settings (we learned this "accident avoidance" setup the hard way). Once the screen was unlocked, double-tapping anywhere on the upper half of the touchscreen brought up a menu that enabled us to choose from three modes for the screen display: volume + tuner, volume only, or tuner only.  Whatever mode we choose remained even after the tuner was turned off, until we changed it again.
Although some players prefer a strobe-style tuner, the tuner was spot on and made for quick tuning. In dark and dim lighting conditions, the display was crisp and bright with nice clean colors. But what we really wanted to know was could we see the screen in the bright Arizona sun if we were playing an outdoor gig. How often do you have your pedalboard ready to go, get outside, and then can't see if a pedal is on or off? We are pleased to report that we were able to see some of the display (it doesn't get much brighter than a clear Arizona day). Although we were unable to see the middle of the display when blue or when the tuning indicator changed to green, all the other white markings on the black background were easy to see. A little shade over the pedal would have helped even more. But this was a step up from previous nightmare gig scenarios.
We tested the tuner with guitars and basses, and also drop-tuned our guitars, with satisfying results in all scenarios.
Sound
The pedal features a high-quality buffer, and we experienced no loss of sound quality through the pedal. If you're already an Ernie Ball volume pedal user, you can expect similar quality here. The pedal was smooth in operation, and there were no scratchy noises or sudden on/off drop-outs with the signal.
Documentation and Product Support
The pedal comes with a simple manual in multiple languages (English, French, Spanish, Chinese, and Japanese) and is also downloadable on the website.
The VPJR comes with a limited six-month warranty.
Price
The Ernie Ball VPJR Tuner-Volume Pedal (MSRP $199) sells for $199 and will be shipping this spring. If you need a solid chromatic tuner and have use for a volume pedal, this is an innovative combination that has plenty to offer with no caveats.
Contact Information
Ernie Ball
www.ernieball.com