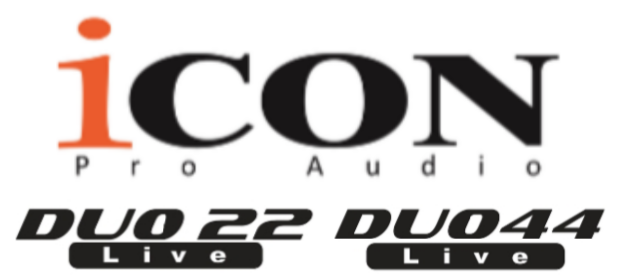 NASHVILLE, TN, USA: High-quality, professional-grade musical equipment provider iCON Pro Audio is proud to announce availability of Duo22 Live and Duo44 Live — macOS (10.11 and later), iOS (9 or above), Windows (7, 8, and 10), and Android compatible USB2.0 High-Speed (bus-powered) professional portable recording interfaces incorporating audio inputs and outputs with analogue and digital connectivity to any smart mobile device for live streaming applications — as of November 1…
As implied by its apt appellation, Duo22 Live is a two-input/two-output USB recording interface, with front panel-positioned Mic in (three-pin balanced XLR input for condenser microphone with +48V phantom power or dynamic microphone/quarter-inch balanced TS input for dynamic microphone) and rear panel-positioned Guitar in (Hi-Z input for guitar/bass) together with rear panel-positioned unbalanced L (left) and R (right) analogue line outputs (on quarter-inch TS connectors at +6dBU line level)/Stereo out (unbalanced analogue output on a standard 3.5mm stereo connector). Cutting edge? Not necessarily in name, but it is in reality — ideal, in fact, for musicians, performers, and producers who want to incorporate a smart mobile device into their setup for full duplex recording and playback.
Put it this way: with simultaneous desktop and mobile connectivity — courtesy of the rear panel-positioned USB (for Mac/PC connection, or connecting, for example, an iPad camera kit's USB connector), and Analog I/O TRRS stereo jack (for connecting directly to the smart mobile device's audio I/O) and Digital I/O Type C jack (for connecting directly to the digital jack of the smart mobile device — using a required OTG adapter), users can stream audio from their connected computer directly to their connected smart mobile device while accessing the topside Smart Phone Input Level control (to adjust the audio input level to the smart mobile device) and Master level control (which will adjust the output level of both the Duo22 Live's line outputs and the 3.5mm stereo output). On top of that, the front panel-positioned Mon button switches between monitoring the connected smart mobile device with the connected computer's audio signal or only the connected computer's audio signal, while the front panel-positioned LLB (Live Loopback Button) loops back the connected smart mobile device's audio output to its input for live session purposes.
Thanks to its high-grade DA/AD (digital-to-analogue/analogue-to-digital) convertors duly delivering 114dB dynamic range throughout, truly capturing highly-detailed (24-bit/192 kHz) recordings on a computer or smart mobile device is both perfectly possible and simplicity itself with Duo22 Live. It is as easy as hooking up a condenser or dynamic microphone and a guitar or bass and — using the front panel-positioned potentiometers to control the Mic in and Guitar In connections — adjusting accordingly to quickly capture the musical moment, having connected speakers (to those rear panel- positioned outputs) or headphones (to the front panel-positioned quarter-inch TS connector, with adjacent individual volume potentiometer). Pressing the top panel-positioned Monitor button allows for direct monitoring of the input — microphone or instrument — signal through headphones without computer processing and with zero-latency while recording. Indeed, iCON Pro Audio's rugged aluminium-constructed, compact Duo22 Live's dual connectivity is designed to enhance mobile live streams, podcasts, or videos; from a one-man show to a full live band, broadcasting mixes at ultra low- latency directly to a smart mobile device is a breeze.
Better still, Duo22 Live is not alone in doing what it does so well, with its Duo44 Live bigger brother effectively expanding on the concept in both its higher 'numerical naming' and increased connectivity count as a four-input/four-output USB recording interface also aimed at musicians, performers, and producers who want to incorporate a mobile device into their setup — this time for full duplex simultaneous recording and playback. This time there are dual mic/instrument preamps accessed via front panel-positioned hybrid connectors (that accept a standard three-pin XLR plug or a quarter-inch balanced TS connector) alongside potentiometers to control the input level of each of the associated analogue microphone/instrument inputs, while the rear panel also includes MIDI I/O on standard five-pin DIN connectors to allow adventurous Duo44 Live users to also work with, say, keyboard controllers. This time the Master level potentiometer (to control the master output level of the analogue outputs) is also sited on the front panel, while the topside- sited singular Monitor knob allows for direct monitoring (eliminating the latency or delay inherent in even the best internal circuitry while listening to the input and existing tracks) when turned clockwise and 'computer' monitoring (complete with effects while recording by using extremely low-latency ASIO monitoring) when turned anti-clockwise.
Further flexibility abounds as Duo22 Live and Duo44 Live are both equipped with a +5V DC power supply connector, enabling external power to be supplied when working with a USB-connected iPad, for example, so no need, necessarily, to work with a computer-hosted DAW (Digital Audio Workstation). But beyond that, iCON Pro Audio's (Windows-only) proprietary ProDriver 4 software lets Duo22 Live and Duo44 Live users redirect audio from any source on their computer and also hosts VST or DirectX plug-ins without a DAW, so saving plug-in chains as presets and recalling them during sessions is also accessible.
Anyone in the market for a road-ready rugged and portable professional USB recording interface incorporating audio inputs and outputs with analogue and digital connectivity to any smart mobile device for live streaming applications need not look any further than iCON Pro Audio's aptly-named new duo. Duo22 Live or Duo44 Live could well be the only question they now need to be asking themselves!

Pricing and Availability