Scottsdale, Ariz. (December 16, 2020) — Gretsch® today announces the all-new G613T-MGC Michael Guy Chislett Signature Falcon™ with Bigsby®.
The Australian born and bred Chislett is a founding member, lead guitarist and celebrated producer for Hillsong United. Chislett's influence and credentials also expand across multiple genres. He played in Butch Walker's band and was the lead guitarist for Chicago rock band the Academy Is... from 2007-2011, as well as contributing to albums by Pete Yorn, Pistol Youth and Good Charlotte.
"I reached out to the guys because I felt like there wasn't a White Falcon that resembled the one I played," said Chislett. "To have them offer to make me a new one was pretty exciting in itself. I grew up idolizing Brian Setzer—I even have a tattoo—and guys like George Harrison. I never would have even dreamed of having a signature model; it is pretty crazy to me still, and I am just incredibly honored."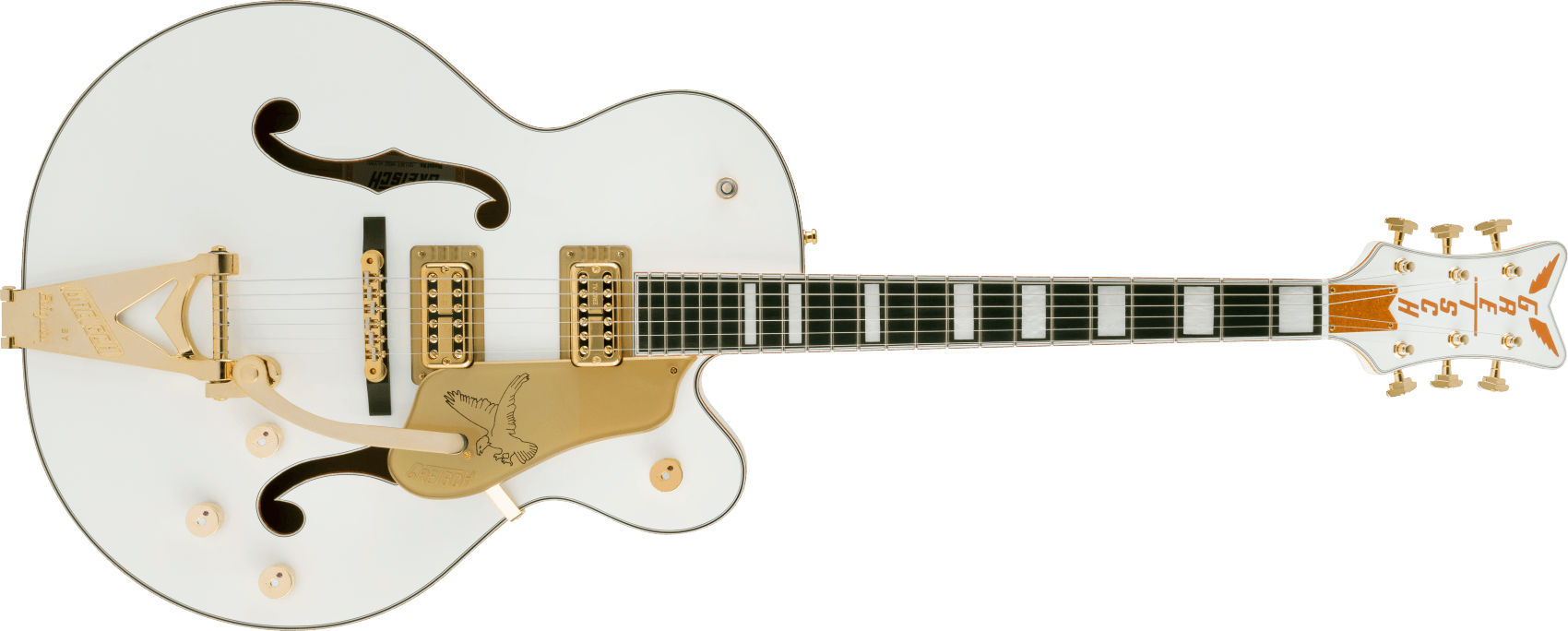 Chislett's all-new signature model features a fully hollow body build and a highly resonant solid Sitka spruce top with bound F-holes, vintage 1959-style trestle bracing and laminated maple back and sides for that classic big-body sound with incredible projection and rich, balanced tone.
"Michael was looking for a big, vibrant sound that would give him that famous Gretsch clean while also giving him the ability to drive his tone pretty hard without a lot of feedback," said Jason Barnes, VP Gretsch Guitars. "With our 1959 trestle bracing and spruce top combination, you get a full and harmonically rich tone that stays very defined and articulate no matter what level of gain you use."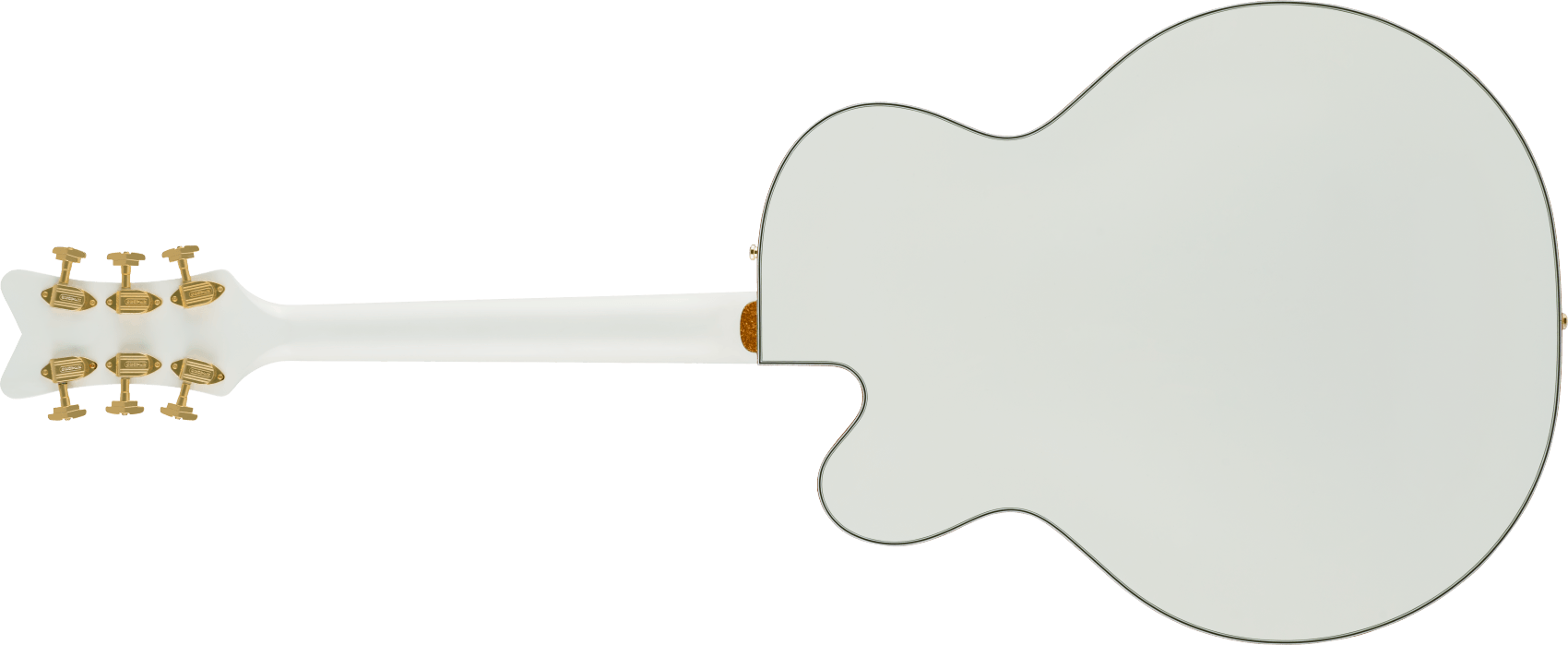 A semi-gloss maple neck with a comfortable and versatile standard "U"-shaped profile for supple playability is capped by a 12"-radius ebony fingerboard with pearloid Big Block inlays and 22 medium jumbo frets, making complex chords, far-reaching bends and intricate single-note playing effortless.
TV Jones® TV Classic pickups provide powerful tone and unparalleled dynamics, and can be flexibly harnessed with a versatile control layout consisting of three-way toggle switch, individual pickup volume controls, master tone and master volume with treble bleed circuit featuring "Squeezebox" paper-in-oil capacitors for an incredibly silky high end. The Bigsby B6GP vibrato tailpiece with pinned ebony base adds expressive shimmer to playing, and combined with the bone nut, allows for impeccable tuning stability.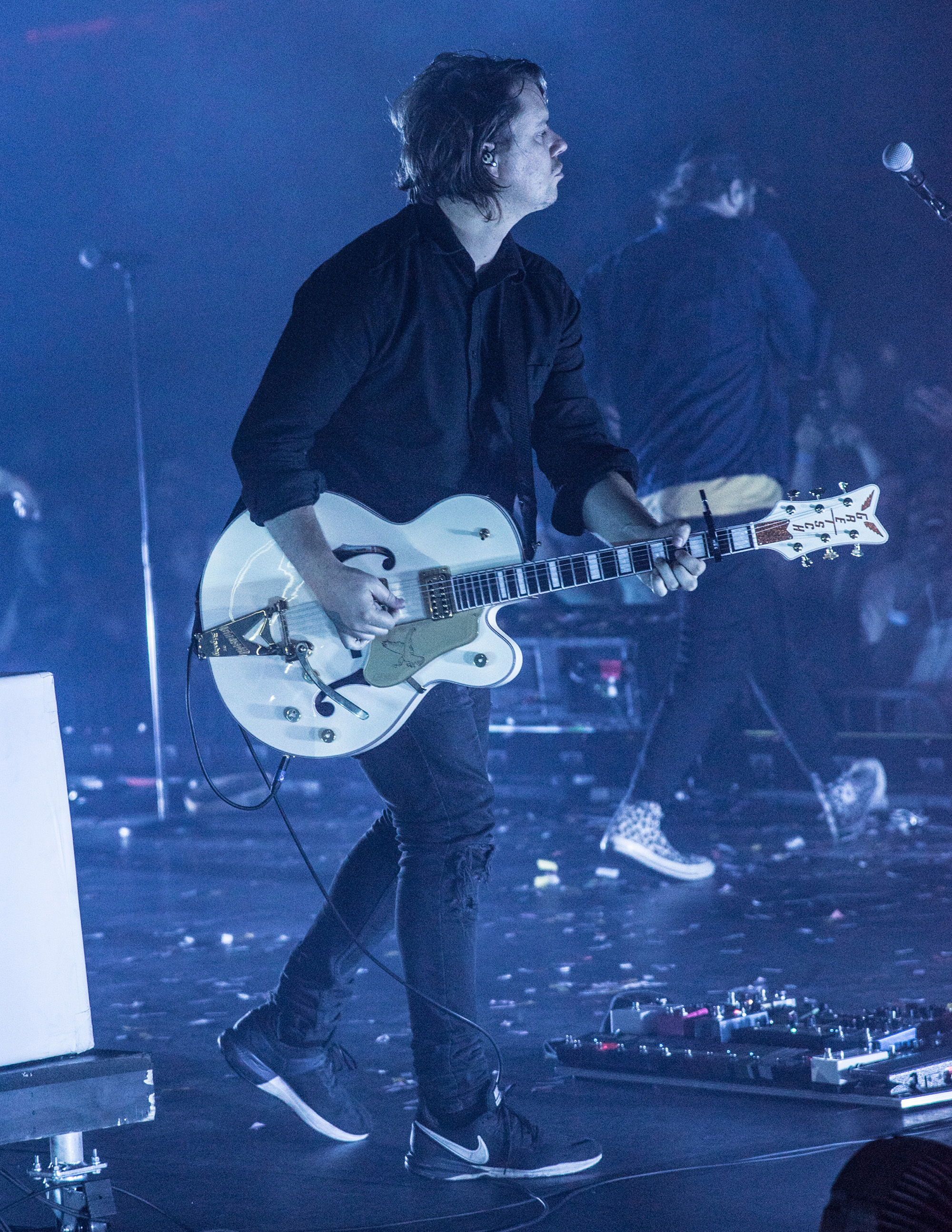 "I was surprised how much louder this was," said Chislett. "My other one is so much quieter, and has a lot of 'saggy' features to it which you don't hear until you hear it up against something else. Recording with the old one, I remember how I used to turn stuff up quite a lot and it would never sound that loud. This new one sounds a lot more present. You can tell even playing it acoustically, it's a lot brighter than other guitars, which is really cool.
"There's something kind of prestigious about it that you don't have to play too much. And with the Bigsby, you can do so much ambient stuff. I can sit there for hours, just trying to make things feel as slow as possible and last forever."
This resplendent bird is dressed in a Vintage White gloss lacquer finish with gold sparkle binding, gold pickguard and gold hardware.
"All in all, this guitar is the perfect mix of our best Vintage Select and Players Edition Falcons," said Barnes.
"This guitar does every style," summarized Chislett. "I pretty much put Gretsch on everything."
Watch Chislett break down his Gretsch G613T-MGC Signature Falcon in the video below:
For more information, please visit gretschguitars.com.