Hot off the success of the Mzero Overdrive, Mezzabarba has introduced a new flagship amp, the Trinity, to its lineup. The Trinity seeks to bring the product line into the 21st century with an array of modern features including full MIDI control, multiple channels, and more. A 100-watt, all tube, fire breather akin to the Mzero, the Trinity amp is targeted at the modern guitar player seeking modern high-gain tones. Having played and owned a number of other Mezzabarba amps, we couldn't wait to hear what the Trinity had in store for us.
Category

Value

Rating

Features

20%

Usability

25%

Sound

25%

Documentation & Support

10%

Price

20%

OVERALL RATING = 3.6 Stars,
which earns it a WIHO Award!


3.6 stars or better: Outstanding, WIHO Award




3 stars or better: Worth considering




2 stars or better: Suited to specific needs




1 star or less: Not recommended
Features
The Trinity is a true three channel, 100-watt amp, with its power delivered via four EL34 power tubes. Seven 12AX7 preamp tubes shape the tone of the amp's three channels as well as the tube-buffered effects loop. The amp's transformers keep the heartbeat of the amp100% Italian and are custom made by Onori.
Channel One has an independent Bass, Middle and Treble knob, while channels Two and Three share an equalization section. To the right of the channel controls are the amp's MIDI buttons, used for storing presets. Channel selection, Boost, Bright, and Master Volume are all MIDI controllable.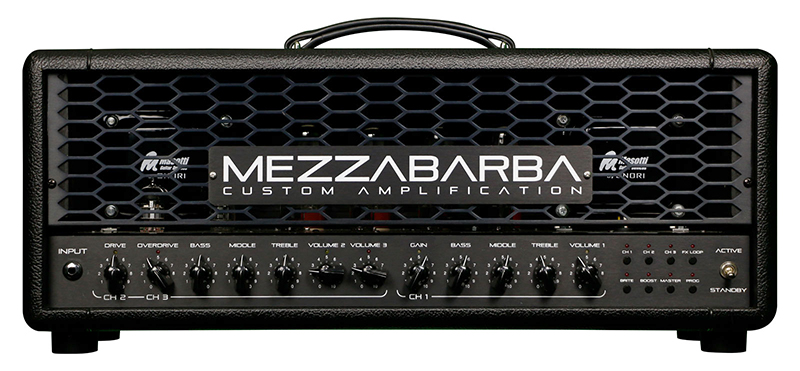 Presence, Depth and Feedback knobs appear on the back of the amp along with two Master Volume knobs. MIDI In and Out are also on the rear of the amp, as well as a slave output and the typical complement of 16, 8 and 4 ohms speaker jacks.


Channel One is designed to be a clean channel with light breakup and rich overtones. Channel Two endeavors to pick up where Channel One leaves off, with good classic to modern rock overdrive tones with the boost engaged. Channel Three is best described as a tonal bloodbath, with as much gain on tap as any guitar player can ever hope for. Clearly, the Trinity seeks to provide a library of tones over a very wide range of gain.
The effects loop is wired in series, which we find preferable in the era of digital effects. Comb filtering or phase cancellation is a common issue with parallel loops if "kill dry" is not an option in your effects.
We reviewed the Mzero Overdrive and noted its gorgeous design with its custom red transformers. Mezzabarba went with black transformers in the Trinity, giving it a different but equally bold, intimidating look.
Mezzabarba has also introduced a 100W version of the Trinity with 6L6 tubes, and a 50W, 2xEL34 version of the amp is also available.
Usability
We played the Mezzabarba Trinity a few different ways during sound testing and nothing was particularly difficult or uniquely hard. For the most basic functions of the amp, we paired the Trinity with our Mezzabarba 4x12 cabinet. The push buttons on the face of the amp were self-explanatory and simple to use. We toggled through the channels, bright and boost functions, and master volume toggles.
Dialing in useable sounds was almost instant. The clean channel's independent EQ section was a welcomed feature. The shared EQ for the two overdrive channels was made more versatile with boost and bright functions of the amp. Balancing in the two overdriven channels was similarly easy.
The serial effects loop is serial has no gain controls and is preset to instrument level. We hot swapped a couple of pedals with the Trinity and did not experience any issues. New for Mezzabarba with the Trinity is the option to bypass the effects loop circuit entirely. This is a good feature for the tone purist, but we honestly did not hear any appreciable derogation of the sound with the loop active. This is a well-implemented loop!
We also connected the Trinity to our Two Notes Captor X and they seemed to play nicely with one another. Connections were equally as simple and problem free, enabling us to jam with this amp at all ours of the night.

Lastly, we tested the MIDI functionality of the amp. We connected our TC Electronic G-System footswitch by running a MIDI Out cable from the footswitch to the Trinity's MIDI In. To program the amp: Hit the Program button to activate the learning mode, set seven assignable features such as your channel selection, master volume on/off, loop in/out, Bright and Boost settings, select a patch preset on your MIDI foot controller, and then hit the Program button again to save the settings. That's it! This worked flawlessly and brought up our presets with single button selection on our G-System foot controller. MIDI does not have to be complicated!
Sound
Features are nice, but when you spend for a premium amp, it all comes down to the tone. Mezzabarba has already made a name for themselves with high-gain amps that push a lot of low mids, and the Trinity is no exception. We began testing with a Knaggs SSC guitar loaded with custom Bare Knuckle pickups and  Mezzabarba Mzero 69 4x12 100W cabinet. This cab is loaded with four 25W Greenbacks, and we know and love the sound well. We also used an Eventide H9 in the loop for some extra flavor and testing.
Starting on Channel 1 with the gain dialed low, we achieved a pristine, jangly clean sound. The sound was quite dynamic, and this was accentuated even more by activating the Bright circuit. The Boost button at this setting served to just nudge the channel into a little dirt. If you are playing funk and soul all night and happen to bring this amp, this would be your "stank" setting.
Bringing the Gain knob up on the clean channel brings to the ear and mind early-to-mid '60s rock. This will cover your Pink Floyd, Beatles, and cleaner side of Hendrix tones nicely. Bringing up the gain knob all the way will give you the less distorted, AC/DC-like sounds of later classic rock. Adding boost to this will provide perfectly acceptable classic rock leads, albeit a sound sometimes less inspiring for many modern players. This is mentioned simply to showcase the Trinity is probably the opposite of a one trick pony. It possesses a virtual library of tones, which can cover decades classic amp tones competently.
Moving on, we peppered in channels two and three with Presence and Treble at four and five for a slightly less edgy and darker sound. This reviewer prefers warmer tones. Dialing in a healthy amount of gain (around seven on the knob), there was plenty of thick, juicy, gain on tap. We kept the bass around five and the middle around three. This amp moves earthly amounts of low mids. Paired with the appropriate cabinet like our Mzero 69, it doesn't get woofy, but for hard rock it definitely retains power and punch for rhythm playing. When you "feel" an amp in your gut, that's the low mids punishing you. This amp eviscerates! Using the Boost and Bright on this channel got us into nice, modern lead guitar tones. Paired with the Eventide H9, this sounded amazing. Most players will have no problem living on Channels 1 and 2.
Bruce putting the Mezzabarba Trinity through its paces in the best way: tracking a song! Gear Used: Knaggs SSC T2, Mezzabarba Trinity, Fractal AxeFXIII and Eventide H9000 (for effects), Two Notes Captor X
Then there are those musical situations that call for a tornado's worth of high gain and go for broke. This is Channel Three. With the same EQ settings, there is little to achieve past a Gain setting of around five. At this level, you can expect feedback, infinite sustain, and seemingly endless harmonic overtones. Boost on this channel almost does it a disservice, but that is subjective.
Our last sound test was conducted using both an Ibanez Jem 7v and a Knaggs SSC. We connected the Trinity to our Two Notes Captor X (reactive load, no cabinet) and sent that signal into our Fractal AxeFXIII. We really love this configuration because it gives us a tremendous suite of tone shaping tools and effects, as well as making it simple to record. Pulling up various impulse response files in the Fractal, we settled on an SM57 close-mic'd British 4x12 loaded with Greenbacks. Peppering in some Fractal wah and using our Eventide H9000 in post, we were absolutely thrilled with the results of our production. Such a versatile and formidable amp is at home in any modern studio or at any mid-sized to large gig and should be a strong consideration for the serious musician in the market for a 100W high-gain amp.
Documentation and Product Support
There is a fairly well written product manual for the features (like MIDI programming) that aren't self-explanatory.
A lifetime warranty is music to our ears. We keep living and Mezzabarba continues our coverage. The standard warranty disclaimers and limitations apply (tubes are obviously not covered for life). We know Pierangelo is passionate about his products and this warranty shows he means business! Email are processed in a timely manner, and the company maintains an active social media presence as well.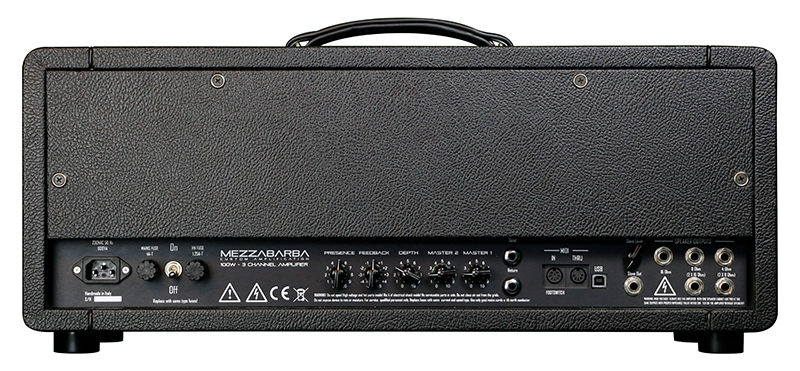 Price
The Mezzabarba Trinity sells for $4,199.99. This puts the amp firmly in the desert island, boutique category and should be deservedly considered and weighed against similar boutique competitors. We have many of those amps as well, and feel confident the Trinity will be a fan favorite for many high-gain players.
Contact Information
Mezzabarba Custom Amplification
www.mezzabarba.com