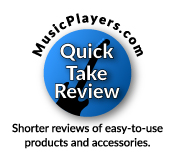 A few years back we reviewed the Yamaha MD-BT01 AND UD-BT01 wireless MIDI adaptors. While we thought they were great, they did have a number of limitations, which effectively reduced the ways they could be used.

Fast forward to the present, CME Pro has introduced the WIDI family of Bluetooth wireless MIDI. Utilizing Bluetooth 5, automatic pairing, and an optional iOS/Android standalone application to allow up to five connections in the same group, CME Pro has a real winner here, surpassing Yamaha's 2017 product in just about every way. You can finally say goodbye to your MIDI cables and do everything over wireless Bluetooth instead!
Though there are a few other products in the CME Pro WIDI family, we received the WIDI Master and the WIDI jack (with several adaptor cables) for review. The WIDI Master looks like so: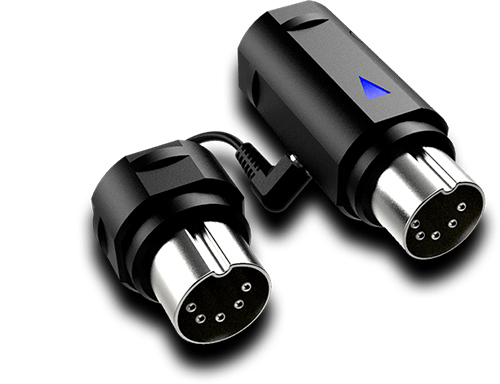 While the WIDI Jack looks like so: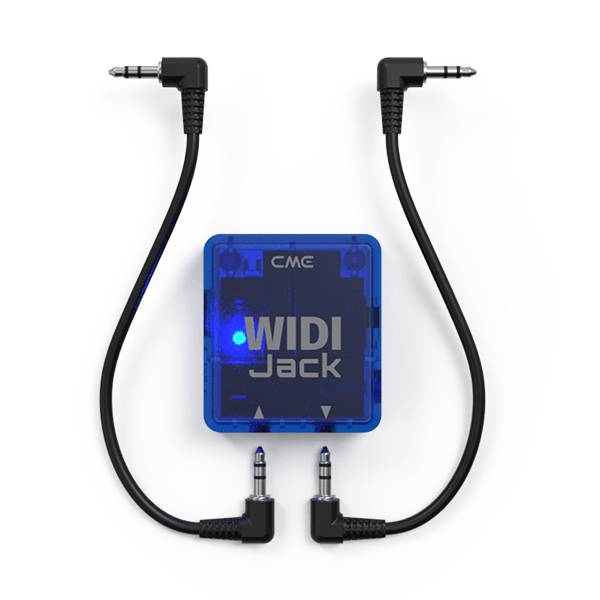 On the WIDI Master, the connectors are fixed 5-pin DIN MIDI ports, traditionally the most common MIDI port. However, in modern times, especially with miniaturization becoming common amongst various music gear, the usual MIDI ports have changed into various forms, including quarter-inch, 1/8 inch, TRS, DIN-6, and even mini-DIN ports. The WIDI Jack addresses all of these, by having detachable connectors that come in all the previously mentioned sizes, including the common DIN-5 connector. An example of the WIDI Jack with 1/8 inch MIDI connectors looks like so:
One of the other differences between the WIDI Master and the WIDI Jack is that the WIDI Master is powered by the MIDI port it is connected to. The WIDI Jack has an additional USB-C port for power, enabling you to use WIDI Bluetooth connectivity with MIDI ports that are not powered. Outside of these differences, the WIDI Master and the WIDI Jack are functionally the same.
Category

Value

Rating

Features

35%

Usability

35%

Sound

na

na

Documentation & Support

10%

Price

20%

OVERALL RATING = 3.8 Stars, which earns it a
WIHO Award!


3.6 stars or better: Outstanding, WIHO Award




3 stars or better: Worth considering




2 stars or better: Suited to specific needs




1 star or less: Not recommended
So... what actually is the functionality? How do these things work? Fortunately, basic setups are really easy—literally automatic. We tried several scenarios in our studio, and all worked surprisingly well. We will go through these one by one.
The first setup we tried was a keyboard to keyboard setup. We connected a Korg Wavestate to a DSI/Sequential Prophet 12 via a pair of WIDI Masters. At this point, we hadn't upgraded the firmware (which you are recommended to do), but this worked right out of the box. We connected the WIDI Masters, turned the synths on, and after a short time of the WIDI Masters automatically pairing to each other (the blinking blue light changes to steady) we were connected. An interesting thing was that this was bi-directional: playing on one synth controlled the other. It was finally nice to have more keys to use for our understated Wavestate (just 37 keys).
We were feeling good about things, so we decided to go even bigger with our next test. In our studio, our computer is connected to a Mio XL MIDI interface via an Ethernet cable (sounds crazy, but works very well!). In this setup, a Native Instruments S88 mk2 is our keyboard controller. We now connected one of the WIDI Masters to the Mio XL interface, and had the other WIDI connected to our Prophet 12 again, with the idea the NI controller at our desk would control the Prophet via the interface and then via Bluetooth. Once again, they paired automatically, and there weren't any issues with latency or dropouts. Of note, the Mio XL was on one side of the recording desk, while the Prophet was set on a stand near the wall on the other side of the recording desk, with our controller in between. We were amazed it worked as well as it did, especially with the MIDI signal going through Bluetooth AND a MIDI interface AND an Ethernet connection.
As CME asked us about the NI S88 mk2 connectivity, we also connected a WIDI Master to the DIN ports of the NI keyboard directly, and connected another WIDI Master to our Wavestate. This worked just fine as well, but note that during our review of the Mio XL, we discovered that (surprisingly) the NI S88 mk2 does not simultaneously send MIDI over its USB and DIN ports, so we had to sort out which MIDI ports were in use on the NI controller first.
The next setup we tried was connecting one WIDI device to a Mac Laptop. We had an older Macbook Pro that had Bluetooth 4.0, not 5. Fortunately, Bluetooth 4, though not as robust as Bluetooth 5, will work with the WIDI family. We paired the Macbook Pro with the WIDI Master, and then selected a standalone electric piano plug-in, and when we went to the MIDI input device selector within the plug-in, the WIDI Master was an available choice!  We selected it, and it worked! Even placing the laptop on the other side of the studio, we did not notice latency or dropouts. CME-Pro states the range is 20m (65 feet), though of course if there are physical obstructions or a lot of other wireless devices, your range may be less. In our setting, we were quite pleased with how well this worked.
Interestingly, while the LE (low energy) MIDI Bluetooth drivers are part of the Mac OS, they are NOT part of the Windows OS. CME Pro has come up with a clever idea, making the WIDI devices compatible with Korg's BLE driver for MIDI on Windows 10. We were curious, so on another studio computer, we had Windows 10 running on a Bootcamp partition on a Mac Pro. We installed the Korg BLE driver, and then connected a WIDI Master to a spare Arturia Keylab controller we had. The computer saw it, and paired, but when we pulled up our electric piano plug-in, it did not see the WIDI device. Fortunately, CME's website has many videos and troubleshooting tips, which in our case, offered several solutions for our exact problem. In this case, we decided to check the firmware version of our WIDI device, which is updatable via their app. We got the app installed on our iPad (and later, iPhone), and lo and behold, we had a (very) old firmware version. The app detected this automatically and asked us to update. We followed the instructions, and part way through, it seemed to hang. We read online in some app reviews that others had this issue, and one way to fix this was to power cycle the device the WIDI is attached to. We did that, and then it updated! The app showed a status bar, and the WIDI Master LED turns green when it is in firmware updating mode. Interestingly, of the three WIDI devices we updated, only one of them required this power cycling. The other two updated just by following the updater's instructions.
Now that we had updated, we once again paired our WIDI Master to our Windows partition, and this time when we launched our plug-in, it recognized the WIDI device. We selected it, and we were playing our plug-in wirelessly. So, let that be a lesson: updating the firmware is important to get full up-to-date connectivity (Korg BLE compatibility was added in firmware version v0137).
The final scenario we wanted to try was to connect one MIDI interface/patch bay to another.  Our studio has the previously mentioned Native instruments S88 mk2 keyboard controller at our central desk, with a rack of vintage synth modules on the right side, all connected to our Mio XL MIDI interface. On the other side of the studio are several other vintage and modern synths, ranging from a Roland Juno 106 to a DSI Prophet 12 (among others). These synths are all connected to an older MOTU MIDI Timepiece interface. We connected a WIDI Master to the Mio XL, and another WIDI Master to the MOTU MIDI interface to see if everything could connect, without having to connect MIDI cables across the room. At first nothing worked, but then we remembered that although we had previously configured MIDI mapping on the Mio, we still needed to map MIDI routings on the MOTU side. We pulled up Clockworks, the ancient MOTU MIDI mapping program, and routed the incoming WIDI signal to go out to our Prophet 12. Bingo! Now it worked! We then did the same with our Juno-106 that was connected to the MOTU, using Clockworks to route MIDI data, and that worked too!  This was far beyond our expectations, as we thought this wouldn't work, or have too much latency, but it was absolutely fine, and a game changer in our studio!
One thing we did notice was that the Mio XL interface had the LED activity light constantly active on the WIDI channel, even when we weren't playing. We assumed this is just reflecting the activity of the two WIDI Masters speaking to each other. Additionally, we noticed that the Juno-106 was not receiving pitch bend messages, but we also noticed that our Juno-106 has been acting up lately, including intermittently changing ADSR envelopes by itself, so our Juno may be in need of a repair. This may also be from the Juno-106's early MIDI implementation that reportedly was not complete. We did not notice this behavior with our other synthesizers.
Though we didn't repeat every scenario, all the above situations would be the same for the WIDI Jack, as they are functionally the same. Our simple test of connecting a WIDI Master to a WIDI Jack worked exactly the same as above. CME Pro confirmed mirrored functionality when we asked them too!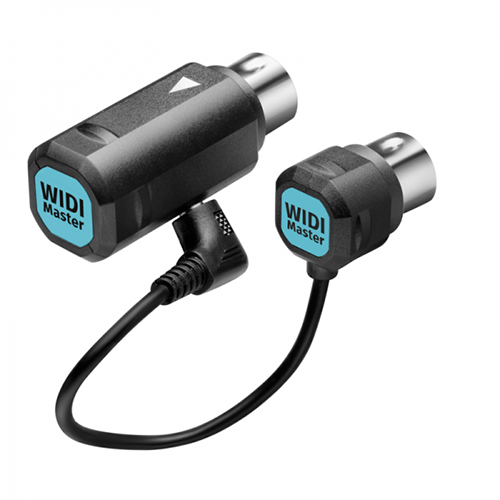 Though beyond the scope of this review, the WIDI app, besides firmware updates, also allows you to group up to five devices into a group: one master and four peripherals. Another cool thing is that you can do the opposite: essentially MIDI merge four devices into one. Neat!
CME Pro does a good job of explaining things on their website, where a manual for each device is available, too. There's also videos of "how to" as well on their website, so any questions that arise should be addressed. Additionally, CME maintains a Facebook page to get feedback from users as well as answer questions. In our experience, we found the few questions that arose were answered quickly when we emailed CME directly.
The WIDI Master sells online from the CME website for $59 USD, and the WIDI Jack with one choice of cables also sells on their website for $59. Additional cables for the WIDI Jack sell for $9.99. To buy a pair of these after tax and shipping would cost $134 (as per the CME shop), so admittedly these are not as cheap as a pair of MIDI cables. Then again, you get wireless MIDI that truly works!
Sometimes you get what you pay for, and given the quality and flexibility of the CME Pro Bluetooth MIDI devices, we think they are quite worth it. Being able to connect two independent MIDI interfaces together via a Bluetooth connection across a large studio to literally have everything interconnected was easily worth the money! Even better, CME seems dedicated to continually improving and updating the functionality, so we look forward to seeing this product line continue to evolve. If you're looking to ditch MIDI cables, you really need to check these out!
Special Discount for MusicPlayers.com Readers!
Visit the CME Pro online store here and use discount code LOVE for a 10% discount!
Contact Information
CME Pro
https://www.cme-pro.com