- The pandemic creates once-in-a-lifetime reset; momentum builds as global industry prepares to gather in-person at The 2022 NAMM Show in June -
Carlsbad, CA - As the full impact of the global pandemic comes into clearer focus, the NAMM Board of Directors, our members and our staff have charted the path for The 2023 and 2024 NAMM Shows.
With the 2021 show canceled and the 2022 show moved to this June, The 2023 NAMM Show is now scheduled for April 13–15, 2023. Following that, the show will return to its traditional dates in January 25–28, 2024. The timeline was based on the prioritization of the health and well-being of the industry, member feedback on creating a "bridge" back to January and through a review of data surrounding current and historical pandemic activity, as well as related economic and supply chain pressures.
"No one person, company, or industry segment was left unchanged by the pandemic, NAMM included," said Joe Lamond, NAMM President and CEO. "In my opinion, the true end zone was being able to find the opportunity that these challenges created. Although there was no perfect solution, the new dates—April 2023 and the return of The Show as the first event of our musical year in January 2024—will encourage every NAMM Member to partner with their association to build the new and improved NAMM Show, ensuring that the platform remains an essential element of their company's success and through our circle of benefits model—a catalyst of industry growth."
The news comes as the industry prepares for its first large gathering in two and a half years at The 2022 NAMM Show in Anaheim, California, June 3–5. Over three days, the industry crossroads will convene to network and renew business relationships, partake in professional education sessions, and launch and discover new products. More than 3,500 brands will participate in the show, including Adam Hall; American Music & Sound; C.F. Martin & Co.; Casio; Conn-Selmer; Ernie Ball; ESP; Gibson; Hal Leonard; KMC Music; Taylor Guitars; and Yamaha, among others. In the pro audio and live sound space, participating brands include 4Wall Entertainment; ADJ; Apogee; Audio-Technica; beyerdynamic; DiGiCo; Dolby; Harman; IK Multimedia; Korg; L-Acoustics; Pioneer DJ; RCF; Shure; TELEFUNKEN Elektroakustik; Ultimate Ears; and more.
The show will also see the Anaheim debut of NAMM's Top 100 Dealer Awards and the return of much-loved industry award events, including the Parnelli Awards, TEC Awards, and She Rocks Awards, as well as other event gatherings and networking opportunities including Saturday's Grand Rally for Music Education, featuring composer and founder of the Virtual Choir Eric Whitacre for a memorable, hybrid choral experience and performance by Gateways Brass Collective.
Joel Menchey, President of Menchey Music and Chair of the NAMM Board of Directors, noted, "After two years of Zoom and Teams calls, I imagine that June's in-person NAMM Show will be one of the most important in our industry's history. It will be a global gathering of innovative thinkers who know the business, and together, we will create the future."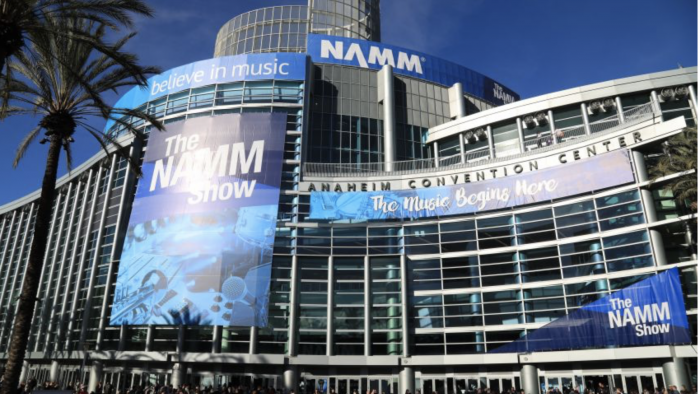 Registration for The 2022 NAMM Show will open in March. Additional information about The NAMM Show is available at NAMM.org
To learn more about health and safety protocols as part of NAMM's Safe & Sound program, please visit https://ww2.namm.org/thenammshow/2022/safe-and-sound
Future NAMM Shows:
The 2022 NAMM Show, June 3-5 – Anaheim Convention Center, Anaheim, California
The 2023 NAMM Show, April 13-15 – Anaheim Convention Center, Anaheim, California
The 2024 NAMM Show, January 25-28 – Anaheim Convention Center, Anaheim, California
#NAMMShow
About NAMM
The National Association of Music Merchants (NAMM) is the not-for-profit association with a mission to strengthen the $17 billion music products industry. NAMM is comprised of approximately 10,300 members located in 104 countries and regions. NAMM events and members fund The NAMM Foundation's efforts to promote the pleasures and benefits of music, and advance active participation in music making across the lifespan. For more information about NAMM, please visit www.namm.org, call 800.767.NAMM (6266) or follow the organization on Facebook, Instagram and Twitter.