June 21st, 2022 - New York City- Pigtronix is ushering in the summer with the all-new Star Eater, an all-analog Fuzz pedal designed to provide a wide array of inspiring and unique fuzz tones, packaged in a vintage-inspired, fun-to-use form factor.
Star Eater is an all-analog, dual footswitch super jumbo Fuzz with a foot-switchable booster and variable filter stage, allowing players to easily sculpt a wide variety of fuzz tones. On the fuzz side, newly-available, precision-matched transistor pairs are utilized to ensure that each and every unit is perfectly dialed in to "the sweet spot" that can be so elusive to find in vintage pedals. A rocker switch provides your choice of Germanium or Silicon color. Downstream from the fuzz, a powerful booster stage drives the filter in Star Eater. Scoop and Bump voicings for the filter can be selected via a rocker switch, drastically changing the frequency response of the Sweep control throughout its entire range.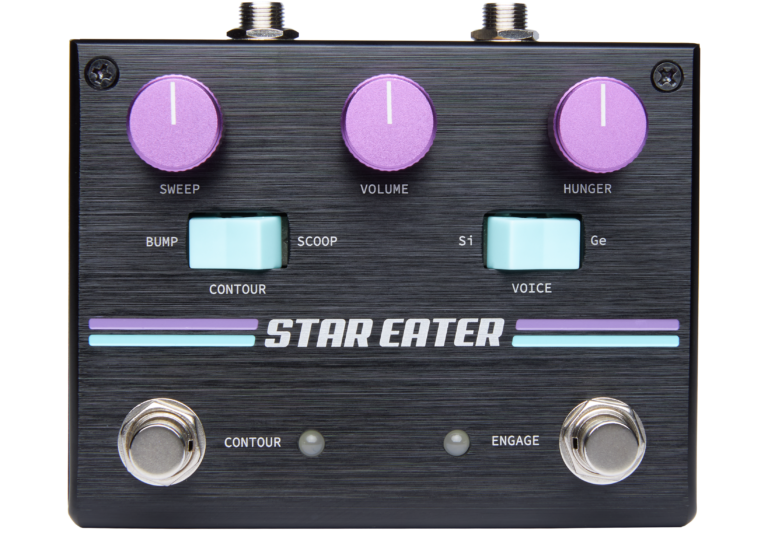 From dramatically beefy wall-of-sound tones to nasally growling, Star Eater allows players to tailor their own signature fuzz sounds with easy-to-use features. Built to last and designed to inspire, Star Eater brings a unique approach and a new standard of performance to the world of boutique fuzz pedals. Runs on standard 9VDC.
The pedal is debuting at this year's Sweetwater Gearfest. Follow the event on social media for live updates from the show.
Available at select dealers worldwide | US MAP $179. More information at www.pigtronix.com