Antelope Audio
When you can't bring the studio with you, but you'd really like to, check out the new Antelope Audio Edge Go Modeling USB Microphone. While USB mics are nothing new, Antelope ups the ante by building their FPGA FX and mic modeling technology directly into the microphone. Using the companion software, dial up your choice of microphone emulation, along with emulations of vintage channel strip processing and a few digital effects, and get zero latency, processed audio straight into your laptop. You just might be able to record your next hit vocal in the hotel bathroom while on tour... or vacation! $1,600 gets an all-inclusive kit, as detailed in the video below.
—SK
---

Audio-Technica
Audio-Technica introduced the 3000-series wireless range. This fourth generation wireless microphone system operates in a 300' range and is available in two frequency ranges. It even has a multifunction button right on the handheld and body pack transmitters in case of unexpected interference that enables you to quickly switch to another frequency on the fly. We liked the fact that the capsule on the handheld is interchangeable, too. Audio-Technica offers two cardioid condensers, a hypercardioid dynamic, and a cardioid dynamic capsule that can each be used with this system.
—AS
---
Barefoot Sound
Thomas Barefoot continues to wow us and remain unpredictable. Specifically, Barefoot has upped the ante again, and this time it's for the high-end Hip Hop and EDM markets. The item is the new LFE 15, a dual 15-inch subwoofer. The Low-Frequency Effects bass driver can be setup in a 5:1 or 2-channel stereo configuration. It can be used with any Barefoot system as well as third party systems featuring smooth crossover bandwidth to cancel out phase anomalies when cranking it up. With this beast at your mix desk, we are confident that you will never be asked to turn up the bass again!
—JL
---
Clear Tune Monitors
The AS-7 is CTM's first signature in-ear monitors. The design was inspired by Aaron Spears, drummer for Usher/Ariana Grande. When we stopped by their booth, he was giving a demonstration of the AS-7. Once we tried the AS-7, we instantly noticed the detail in the sound. Their frequency response is 20Hz- 20kHz and they feature seven drivers. One cool feature is that they come with two interchangeable filters that can either boost bass or highs depending on which filter you prefer. Universal fit is $1,200 or you can order custom fit IEMs for $1,500.
—AS
---
Cloud Microphones
The Cloud Lifter is great little product that has been out for a while but somehow escaped our notice! There a number of models to choose from, and they provide clean discrete gain to dynamic microphones and Ribbon microphones.
Specifically, the Cloud Lifters provide up to +25dB of ultra-clean gain in two distinct stages and optimal impedance loading for dynamic and ribbon mics to perform their best. Cloud Microphones makes a full line of Ribbon microphones including an RCA 44 style model that we will definitely seek to review in the future.
—JL
---
Flock Audio
We were stunned and excited to see what just might be the best patchbay system we have ever encountered! It's no joke, The Flock Audio PATCH System blew us away because it a is a digitally controlled, but 100% analog, audio patchbay routing system. The way they achieve this a combination of software known as the PATCH App and a 64 Point Connection PATCH Hardware component. This tandem allows users to easily route and control analog audio routings without having to resort to the use of manual patch cables.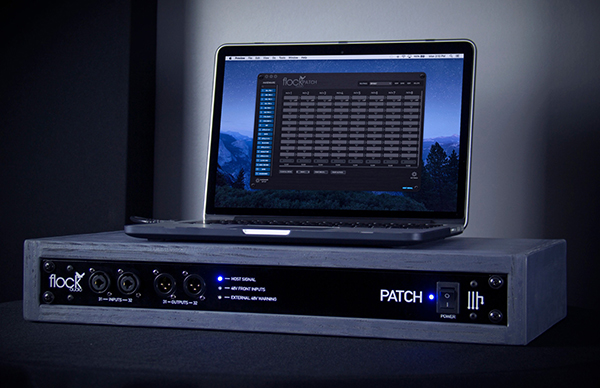 The PATCH App software application is OS X & Windows compatible. Audio signal flows are shown from top to bottom via a PATH architecture. Signal flows are divided up into single vertical columns allowing users to drag and drop available analog audio equipment connected to the PATCH's hardware component. This analog audio equipment is cataloged in the Hardware Index located to the left side of the PATCH App.
The Hardware component is a 1U rack mountable unit that acts as the centerpiece of your analog setup, and it has eight DB-25 connectors for inputs and outputs on the rear of the unit, plus a few additional patch points on the face of the unit. Similar to Dangerous Music's Remote, digital control over analog audio signals makes the PATCH System unique and unlike anything else in the audio industry. Look for a full review this quarter!!
—JL
---
Metaldozer
If you really want to stand out from the rest, you may want to consider one of Metaldozer's microphone stands. They have designed gear for many famous artists including Prince, Robert Plant, Dream Theater, Billy Idol, The Temptations, Toni Braxton, Reba McEntire, and Night Ranger. Metaldozer can replicate stands that your favorite artists use or custom design a stand to your specifications. Your logo can be displayed on the pole or base of your stand. Powder coating is offered in multiple colors as well as chrome and nickel plating.
The stand that made the biggest impression on us was the Circle Star Stand with LED. It's an all aluminum mic stand powered by 9V batteries. The LEDs come in white, green, blue or red. It's definitely a great addition if you are looking to make a visual impact at your shows.
—AS
---
Roland
This was so much fun it definitely deserves a mention. The Roland VT-4 Voice Transformer is a compact unit designed for performance-oriented vocal effects. Battery or USB-bus powered, there are some fun 24-bit/192kHz effects on hand, including harmonizing, vocoding, pitch shifting, hard tuning, and more. With a handful of sliders, knobs, and buttons, there are no menus and there's plenty of instant gratification! If you want to sound like a chipmunk or Darth Vader instantly, just turn a knob! Even better, you can connect a MIDI keyboard to control harmonies and voicings. This is targeted at the DJ crowd, but we know keyboard players will absolutely have a blast with this. Get your wacky vocal treatments going for just $229.99.
—JB
---
Samson
We were very excited about Samson's Expedition Rechargeable Portable PA Systems. There are six different models ranging from 50 watts to 300 watts of power. The lowest level system is great for small audiences of 25-50 people, while the top model can accommodate between 300-500 people. No need to worry about finding an outlet to plug one of these babies into! Their anticipated battery life ranges from 12 to 20 hours depending on the model of choice. Almost all systems have XLR/quarter-inch combo mic inputs and most models include a handheld wireless mic. Some other features include onboard mixers, Bluetooth connectivity, and easy portability as a single unit. We think many singer/songwriters will find these PA systems very useful to accommodate a variety of live performances. No more excuses for not singing at the family picnic, either!
—AS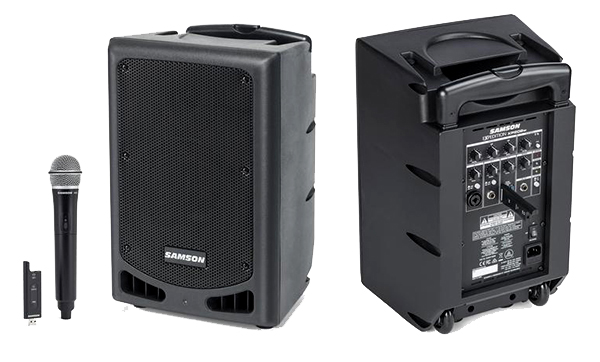 ---
Sensaphonics
When it comes to using in-ear monitors, the goal is to not only hear mixes better but to protect your hearing. Audiologist and President of Sensaphonics, Dr. Michael Santucci, is dedicated to helping everyone in the music industry protect their most valuable asset. The dB Check Pro is a sound analyzer that shows actual in-ear sound pressure level (SPL) while wearing IEMs or headphones! Levels are checked in real time by plugging in between the sound source and earphones. Simply select the model IEMs or headphones from the dB Check Pro library and play. It will display a weighted SPL and safe exposure time according to NIOSH and OSHA guidelines. The dB Check Pro can also measure ambient room levels with its on-board microphone.
Sensaphonics also announced their D2 Dual Dynamic Custom In-Ear Monitors. One of the things we loved was the soft, silicone earpieces—comfortable! Another notable feature is their isolation spec, up to 45.5dB. Only $600 for custom fit!
—AS
---
VocalMist
Of the more unusual items we discovered at the NAMM Show, the VocalMist Portable Nebulizer with Isotonic Saline is the perfect accessory product for the working vocalist. It's lightweight, runs on USB rechargeable lithium batteries, and operates by simply pressing a button. Vocal Mist can help keep your vocal folds hydrated which in turn will help reduce the amount of pressure it takes to phonate. VM sells their portable nebulizer with either 15, 50 or 100 packs of saline. Saline packs can also be purchased separately. Interesting!
—AS
---
Voxercise
This is a nifty training tool/app for singers! Vocalize anywhere by singing along with piano, voice, or both. Voxercise includes two download packages for free. Additional packs are available for purchase with a portion donated to non-profit music education organizations. The app allows you to customize your range or use a preset. Follow along with sheet music or notes played on a piano. Voxercise will show you if you are in tune, flat, or sharp, which is an awesome feature to help improve your intonation. What a convenient way to warm up for a show!
—AS
---
Warm Audio
It seems that every year, Warm Audio introduces new products, and this year they are upping the ante in the microphone department. Warm introduced the new Warm Audio 251, a re-creation of the legendary Telefunken 251, and they are also offering a re-creation of the Nuemann KM-84 in their Warm WA-84. Both are exciting additions to the Warm line and will no doubt find their way into our studios for review this year. Although neither are identical to the originals in look or sound, they are faithful re-creations that are true to the classic spirit and vibe of their influences, but delivered with a modern Warm Audio twist.
—JL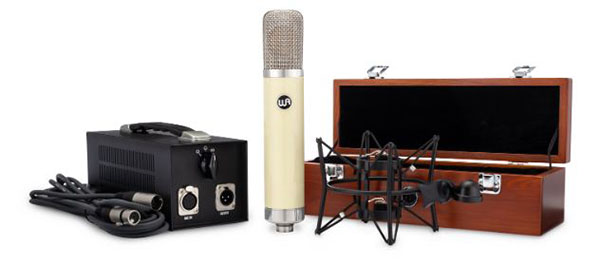 Hearing Protection
Not surprisingly, we found most of the companies that offer hearing protection solutions in the loudest area at the NAMM Show—the drum section! With so many great options available today, there's really no excuse not to wear hearing protection when playing or listening to loud music. Each of these companies utilize various methods of reducing volume without destroying the quality of the sound, unlike classic foam earplugs that reduce volume along with all of your high frequency content. They come in various shapes and colors at many different price points. Whichever best suits your vibe, just do yourself a favor and get something.
Alpine Hearing Protection has affordable earplugs for musicians priced at $24.95. They come with two filter sets so you can have more clarity of sound without a feeling of isolation.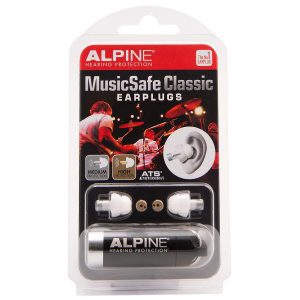 If you are not into the way traditional earplugs look, you should try a pair of Loop Earplugs. They have a 20 decibel filter, an acoustic resonator, come in five cool colors, and look fantastic!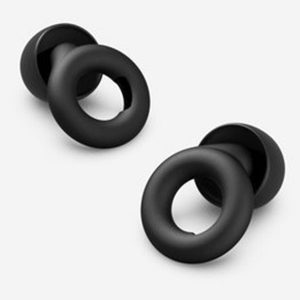 Earasers are the only earplugs on the market that purport to create a flat frequency response by reversing the ear's natural resonance. Their patented Smart Seal preserves musical layering and high frequency sibilance. They are also made of a soft, clear material which makes them a lot less visible.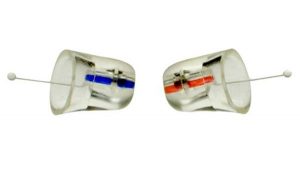 Another discreet design available are the Eargasm Earplugs. Each purchase comes with two shell sizes and a light weight, aluminum case. If you want to add some color, they have multiple options.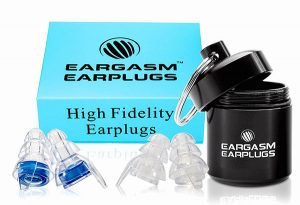 Etymotic Research has a range of high-fidelity earplugs that we have used personally. The high end of their range, the active Music•PRO earplugs, are powered, while their ER line is more traditional. We have reviewed both, and love the ER•20XS in particular (review here).