SiX By SiX, the exciting new rock band formed by Ian Crichton (Saga), Nigel Glockler (Saxon) & Robert Berry (3; Emerson, Berry, Palmer), are delighted to announce the publication of THE JOURNEY INTERNAL, a graphic novel, as a companion to their forthcoming eponymously named debut album which is set for release on August 19th 2022 via InsideOutMusic/Sony Music. THE JOURNEY INTERNAL will be published on September 30th 2022.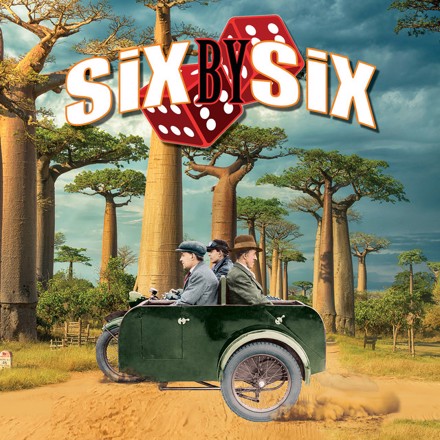 THE JOURNEY INTERNAL, A Graphic Novel is based on the songs of SiX By SiX, and is the result of a collaboration between the band and renowned Chicago-based artist J.C. Baez.
Though not conceived as a concept album, the band and the artist have woven the songs into a compelling tale of one man's adventures and struggles. THE JOURNEY INTERNAL is a poignant and captivating story of his quest to find beauty and peace. Drawn in dramatic graphic detail, it chronicles the journey of Reign searching for sunlight in a very dark world. Following him from the highest highs to the lowest lows. The pages turn from battles of fire to demons in dungeons, from the confines of Reign's inner mind to the realities encountered on the streets. From his solitude in battle to finding inspiration from a dream not yet realized.
Ian Crichton comments: "This graphic novel is amazing. The way that J.C Baez has blended the lyrics and captured the emotion of each song into a visually stunning graphic interpretation is simply amazing.
Nigel Glockler comments: "One word sums up this incredible visual feast: stunning!!!
Robert Berry comments: "When J.C. approached us we were intrigued to see what he would come up with based on our songs. The results are masterful."
J.C. Baez, a Chicago-based artist has collaborated with Jon Anderson of Yes, Steve Hackett of Genesis, and Walter Koenig, of Star Trek fame, and now Six By Six.
J.C. Baez comments: "I am fortunate to be working with Ian, Nigel, and Robert, bringing their amazing musical ideas into the visual realm. The process has been very much a collaboration and I've been made to feel like part of the Six By Six family. This story is dynamic and exciting and I'm thrilled to work on this graphic novel which is in the vein of Genesis's 'The Lamb Lies Down on Broadway and other classic albums."

THE JOURNEY INTERNAL will be available for purchase through www.StNicksPicks.com for customers in North America and through Burning Shed www.burningshed.com worldwide.
Graphic Novel Specs:
Release Date: October 1, 2022
Pages: 66
Dimensions: 6260 x 168mm / 10.25 x 6.625 inches
Publisher: Second Street Records
Authors: Robert Berry, J.C. Baez
Based on the album: Six By Six - Ian Crichton, Nigel Glockler, Robert Berry
Artist: J.C. Baez
Colourists: Manuel Avila, Jon Lyons, and J.C. Baez
SiX By SiX's eponymous debut album is set for release on August 19th 2022 via InsideOutMusic, a Sony Music Imprint, as a Limited CD Digipak, Gatefold 180g LP & as a Digital Album, now available to pre-order here: https://sixbysixband.lnk.to/SixBySix
View SiX By SiX Singles: