The Fender Stratocaster is a guitar that needs no introduction. It is among a select few instruments to reach iconic status in the hearts and minds of guitar players worldwide. You'd be hard pressed to find a serious collection of instruments without at least one Stratocaster in the stable. Since the Strat's first production in 1954, it has run every year since, making it a 66-year run that has been tried and true for Fender. As a classic early design, there were many innovative firsts that went into the Strat, and purists love the Strat for those features.
For some players, however, the classic Stratocaster had some performance shortcomings that made them a less desirable instrument choice based on style of play. Some of those limitations have been addressed not only by Fender but by numerous other guitar builders who sought to "improve" upon the guitar's alleged deficiencies. An entire boutique industry exists to build "super-strats" like the hot-rodded, upgraded versions of the '80s (and with even more feature enhancements than the older guitars).
Recognizing that players demanded more from their beloved Stratocasters, Fender has continued to innovate. A few years ago, we were blown away by the American Elite range of guitars and thought that the Fender pinnacle had been reached. What more could they possibly do while remaining true to the Strat lineage? Ha. Silly question.
Potentially the most refined and modernized Fender guitars to date, the American Ultra line manages to surpass the Elite. The new Strat Ultra strikes a delicate balancing act between appeasing purists and addressing players who demand more modern refinements on the guitar. For anyone who ever thought they had to choose one of the boutique brands in order to get another level of shred-worthy performance out of the iconic instrument, there's no longer any need to look beyond the family. But can the purists and the modernists be happy with the same guitar? Let's dig in and find out!

Category

Value

Rating

Features

20%

Usability

25%

Sound

25%

Documentation & Support

10%

Price

20%

OVERALL RATING = 3.9 Stars


3.6 stars or better: Outstanding, WIHO Award




3 stars or better: Worth considering




2 stars or better: Suited to specific needs




1 star or less: Not recommended
Features
The Fender American Ultra Stratocaster shipped in Fender's modern, molded, plastic hardshell case we would not be afraid to gate check if we had to (it even has TSA security locks). Upon opening the case, there was no initial surprise. It's a Strat and it still looks like a Strat. Score one for the purists so far. Our example came dressed in a stunning Mocha Burst, appropriately named as it is a coffee color, albeit with a healthy amount of metal flake in the paint, which shines through the polyurethane finish. The neck is finished in satin, and is quite smooth and slick to the touch. The overall condition of the finish and the instrument in general is flawless. There is not a nick, ding, scratch, bubble or any other flaw visible to the eye.
The hardware consists of Fender's two-point deluxe synchronized tremolo, which we have seen on Strats for years. In keeping with the outgoing Elite series of guitars, Schaller-style Fender locking tuners adorn the headstock. They look no different from the front of the headstock, once again appeasing the purists. There is a typical Fender five-way switch as well as a familiar volume and two tone knobs combination. The included S1 switching system is activated via a button within the center of the volume knob, and it opens up a variety of additional tone options, bringing the neck pickup in and out of the circuit when the button is pressed. It's modern, but also hidden from the purist's eyes.

Players tend to love or hate Strats, and its usually down to the neck profile. Match the wrong player to the wrong Strat neck and it's a pretty miserable experience. But the familiar 25.5" radius is paired with a 10"-14" compound radius and a modern "D" shape. Fender further addresses playability and player comfort with a recessed heel joint and contoured back. The heel joint is even further sculpted than the Elite series, and will give any of the boutique builders' designs a run for the money. And the lower horn of the familiar double-cutaway is scooped out from behind for greater high-fret access than ever before. And a well-cut bone nut assures proper string height and tuning stability.
The Strat Ultra includes Fender's new Ultra Noiseless Strat Single Coil pickups. We'll get more into how those sound later—emotions run high when talking about noiseless single coils, but suffice to say, this design provides classic Fender single-coil tone without the noise commonly associated with vintage pickups.
Electric guitars are literally plug-and-play instruments. There is little to be said about getting an electric guitar to make sound, and the quarter-inch cable and input jack haven't changed in 60-plus years. However, the usability experience is something to be discussed, especially in comparison to some other Strats in our collection.
Let's start with the neck profile. Of the dozen or so owned among our editorial team, we admittedly have a Strat or two where we don't get along with the neck profile. Those guitars sound great, but to some of our hands those guitars can be a labor to play. This reviewer does not have big hands or fingers. Think Vienna sausages. A Wide C shape wouldn't cut it in our case. But fortunately, the Ultra's neck is described as a Modern D shape with a compound radius profile, and it felt quite comfortable where the radius begins at 10". It still has a vintage, bendy feel to it in the lower register, and big bends come out of the guitar with greater ease than playing our '56 re-issue.
Moving up the neck to the 12th fret, the compound radius shift is apparent, and the neck feels like it flattens out a bit, which makes it quite easy to shred should you need to unleash the fury. Running our hands along the neck, there were no sharp fret edges to speak of and the medium jumbo frets were a pleasure to play.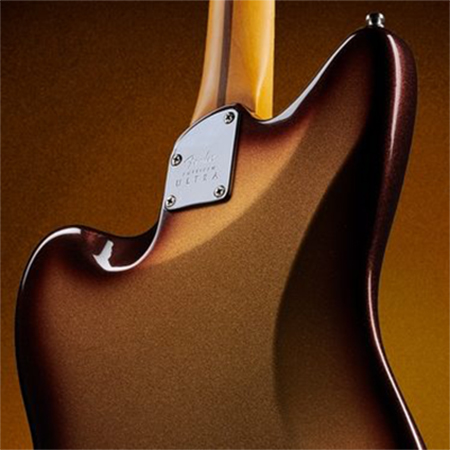 Coupled with the other big feature changes on the back of the guitar—a recessed heel joint and contoured back, the Strat Ultra has a much more boutique, high-end feel (and look) to it, without any compromise in the aesthetic. As we stated from the start, there is something in this Strat for both the purists and modern players. This is clearly not your grandfathers Strat, but it sort of looks like it and sort of feels like it. It strikes a perfect balance between the classic and modern Stratocaster.
The synchronized tremolo along with the locking tuners assured effortless tuning stability. We see no reason why any player would purposely not want this improved tremolo bridge on their Strat compared with the vintage fare, even if they choose to remove the float and set it flush against the body. We played an entire live set in a club without reaching for our tuner once! And while the tremolo bar is not made for dive bombing metal antics, moderate use did not knock the instrument out of tune.
Many players wonder just how much the new Strat Ultra differs from the fabulous (WIHO Award-winning) Strat Elite that was introduced just a few years ago. At a glance from the front, you would be hard pressed to notice any differences. But when you flip the guitar over and experience the deep curves and the greatly reduced neck block mass, differences that sound subtle on paper prove to be quite significant, elevating this guitar into boutique Strat territory.
We've created a brief video that illustrates the differences between the Strat Elite and the Strat Ultra:
Sound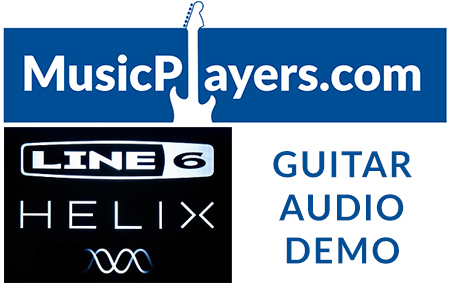 Fender Strat Ultra demo by Bruce Sokolovic. Recorded through UA Apollo x8 interface into Studio One Pro using Line 6 Helix Native.
Fender Amp Presets
Download this preset (click the words above) for your Helix hardware or software and directly compare the sound of this guitar with your other instruments!
We first paired the Fender American Strat Ultra with our Fender '57 Custom Pro reissue. Throughout much of the volume range of this amp, the signal is unabashedly clean and slightly compressed, giving us a fantastic basis of opinion for an unprocessed, pure guitar tone. Dialing in the amp to a volume near 5, we started in position one with the guitar wide open. Holy honk! A bit ear piercing in the high frequencies, we thought to dial the treble of the amp back. But before we did that, we opted to try the S1 switching system, which introduced the neck pickup along with the bridge pickup. This changed the sound radically and instantly tamed some of those highs.
Moving on to positions two and four, the classic "Strat-y" positions. The Strat Ultra is very much a Strat, and it had the perfect in-between characteristic honk and quack these two positions are well known for. No other instrument does this quite like a Strat, and keeping true to the pedigree our Ultra Strat has the classic Strat tone in spades… without any noise!
Position five, the neck pickup, was also creamy and warm as expected. Nudging the volume all the way up on our Fender amp in order to get some overdrive out of it (we pointed the amp at a wall to do this, as 26 watts from this amp is ear splitting in a small studio), the Ultra had great sustain, and the overdrive was especially rich. There was an excellent balance of tone throughout the five positions while testing with this amp, and the new noiseless pickups are always dead quiet, even at overdriven settings.
We like to test products in real-world, less-than-perfect environments, so naturally we took the Ultra to our bar gig, because it doesn't get any less perfect than a New Jersey bar. We were afforded a ninety-second sound check and were surrounded by glass and other hyper reflective surfaces, assuring trouble from a sound point of view. We paired the Ultra with a Fractal Audio AX8, which was programmed with a host of effects and mid-to-high-gain amp models. We picked up the guitar mid set on a song we felt the Strat would sit perfectly in, and indeed it sounded great. We sat in the mix well and were able to play across multiple pickup positions in order to get most of the tonal variations we wanted. We could have easily finished the gig playing just this guitar, despite the fact that there were many songs in the set calling for a dual-humbucker guitar. The Strat Ultra not only felt great, but it sounded great as well.
Documentation and Product Support
 Fender is definitely king of the case candy. Included is a switching diagram explaining the five-way switch and S1 system, a truss rod tool, strap lock buttons, an extra set of Fender electric 9-42 gauge strings, a manual, a Certificate of Authenticity, and a sticker, all nicely arranged in a vinyl wallet much you'd find inside a new car. You couldn't ask for a better documented product.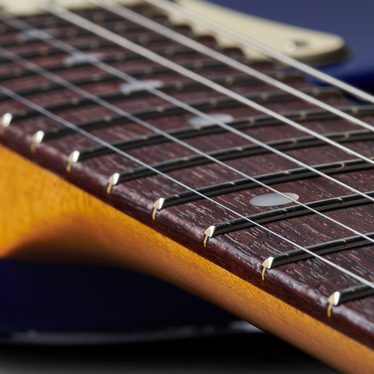 A two-year warranty assures your guitar came with no factory flaws and provides plenty of time for any flaws to become apparent, though given the excellent quality of the guitars Fender has been pumping out lately, we don't expect any real issues to materialize beyond typical wear-and-tear.

Price
The Fender American Ultra sells for $1,899.99. Given the guitar market, that would make this guitar mid-priced for a pro-level instrument, and it competes soundly with any of the fancy, pricier, boutique brands you want to pit it against. For an American-made production Strat with premium appointments and sensible modernization, this price point is undervalued and a fabulous value.

Contact Information
Fender
www.fender.com