Fortin Cali Suite, Tone King Imperial Mk II, Archetype Petrucci, Archetype Rabea

Category

Value

Rating

Features

20%

Usability

25%

Sound

25%

Documentation & Support

10%

Price

20%

OVERALL RATING = 3.7 Stars,
which earns it a WIHO Award!


3.6 stars or better: Outstanding, WIHO Award




3 stars or better: Worth considering




2 stars or better: Suited to specific needs




1 star or less: Not recommended
"Oh, joy! Another amp modeling plug-in! (Yawn)" That was our first thought about reviewing more amp simulation plug-ins, but we had been listening to some major recording-artist friends of ours singing the praises of a few plug-ins from Neural DSP, so we decided the proper thing to do would be to see and hear what all the fuss was about.
Holy cow! The Neural DSP plug-ins sound amazing! We'll even go so far as to proclaim these our favorite sounding amp plug-ins thus far—and we can date ourselves going all the way back to the original 1998 innovation, Line 6 Amp Farm, running on pricey Pro Tools TDM systems nearly two decades ago.
Fast forward through all the various virtual amp collections from too many major companies to mention, and we arrive at a family of products from Finnish company, Neural DSP. We wanted to get a feel for more than just their uber-high-gain poster child plug-ins and put a quartet of their offerings to the test: Tone King Imperial Mk II, Fortin Cali Suite, Archetype Petrucci, and Archetype Rabea, the latter two purpose-designed in combination with guitar gurus John Petrucci and Rabea Massaad.
We love that Neural DSP amps are not thrown together into a massive collection but rather are sold individually, because each one is so meticulously detailed and supplied with a massive collection of outstanding presets that to lump them all together would do each of them a horrible injustice. If you just purchased two of the virtual amp collections we tested, you would easily cover 95% or more of your diverse gigging and recording needs.
While some of the amps bear familiar product names and a visual identity that matches their emulation, others are not specific clones of classic amps, but rather new tube amp designs based on classics. They are as mysterious in name as they are in visual appearance, with some stunning visual design to portray the amps and effects within the standalone applications or the plug-in formats of your choice. And, note that some of the plug-ins feature more than one amp, such as the Architype Petrucci collection, which really incorporates four unique amps in one product.
We began as skeptics and ended as absolute believers. If you want to make recordings featuring classic tube amp tone but without the headache of using actual tube amps (hard to crank them up at 2:00am unless you've invested in other pro audio tools), we think the Neural DSP plug-ins take you virtually all the way there. Nobody will question the authenticity of your tone.
Looking beyond the raw tone and fabulous effects (which vary from one plug-in to the next), there are tons of useful capabilities in these virtual amps that are helpful for both live performance use as well as in practice/rehearsal. With an average cost of $100 USD (€99.00), Neural DSP puts a ton of tone at your disposal. The only question is, which one do you buy first?
Features
We spent the past two months digging ourselves into a black hole of sonic exploration with the following Neural DSP plug-ins: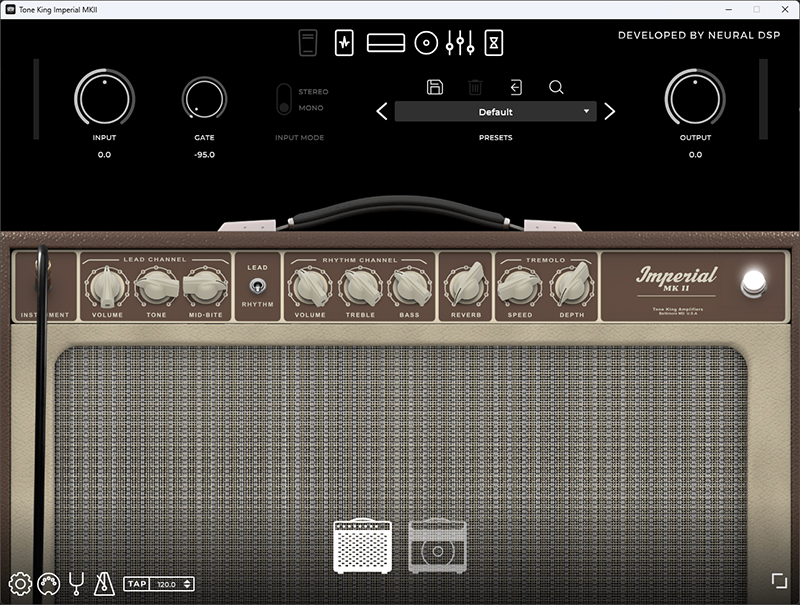 Tone King Imperial Mk II: For fans of vintage tube amps, this is a great choice, as it's the digital incarnation of American boutique amp builder, Tone King's, Imperial Mk II 20-watt combo. This amp's tone is styled after Fender blackface and tweed amps, and just like Tone King's real tube amps, it has a built-in virtual power attenuator.
The package also includes models of numerous Tone King pedals ranging from overdrives to compression, chorus, reverb, and wah.

---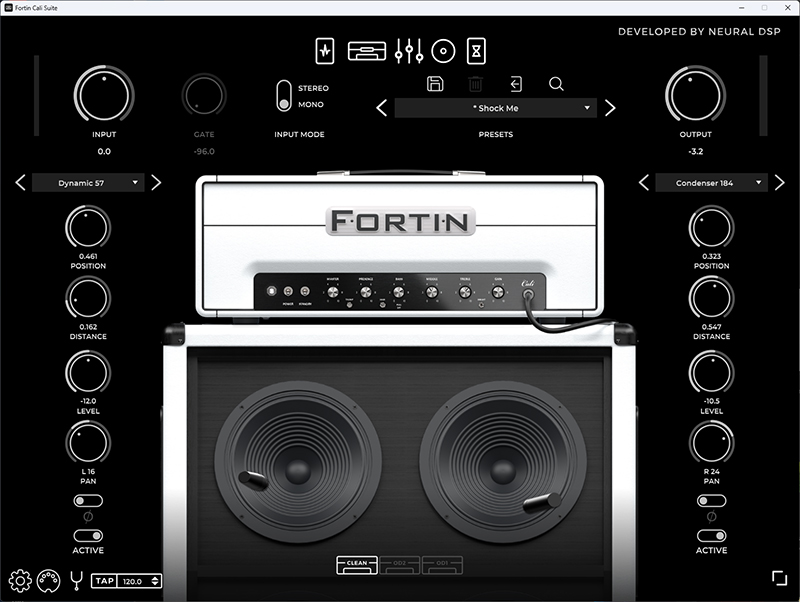 Fortin Cali Suite: If you're looking for a do-it-all hard rock amp designed to accommodate everything from classic hard rock to hair band material, this one models the boutique CALI amplifier from Fortin Amplification. It's a three-channel, 50-watt head with brash EL-34 tube character pushing aggressive and tight high gain tone.
This package includes models of Fortin's Zuul noise-gate pedal, Hexdrive overdrive pedal, and Grind boost pedal, and with Neural DSP's own delay and reverb effects.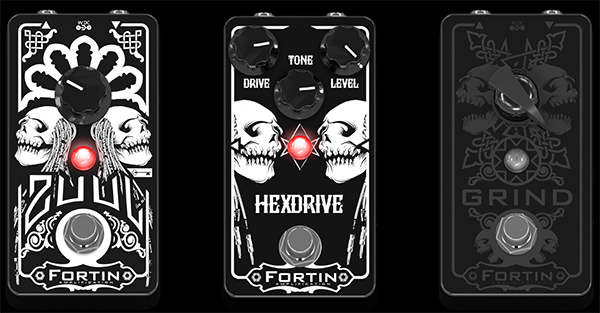 ---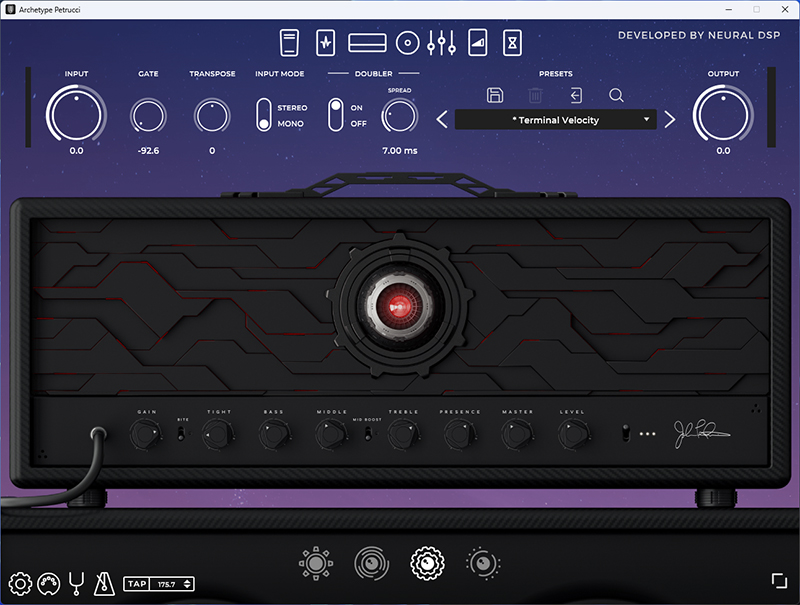 Archetype Petrucci: Although you'd never guess the amps from the stunning visuals, there's no mistaking the tone. This collection of amps is all Mesa Engineering, specifically Mark-series and Rectifier tone. The amps are aptly named Clean, Rhythm, and Lead. The incredible bonus treat here is the inclusion of a fourth amp: an acoustic guitar amp simulation specifically designed for Piezo pickups! This is the first time we've encountered such a design, and we can assure you, it does not disappoint!
Numerous effects are included, and while not brand-specific, they have been designed with John to deliver his specific sounds: compressor and wah, overdrive, phaser, flanger, and chorus stompboxes, and a variety of rack/loop-based effects for delays and reverb.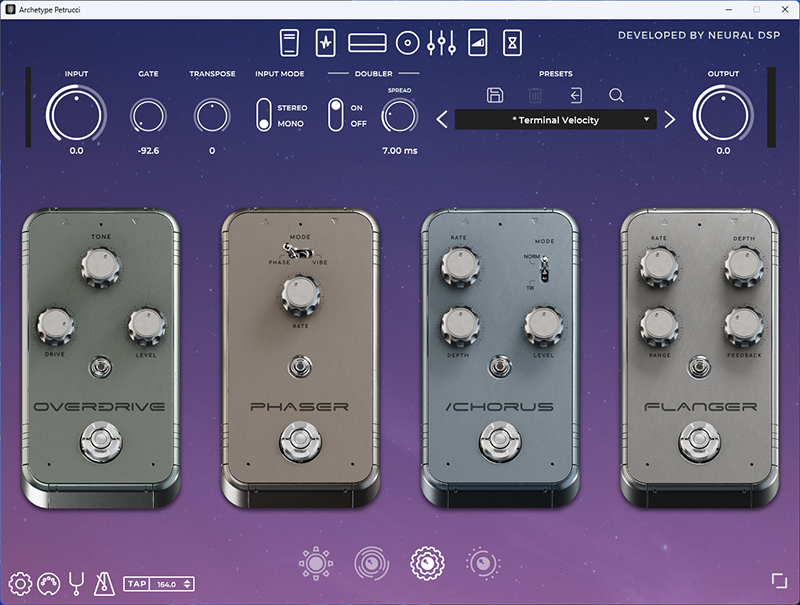 Additional features include a pitch transposition feature and a doubler.
---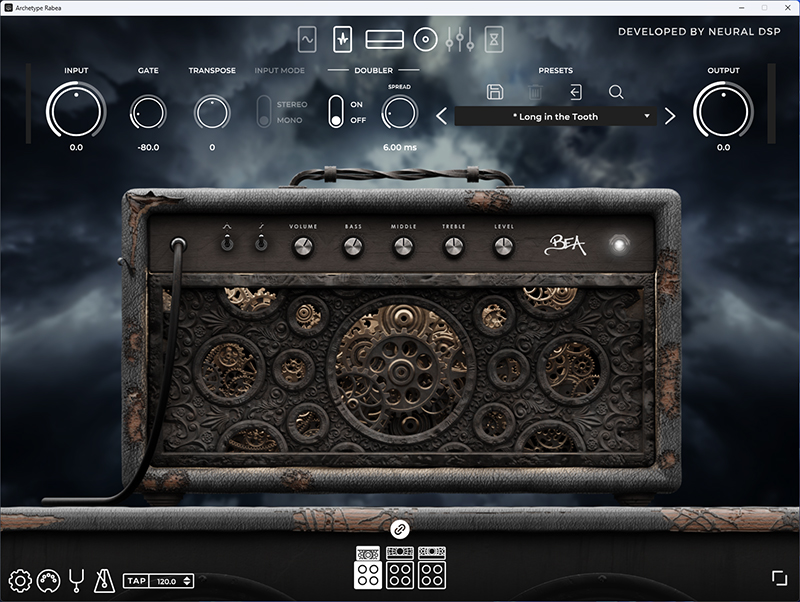 Archetype Rabea: The Rabea Massaad collection is another very unique package. It features the sound he gets from three different amplifiers (aptly titled Clean, Rhythm, and Lead) and is capped with a very special sonic oddity: the Overlord guitar synthesizer, a subtractive monosynth that does a remarkable job of pitch tracking and note triggering with any electric guitar.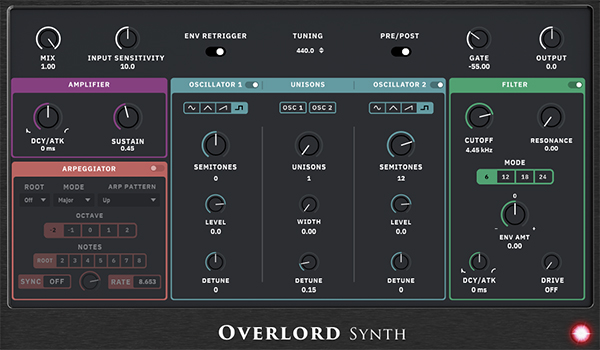 Rabea has a unique effects pedal collection including Twin Blade dual compressor, Chaos Bed octaver, Colossus fuzz, and Paragon overdrive. This Archetype collection also includes the pitch transposition and doubling features found in the Archetype Petrucci collection. Overall, this collection covers ethereal cleans to modern high-gain metal, with a wide range of synthetic effects and absolute guitar synth calamity.

---
Each Neural DSP package has a built-in tuner, and some of their plug-ins feature metronomes for practice. They all offer a variety of speaker choices based on impulse responses (IRs), along with a collection of microphones (up to two per speaker cabinet). With numerous popular mics to choose from, and the ability to control mic placement, there are a staggering number of ways to customize and tweak sounds to your specific taste.
The packages include both stand-alone applications as well as plug-ins supporting popular platforms including AAX, VST 3, and AU.
Usability
We installed the plug-ins on a pair of Different PC audio workstation running Windows 11 and tested both the stand-alone applications as well as the AAX plug-ins running in Avid Pro Tools and the VST3 plug-ins in PreSonus Studio One. There were no complications getting the software installed, and it was easy to select our audio interfaces (Focusrite Clarett 8PreX and UA Apollo x8) in the native desktop application.
The interface for all products is relatively constant, and it only took a few minutes to get comfortable with the layout. Across the top of the interface, we could toggle our view between pedals, the amp, the speakers/mics, and the post-effects. The middle of the window shows the amp at hand, and below the amp are icons that enable you to select among the various amps in a given collection.
Besides the visually gorgeous interface, we loved the multiple resizing options. On our studio's 34" display, we were able to make the plug-in's interface especially large, making it easy to see and adjust while sitting a few feet away from the desk.

It was easy to select sounds, adjust the extensive array of virtual knobs and switches, speakers, and mics, and adjust effects. These plug-ins have a very well executed user interface.
In plug-ins like the Archetype Petrucci, we have to give a shout-out to the fantastic metronome. It's certainly not the reason we'd buy these plug-ins, but damn! This was the nicest user interface of a metronome we've had the pleasure of working with. It was very easy to set odd-time patterns and choose from a variety of different metronome sounds. If you're going to nail those prog metal riffs, this is a great tool to get your complicated parts tight.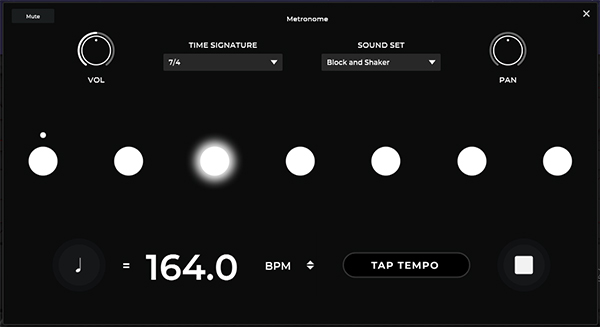 Sound
Each of the Neural DSP plug-ins comes loaded with a ton of factory presets. Some were developed by the musicians at Neural DSP while many of the presets were designed by well-known guitar players. Once we noticed presets developed by players ranging from Cory Wong to Ola Englund to Pete Thorn, not to mention John Petrucci and Rabea Massaad (and a ton of other great players), we knew we'd need to make sure we paired the right guitars with these plug-ins for the truest experience. As such, we tested these plug-ins with guitars including a Suhr Modern, Music Man JPXI, and a Fender American Elite Stratocaster.
To say we came away impressed would be an understatement. From vintage pop and rock to modern drop-tuned metal, these virtual amps handled their target genres with ease, and there were so many fantastic presets on board that we never bothered to create new presets from scratch. There was always a great starting point from which to customize the sound and dial it in to taste.
Fans of Dream Theater and its guitar master, John Petrucci, need look no further anywhere in their quest to capture his signature tones. Sure, you could purchase a few different Mesa Mark-series amps, but the Archetype Petrucci collection truly nails his tone, effects and all. Having presets named for classic Dream Theater songs was particularly useful, and the collection really spanned the catalog from his early days using a Triaxis rig to the current lineup with his signature heads.

We were blown away by the inclusion of an acoustic guitar amp optimized for the Piezo acoustic output of a guitar, whether you have a Music Man JP-series instrument (as we do) or any other guitars with Piezo output. It sounded fantastic, and eliminated the need for an acoustic DI box to further enhance the sound quality.

The Archetype Rabea was somewhat similar tone-wise to the Petrucci collection, but with the added mayhem created by the Overlord guitar synthesizer and some very ambient time-based effects. The guitar synth tracked each of our guitars superbly, and while it's mono only, it creates a wide range of really interesting sounds.
Both of the Archetype amps featured pitch transposition, and this too worked extremely well. We would have no issue tracking standard-tuned guitars dropped more than four steps, and the plug-ins even pitch shift up, so you can make use of your drop-tuned guitars in standard tuning scenarios as well.
The Fortin Cali suite features more of an EL-34 approach to high-gain rock and metal, and there's definitely a more vintage vibe happening here. If you're not familiar with Fortin's fabulous amps, think of the Cali as a versatile, hot-rodded Marshall blended with the focus and attack of a Bogner Ecstasy.

For classic rock and pop players, the Tone King Imperial Mk II delivered vintage Fender tones in Tone King's familiar package. Including their amp's power attenuator was an interesting attention to detail as you can play a cranked amp at bedroom volume when it's on the computer, but being able to attenuate the amp virtually further expanded the ways in which you could explore this amp in your studio.

As you might expect, the Tone King Imperial Mk II pairs well with pedals, and placing one or two overdrive pedals in front of the amp added some extreme versatility to the range of sounds on tap.
Each of the packages also includes a noise gate that worked very well, though it was hardly necessary, even on the high-gain amp models. The Fortin didn't include a metronome, and the Tone King had a simpler looking metronome. Based on the outstanding design in the Archetype amp models, we'd love to see that metronome be included in each of Neural DSP's amp models.
If you were to pair the Tone King Imperial Mk II with any of the other plug-in packages we reviewed, you would have a stunning array of amps and typical effects to choose from. But of course, Neural DSP has even more virtual amps to choose from, so really, whatever your tone of choice, we're confident based on exploring these four packages, you won't be disappointed…
Unless, however, you're a finesse player who makes extensive use of the guitar's volume knob. We found that with some of these amp models, rolling off the volume did not always clean up the amps the way a real tube amp would change its tone and response. In general, we achieved best results from guitars with low-output, single-coil pickups (like our Strats) vs. guitars with high-output humbuckers (like the Music Man JP). But in all cases, we only achieved useful sonic changes across the first seventy-five percent of the volume control. Once we were three quarters of the way down on our volume knobs, they pretty much dropped to zero output.
If you're a hard rock/metal player who always plays with the volume knob at full and gets your amp tones from different channels or pedals, then you'll be in heaven with everything you throw at these plug-ins. If you like to play a single-channel, high-gain amp and roll off the volume to get your clean tones, results may vary based on the amp model and your choice of guitar. It should also be noted that there can be additional contributing factors to this subtle detail including the way the high-Z instrument input on your audio interface responds.
Documentation and Product Support
Neural DSP includes fantastic documentation in PDF format with their plug-ins, though it took a bit of searching on our Windows PC to find where the PDFs were located. Fortunately, you can just visit the Downloads page on their website to download all of their manuals. Our only bit of advice: Move the GUI Basics section to the start of the documentation.
Price
The Neural DSP Fortin Cali Suite and Tone King Imperial Mk II sell for approximately $100 apiece via the company's website. Prices are listed in Euros.
The Neural DSP Archetype: Petrucci sells for approximately $150 and Archetype: Rabea sells for approximately $140.
These are great prices for incredible sounding, highly playable, virtual amp collections. Whether you want to record guitars completely in-the-box or build a virtual live rig, rock and metal players who don't rely on volume knobs for gain control will be in heaven. We'll definitely be reaching for these plug-ins first when the need for amp modeling in the studio arises.
These models really are as good as the hype suggests. So good, in fact, that we're almost afraid to try Neural DSP's hardware-based Quad Cortex floor modeler. If it sounds as good as their plug-ins, there might just be a new modeling pedalboard sheriff in town. We'll have to find out soon!
Contact Information
Neural DSP
www.neuraldsp.com