Category

Value

Rating

Features

20%

Usability

25%

Sound

25%

Documentation & Support

10%

Price

20%

OVERALL RATING = 3.5 Stars (out of 4)


3.6 stars or better: Outstanding, WIHO Award




3 stars or better: Worth considering




2 stars or better: Suited to specific needs




1 star or less: Not recommended
We've reviewed numerous acoustic guitars over the years, and have purchased a few beauties to keep on hand full time. Taylor guitars are frequently praised in our reviews for their combination of superb craftsmanship, comfortable playability, and sumptuous tone that is bell-like and chimey.
While most acoustic guitars tend to feature combinations of spruce, rosewood, and mahogany, Taylor has been branching out into other woods both exotic as well as… sustainable!
The 724ce grand auditorium acoustic is stunning, as the guitar is completely made of Koa, while the 514ce features what Taylor Guitars is considering to be a newly "discovered," sustainably sourced, tone wood: Urban Ironbark. Technically, it's red ironbark eucalyptus, but Ironbark or Urban Ironbark will suffice.
Having spent a few months with each, it's clear that while both retain many hallmarks of classic Taylor tone, they each impart their own new colors to the spectrum, particularly in the case of the 724ce with its Koa construction. The new Ironbark tone wood retains a very familiar Taylor tone.
If you've already got a classic Taylor acoustic, sure, there's always room for additions to the family, but if you already own a classic 514ce (immensely popular model in the family), which features a cedar top and mahogany back/sides, the new tonewood is remarkably similar, and too close to justify adding to your family. But if you're shopping for your first premium acoustic guitar, each of these are worthy of your consideration if the tone delivers what you're seeking.
Features
Taylor 724ce
The Taylor 724c Hawaiian Koa acoustic guitar is absolutely stunning. The natural matte finish really brings out the beautiful wood grain from top to bottom and all sides of the guitar. The edge binding of the body of the guitar is Maple/Black/Maple and Indian Rosewood.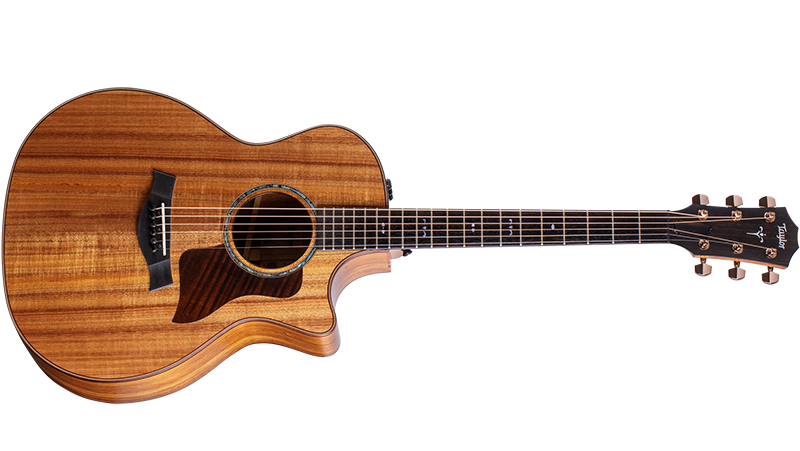 Being part of the 700 series family, you'll appreciate some of the enhanced cosmetic details on display including a rosette made of paua shell accented with Indian Rosewood and Maple; a dark stained maple pickguard; and fountain, shell, mother of pearl fretboard inlay markers.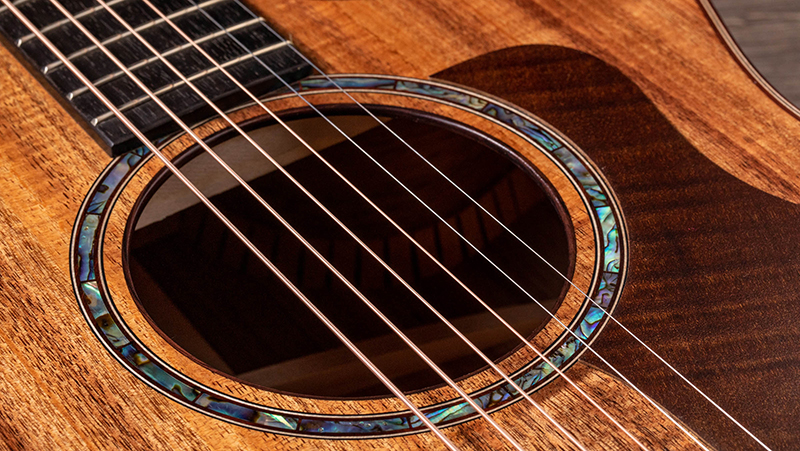 The 1-3/4" width neck of the guitar is made of Tropical Mahogany with West African Crelicam Ebony Binding, Fretboard and Truss Rod cover. The peghead features a mother of pearl logo and is fitted with Taylor polished bronze tuning machines. The nut and bridge saddle are made from Tusq.
All new Taylor guitars feature the company's patented V-Class bracing system, designed to enhance volume and projection, and internally you'll find Taylor's ES2 Expression System for amplification.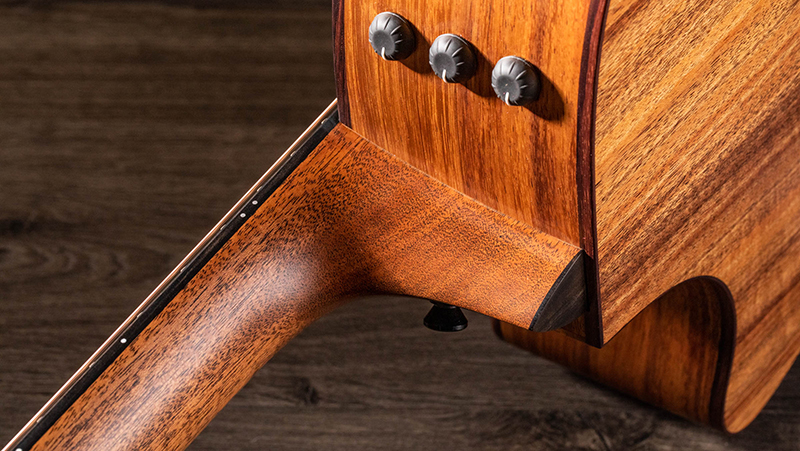 A pair of strap pegs adorn the body, and the pickup system's battery is easily accessed underneath the bottom strap peg. There's no need to dig around inside the sound hole for battery replacement.
Taylor 514ce
Taylor has been leading the charge when it comes to finding sustainable ways to manufacture acoustic guitars, and the 514ce grand auditorium features a new tone wood that most of us have never heard of before. The top of the guitar is a familiar torrefied spruce, but the back and sides are cut from Urban Ironbark.

According to the Taylor folks, ironbark combines the tonal characteristics of rosewood and mahogany, and is great for a multi-purpose acoustic guitar targeting the all-around player who needs everything from a big strummer to a fingerstyle finesse instrument. The wood's natural red hues are accentuated by the light stain, while the spruce top has a lightly shaded edge burst.
Again, you'll find Taylor's patented V-Class bracing system, designed to enhance volume and projection, and internally the Taylor ES2 Expression System is ready for amplification.
Similar to the 724ce, the 514ce also features a 1-3/4" width neck cut from tropical mahogany, with a West African Crelicam Ebony fretboard. This guitar features a new Italian-inspired inlay on the neck, tortoise binding edges, and a beautiful, single ring, abalone rosette surrounding the sound hole.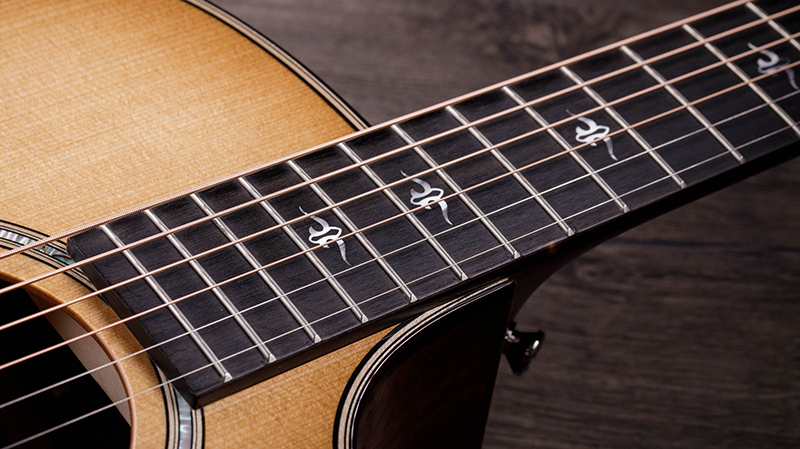 A pair of strap pegs adorn the body, and the pickup system's battery is also accessed directly underneath the bottom strap peg. There's no need to dig around inside the sound hole for battery replacement.
Our only disappointment cosmetically: Taylor did a poor job on our review guitar's binding, with multiple "blank" spots where the binding didn't apply well. We've never seen this level of inattention to detail before on any Taylor guitars and hope that this was just one bad binding finish that they purposely put in the review loaner collection.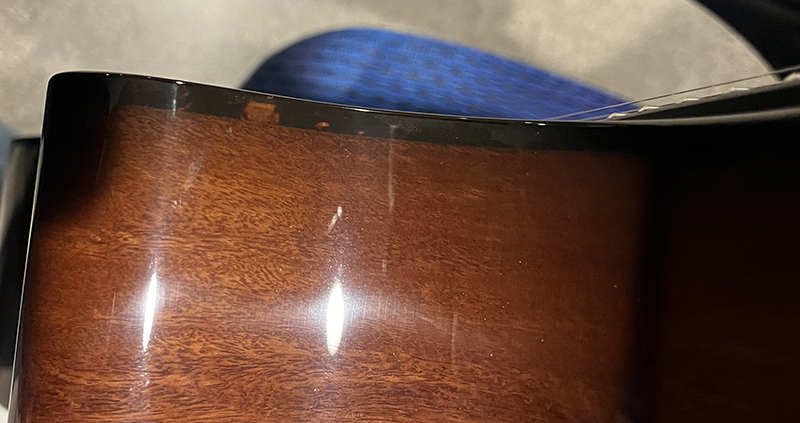 Each guitar comes with a premium, well padded, hard-shell case.
Usability
Both guitars are grand auditorium models with Venetian cutaways and the same necks. With virtually identical body dimensions to boot (16" wide, 20" long, 4-5/8" depth), they play just as nicely as one another, with hardly any difference in feel. We do have to comment, though, having reviewed (and subsequently purchased) the stunning 914ce, we now miss having a beveled top on the body for our arm to rest across every time we play another acoustic guitar. Oh well. They can't all be 900s.
String tension tends to be somewhat tight on Taylor guitars, but they are easily playable across the majority of the 25-1/2" scale length neck. If you like to dig in on your bluesy bendy notes, though, you'll get a good workout.
The ES2 pickup system offers simple controls across three rubberized button knobs: volume, bass and treble, with the tone controls offering a center detent for boost/cut. We never experienced any feedback issues when amplifying these instruments.
Sound
This pair of guitars sound great, especially together! Although they share nearly all the same build specifications, when it comes to the different wood selections, they sound remarkably different from one another, and when played together, offer a dreamy combination of tones that deliver the full spectrum of Taylor acoustic bliss. But taken on their own, each one of these guitars tells a different story that is suited to its own place in the musical spectrum.
The Taylor 724ce Koa provides a very well-balanced sound allowing all strings to ring out evenly and in rich harmony. The guitar wasn't overly heavy on the low end nor too bright on the top end. Strumming chords really revealed how well the Hawaiian Koa tone wood supported the full tonal spectrum of the guitar in a nice, even manner. Single note clarity was also evident from top to bottom of the register.
Compared with some of the other Taylor guitars we have reviewed over the years, we found the Koa sound to be on the thinner side overall. This is not to say that the sound from this guitar is lacking richness by any stretch of the imagination, but other traditional Taylor guitars have just had bigger, rounder voices that had a thicker presence overall.
If you're used to traditional sound of a Taylor, which lean a little more to the bright side of the spectrum, the Taylor 724ce may sound a little covered by comparison—not as bright and chimey, though the Koa does feature a warm tone that is sure to please.
The Ironbark 514ce sounds more like a classic Taylor guitar, with deep low notes that you really feel, and a sparkly high top that is a hallmark of the Taylor sound. It was also noticeably louder unplugged than the 724ce. But unlike the even frequency response delivered by the Koa 724ce, this guitar exhibited a slightly scooped sound, with the middle frequencies quieter in relation to the larger presence felt at both the top and bottom.
The Taylor ES2 Expression System electronics in each guitar translated the acoustic sounds remarkably well as we ran the guitars into an L.R. Baggs Para Acoustic DI and then into a P.A. system. So well, in fact, that the scooped presence of the 514ce remained just as it was unplugged. And here's where this tonal distinction matters: in the context of rock and pop music, we found that the Ironbark 514ce didn't cut through a live band mix nearly as well as the 724ce, whose balanced sound worked remarkably well.
Each of these guitars sounds beautiful, but they have distinct tonal qualities that separate them from the traditional Taylor guitars with spruce and mahogany builds. The good news is that if you have one of those other guitars, either of these will make a nice addition to your tonal palette. If you just need one premium acoustic guitar, then you should check each of these out and compare which one has the acoustic vibe that best suits your style of play.
Documentation and Product Support
There's nothing much to speak of documentation-wise with these guitars in the case, but every acoustic guitar player owes a visit to the Taylor Guitars website, where you'll find a ton of useful content related to the care and treatment of your acoustic guitar.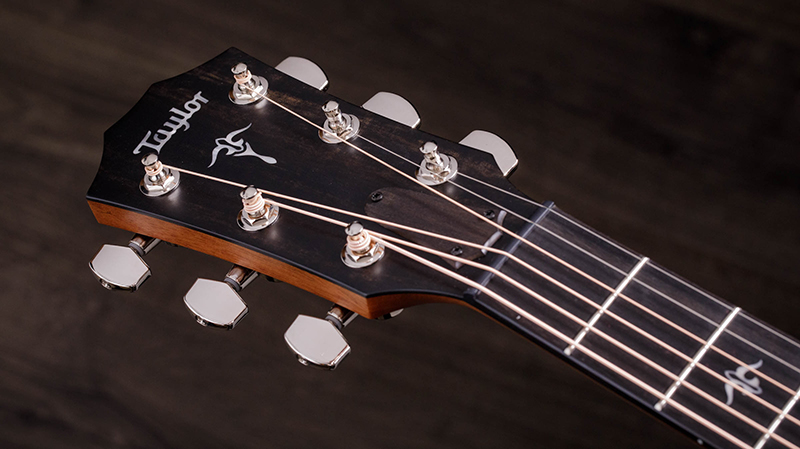 Price
The Taylor 724ce sells for $3,499.
The Taylor 514ce sells for $3,299.
With very similar pricing and exact feature sets, both American-made guitars deliver premium tone at fair prices. They add another flavor of sound to the Taylor lineup—though the Ironbark 514ce is closer to "classic" Taylor tone delivered in a new, sustainable wood. Each is excellent sounding and playing, and worthy of consideration if you're looking for a premium acoustic guitar.
Contact Information
Taylor Guitars
www.taylorguitars.com