TAYLOR® GUITARS REDESIGNS ITS POPULAR ROSEWOOD 400 SERIES WITH NEW APPOINTMENTS, AND A NEW GRAND PACIFIC BODY SHAPE
The Update Includes The Debut Of The Grand Pacific 417e Model, A New Gloss Tobacco Sunburst Finish And Architecturally Inspired Fretboard Inlays For A More Vintage Look
EL CAJON, Calif., 2023 -- Today, Taylor® Guitars, the leading global builder of premium acoustic guitars, brings an eye-catching new aesthetic to its highly regarded rosewood/spruce 400 Series. The solid-wood, U.S.-made guitars feature a tobacco sunburst top with a brand-new "Finial" inlay design. The update includes the arrival of the first 400 Series Grand Pacific model — the 417e — Taylor's round-shoulder dreadnought shape, appealing to those looking for a warm and robust sonic output. Updated models include the 414ce (Taylor's classic Grand Auditorium shape) and the smaller Grand Concert 412ce. The guitars are available now at authorized Taylor dealers worldwide.
"The 400 Series has always represented everyday musical utility and craftsmanship without being too precious for the working musician, but it's time to give the guitar more of the spotlight," says Andy Powers, Taylor's Chief Guitar Designer, President and CEO. "This new format elevates the visual character of the series to better match its stage-worthy sound."
The newly designed fretboard inlay is inspired by classical flourishes in carpentry and architecture. The aesthetic update also features a rich tobacco sunburst — a design choice seen more recently in other Taylor series, including several new American Dream sunburst guitars. White binding, black and white top purfling, and an agoya shell rosette add crisp accent details, highlighted with a gloss-finish body.  The tonal personality of the series is flavored by the classic tonewood pairing of solid Indian rosewood and Sitka spruce, yielding warm lows, crystalline highs and sparkling overtones. The overall design combines a refined-rustic vibe with the clear, stage-worthy Taylor sound that working musicians have relied on for years. The 400 Series update includes three models: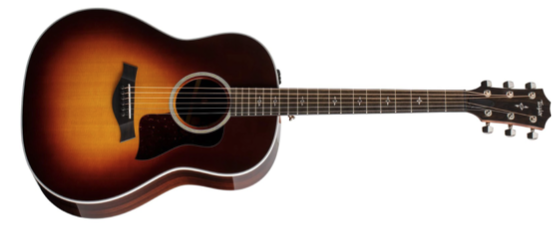 417e
Joining the 400 Series for the first time is Taylor's round-shoulder dreadnought Grand Pacific 417e. The Grand Pacific body style offers a broader, more versatile option to a traditional slope-shoulder dreadnought-style guitar. Powered by V-Class bracing, the 417e produces clear low-end power and a warm, seasoned personality. The guitar includes a tobacco sunburst top, nickel tuners and a faux tortoiseshell pickguard along with onboard ES2 electronics and deluxe hardshell case. Street price: $2,999.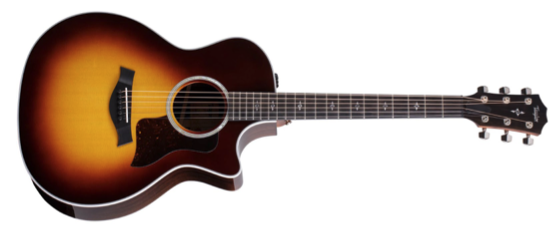 414ce
Showcasing Taylor's flagship Grand Auditorium body shape, the 414ce serves up dynamic, full-spectrum sound in a package meant for all types of guitar players. Rich lows and clear, assertive highs with a scooped midrange allow the 414ce to play especially well in arrangements with other instruments and vocals that tend to occupy the midrange sound spectrum. The solid Indian rosewood and Sitka spruce tonewood pairing is appointed with white binding and Finial fretboard inlays in Italian acrylic. As with the entire 400 Series, the guitar includes a deluxe brown hardshell case for maximum protection. Street price: $2,999.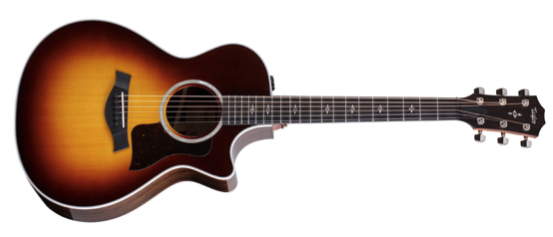 412ce
The smallest body shape in the 400 Series, the 412ce Grand Concert acoustic-electric delivers a slightly scooped midrange, warm lows and pristine highs that all tie together for a notably articulate, clean sound that responds well to a light touch and records exceptionally well. The tobacco sunburst top headlines this model's appointment package, along with a Finial Italian acrylic inlay suite and a single-ring agoya shell rosette with gloss-finish body. The guitar comes with onboard ES2 electronics and a deluxe brown hardshell case. Street price: $2,999.
Taylor's redesigned 400 Series guitars can be found at Taylor dealers worldwide and online at taylorguitars.com. For more information about the new models and the entire Taylor lineup, please visit taylorguitars.com and follow us on Facebook, Instagram, YouTube and Twitter.