The John 5 Ghost Telecaster® guitar Features an All-White Fretboard and Red Killswitch and Debuts Alongside a Custom-Branded 10' Instrument Cable, Leather Strap, and a 6-Pack of 351 Celluloid Picks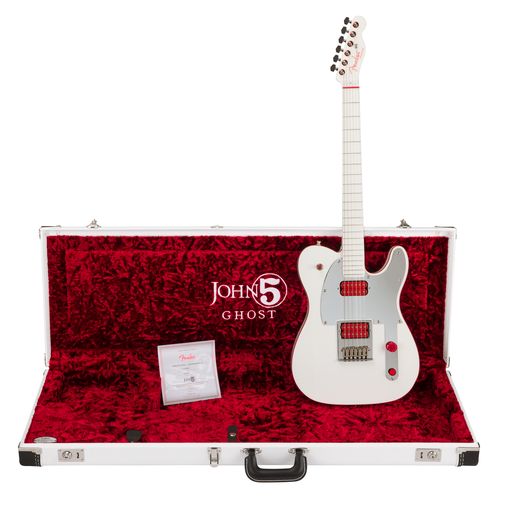 HOLLYWOOD, Calif. (May 23, 2023) — Fender Musical Instruments Corporation (FMIC) today announces the launch of the John 5 Ghost Telecaster® and signature accessories collection, the latest signature Telecaster® guitar from the iconic guitarist who's rocked Fender guitars throughout his storied career. John 5 has admitted to pulling inspiration from diverse genres when writing music, including country, bluegrass, metal, rock and jazz, so when it came time to design his new signature model, he sought to create an instrument completely unique that could accommodate any playing style. The result is the Ghost, a versatile instrument that is certain to turn heads and excite fans across the globe.
John 5, now guitarist for Mötley Crüe, started his career as a session player before establishing himself as the ax-man for hard rock heavyweights including David Lee Roth and Rob Zombie. For almost three decades, John 5 has become one of the most in-demand guitar players on the planet, having worked with an impressive array of talent from across the industry. An eternal student of music, John 5's expansive knowledge of various genres shows up in his bluegrass licks, sweep-picking solos and high-speed chicken-pickin' lines – all with a Fender Telecaster ® in hand. This summer, John 5 can be seen shredding on the Ghost Telecaster, giving fans worldwide the chance to catch him in action while on tour with Mötley Crüe.
"I've played Telecasters my whole life and getting to design my own is a dream come true," said John 5. "When it came to design, I was inspired by some of Fender's previous collaborations, but sought to create a model that would be both visually stunning and comfortable to play. Fender helped me design a Telecaster that was different from anything else on the market and the easy-to-play all-white fretboard and unique pickguard is proof of that. The leather strap and cable match the guitar's white aesthetic and the pick visuals are absolutely killer!"
Introducing the John 5 Ghost Telecaster. It features a top-bound alder body and 1-piece maple neck finished in an enchanting Arctic White gloss and accented by striking red appointments and a gleaming mirrored pickguard/control plate.
The John 5 Ghost Telecaster® features all John 5-approved specs. These include: a custom neck profile with 9.5" radius fingerboard and narrow tall frets that provide excellent playability, an alder body with balanced tone and smooth clarity, and modern, medium-high gain humbucking pickups by Dimarzio that are designed to replicate the sound of active pickups in a passive format. Visually, the John 5 Ghost Telecaster® is unique to most guitars on the market boasting an "all-white" look that is further enhanced by the contrasting red binding and accents, and a flashy chrome pickguard.
Along with the Telecaster®, John 5 wanted to give a little something extra to fans, which has come to life in his signature collection of accessories. The accessories collection includes a white leather strap with red suede backing, a 10' cable in artic white with custom molded red ends and a six-pack of 351 celluloid picks featuring John 5's logo and graphics as twisted as his Telecaster ® playing.
"Over the span of his career, John 5 has shown that his guitar skills know no bounds in terms of genre or sound," said Justin Norvell, EVP of Product at FMIC. "The Ghost Telecaster® is a celebration of his iconic style, with a killswitch that allows rapid-fire stutter effects and a chrome pickguard that completes the stunning look of this guitar. Beyond that, the signature capsule collection allows John 5 to give fans something that celebrates the whole visual experience of his artistry, not just his inventive guitar playing."
In true tradition, the Fender® Artist Signature Series honors iconic musicians through product progression and storytelling, creating instruments inspired by the unique specifications of the world's greatest guitarists and bassists.
For technical specs, additional information on new Fender products and to find a retail partner near you, visit www.fender.com. Join the conversation on social media by following @Fender.