Umlaut Audio may be not be familiar to many keyboard players, but they are certainly on their way. PADS and ARPS are two of their new commercial offerings, after working for years, privately, with leading film scorers such as Danny Elfman. Offering fantastic simplicity, while still presenting a solid feature set, and delivering fresh sounds, Umlaut Audio has introduced two unique virtual instruments that are worth your consideration.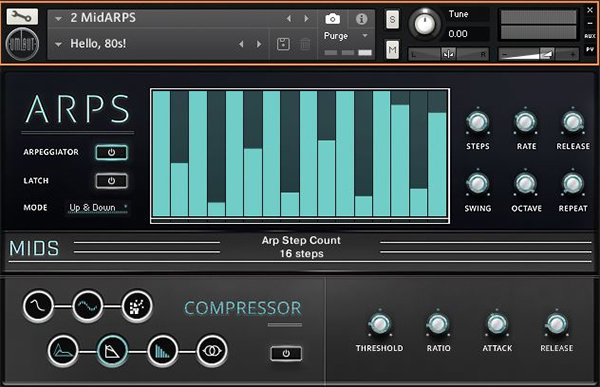 PADS is all about pad-type sounds. It is downloadable via the Connect application, is 4.9GB large, and requires Kontakt version 5.5.2 or higher (full or free version). There are over 140 presets, and these are divided via a drop-down menu into three categories: Clean, Complex, and Rhythmic.
Sounds are made up of two independent layers, and have multiple filter options with configurable Attack, Release, Cutoff, Resonance and Tune controls for each sound source—in addition to panning and volume controls. A nice touch is the Randomization feature, which allows sound sources to be changed while maintaining the existing configuration parameters.
A thirty-two-step sequencer for each of the two sound sources is available, accessible when you click on the MIX/MOD button, which toggles between the two. It looks like this:

Also in the modulation section are menus for the ENV and LFO section. While the knobs you turn don't display any numerical values, the center of the screen indicates your current value, and changes to reflect your adjustments.
Effects include a Convolution Reverb, Delay, Modulation (Flanger, Chorus), Distortion, LO-FI (bit crush), and EQ, all with fully configurable parameters. These effects are represented towards the button of the window as icons, and—it's a minor gripe, but we do wish they were labeled either directly or via tool tips pop-ups when moused over. Once you click on an icon, you see the name of the effect, but more info without clicking would be welcome.
So how does PADS sound? Good, and sometimes great! The presets provide solid starting points, but by themselves aren't necessarily going to make you stop in your tracks. The company's origin with custom sound design for film composers is obvious, though, as half the pads we explored at the start made us feel like we were scoring Hans Zimmer's Interstellar (minus the organ).
It's when you start changing the parameters and experiment that the fun really kicks in. The sequencer section was particularly exciting. Even better, if you're unsure of what to do, there are online videos to help guide you and get you started. Selling for $149, this is a decent deal, and it's NKS compatible, too, if your studio takes advantage of NI Kontrol-series keyboards.
ARPS is an amazingly small 20MB (not GB!) plug-in, with the same method of install and Kontakt requirments as PADS. Just to be clear: this is a percussive instrument, so if you're expecting wild Jupiter-8 synth arps, you're looking in the wrong place.
There are four "instruments" within ARPS: kick, mid, tick, and perc, and each one has five presets. The GUI is very similar to PADS (particularly the SEQ window, not surprisingly).
The arpeggiator features a configurable, free-draw, 64-step sequencer with latch and seven modes of operation. The pattern can also be modified with Step count, Rate, Release, Swing, Octave count and Repeat controls. ARPS also features seven effects including Filter, Distortion, LO-FI (bit crush), Transient control, Compressor, Delay, and a Spatializer to modify the spread effect of your overall sound.
The graphical display is really a breeze to use, allowing you to easily draw your pattern with the mouse. Like PADS, this is where the real creativity comes in for making interesting beats. By opening each instrument and assigning them to the same MIDI channel, a single key can launch a wall of percussive sounds as intricate or simple as you create (and it's easy to go way beyond the presets).
Out biggest disappointment was the lack of synth arps. How cool would it be to have a nice analog synth sound you could so easily manipulate with the user interface? Perhaps integration between PADS and ARPS will be coming in the future. Regardless, the sounds that are included are solid, and should be able to find broad use across the board.
Also just like PADS, there's no label for the effects when you mouse over them. Not a big deal, but helpful to have.
ARPS sells for $99, and while not unreasonable, could be considered by some players to be a little high due to the limited sound palette outside of percussion. Nevertheless, there is a lot of potential across multiple genres with what you get.
In short, these are two easy-to-use virtual instruments with many good and great sounds. If you tire of the complexity of other soft synths, you may revel in the simplicity of these software interfaces. Sound design is straightforward and… easy!

Videos courtesy of Umlaut Audio

Contact Information
Umlaut Audio
www.UmlautAudio.com