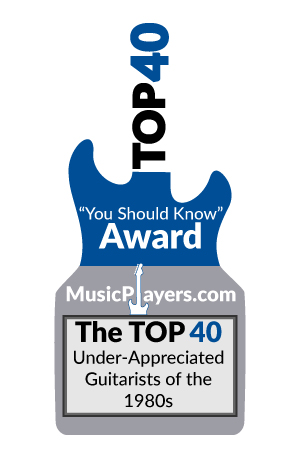 Why You Should Know Him
One of the most frequently overlooked guitarists and songwriters from the 80's is English progressive-rock giant, Steve Hackett. Hackett's biggest claim to fame may be that he was the lead guitarist for Genesis during a majority of the 1970's, however, after leaving due to creative differences with the band, Hackett has put out an incredible amount of solo work that showcases a unique and sometimes exotic approach to songwriting and the guitar.
Hackett was instrumental in the success of Genesis' 1972 album, Foxtrot, which reached number twelve on the charts in the United Kingdom, as well as the 1973 release, Selling England by the Pound, which reached an even more impressive spot at number three.
Dedicated Genesis fans will instantly recognize Hackett's versatile guitar playing in the classical guitar composition "Horizons" off of Foxtrot, as well as his tapping technique used in "Dancing with the Moonlight Knight" from Selling England by the Pound (yup, the same tapping technique that would end up becoming a staple of Eddie Van Halen's playing by the late 1970's.)
After departing Genesis, Hackett put out six solo records during the 80's, including an album of entirely instrumental classical guitar pieces. In 1986 Hackett formed GTR with Yes and Asia guitarist, Steve Howe. Though the group only lasted a few years, their self-titled debut album reached number eleven on the U.S charts and allowed the group to tour extensively through North America and Europe.
Whether it be with Genesis, GTR, or on a solo record, Hackett's signature playing style is extraordinarily diverse, yet easily recognizable.
The Gear
Part of Hackett's unique sound involves his use of multiple guitar synthesizers to add eccentric synthesized lead sounds to his tracks. Some of the synths that Hackett used during the 80's include the Roland GR-300, 500, and 700 models.
If you've seen Hackett live, chances are that at some point he had a Les Paul hanging off of him. One of his most famous guitars is his 1957 Gibson Les Paul Goldtop loaded with twin humbuckers that can be heard on his infamous "Firth of Fifth" guitar solo.
Hackett also regularly used a Les Paul Custom, modded with a Floyd Rose tremolo as well as a Roland hex pickup and controls for the GR-700.
During his time with GTR, the main guitar that he used was a modded Schecter Strat with a Kahler tremolo arm as well as a controller for the Roland GR-300 guitar synth.
For a while, Hackett used Hiwatt amps, but during the 1980's began to move more towards Marshall amplification and now uses Marshall 1987x 50-Watt heads and Marshall 1960A 4X12 cabinets. Hackett has also spoken about his openness to amp simulation in the studio because of the flexibility and open-ended creativity that it allows for.
Hackett has employed a large amount of effects pedals over the years, but some of the most notable pedals he has used include the Digitech Whammy, Vox V847 wah, Line 6 DL4 delay, the Lovetone Meatball envelope filter, and a number of fuzz pedals including the Colorsound Tone Bender, the Lovetone Big Cheese, and the Shaftesbury Duo.
Where Is He Now?
Today, Hackett is busy working on even more solo material and continues to strive towards an end goal of innovative and thought-provoking music. Hackett was featured on two tracks of Marillion guitarist Steve Rothery's 2014 solo record, The Ghosts of Pripyat. He released an entirely solo work in 2011 entitled Beyond the Shrouded Horizon, followed by a release of re-worked Genesis songs under the title Genesis Revisited II.
In 2015, he released another solo album entitled Wolflight in the United States. After this release, Hackett went on extensive touring throughout the U.K where solo work from Voyage of the Acolyte through Wolflight was showcased as well as selections from the Genesis catalog. Hackett's most recently released a solo album in March 2017, entitled The Night Siren, for which a tour is currently scheduled.
He has most certainly made a name for himself in the music world as someone who went on to have an extremely successful career after leaving mainstream success behind in favor of personal growth and expression; an accomplishment few can truly declare.
Back to the Top 40 Under-Appreciated Guitarists of the 1980s.