A new stereo mastering console, 16-channel mastering monitor controller, and the updated passive mastering EQ are all now shipping
Montreal, Canada - July 24, 2018 - SPL of Germany has announced the release of 3 new devices that expand their Mastering Series hardware line. The three new units are the redesigned DMC stereo mastering console, the MC16, a 16-channel analog mastering monitor controller, and the updated PASSEQ, passive mastering equalizer. All three products are now shipping and are available in the US and Canada through distributor Audio Plus Services.
DMC:
The new DMC stereo mastering console is engineered from the ground-up making it not only more flexible with better specs than SPL's previous console but also more ergonomic and sized to fit in all types of studio furniture. The 3RU console has 4 stereo inputs and 4 stereo sources, with 2 stereo recording outputs, as well as 3 stereo and 2 mono speaker outputs that can be expanded with the new MC16 controller (see below). The new DMC console operates on the same unequaled 120V DC audio rail like each of the other SPL Mastering Series processors. The new DMC console is priced at half of its predecessor, and yet offers more features and improved audio performance.
MC16:
Today's mastering studio must be prepared for Dolby Atmos(r) and Auro 3D(r) projects. Monitoring up to 16 channels in a quality that is on par with state-of-the-art stereo was hard to achieve - until now. The new MC16 monitoring controller operates on SPL's 120V DC audio rail and sports the world's first 16-gang custom-designed precision potentiometer from SPL. Most mastering studios use their L/R speakers (and subwoofer) for both stereo and multi-channel monitoring; to expand on that standard setup, SPL has developed a way of pairing the MC16 with their new DMC stereo mastering console for seamless integration of multi-channel monitoring with a stereo mastering environment. The combination of DMC and MC16 allows mastering studios to work in all current audio playback formats at the same quality level, all without reconnecting any speakers.
PASSEQ:
The newly updated PASSEQ passive mastering equalizer complements their highly acclaimed range of 120V audio rail Mastering Series processors. The new PASSEQ offers the flavor and genuine sound of passive inductive coil filter equalization. As the most versatile passive equalizer ever built, each channel of the new PASSEQ offers 72 passive filters - all built with high-grade single-core coils. Compared to its predecessor, the new PASSEQ sports an extended high-frequency EQ range to 35kHz making it ideally suited for 'ultra high frequency' processing, and the Mid Frequency Cut now starts much lower at 200Hz compared to its predecessor at 1kHz. Other new features include a +/- 10dB output gain control for precise calibration and the Auto Bypass function with interval control that is also featured on SPL's IRON mastering compressor and the PQ mastering equalizer.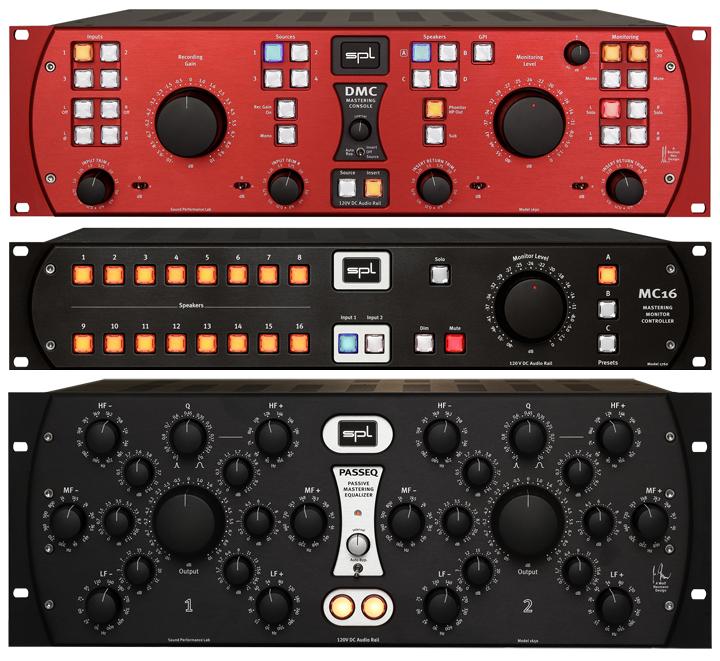 Mastering engineer Michael Romanowski is using the DMC console at his Coast Mastering studio with great results. "The new DMC is the heart of my mastering system, with all my analog processing gear connected to it," he says. "The most important things for me about the DMC are its transparency, its flexibility in gain structure, and its monitoring capabilities. And with emerging markets for immersive audio, its ability to expand the channel count is a necessity. Those are the biggest reasons that I choose to use the DMC."
"The DMC is so clean sounding and open, the transparency of the sound is fantastic," continues Romanowski. "I like how much headroom the audio has, that I can push it, let it breathe, or anywhere in-between - I can count on what I'm hearing to be accurate. I am not hearing anything holding it back in any way. Because I use analog outboard gear for all of my mastering work, the DMC allows me to set my gain structure correctly with the input and output trims. I can get my analog chain to behave with exactly the right signal to noise ratio that works for my system."
"I also like the feel of using it," he adds. "The new DMC has all the functions I need as a console. I like the feel of the knobs, and the clean and intuitive layout is perfect to stay focused in my work. I can't say enough about how good this new DMC console is for me."
SPL has a long tradition in designing and manufacturing exceptional mastering equipment. Their flagship 8-channel mastering console, the "MMC1" used by mastering gurus such as Bob Ludwig, Simon Heyworth, and Darcy Proper along with the 'King of Parametric Equalizers' the iconic "PQ", have proven SPL's leadership in designing the highest quality and sought-after mastering equipment. Beyond the three new products demonstrated at NAMM, their current mastering series also comprises the highly acclaimed IRON mastering compressor and the latest incarnation of the PQ mastering equalizer. All of SPL's Mastering Series is exclusively powered by their proprietary 120V DC audio rail technology.
Pricing:
SPL DMC stereo mastering console: street price $6,499.00 USD
SPL MC16 16-channel analog monitoring controller: street price $5,999.00 USD
SPL PASSEQ passive mastering equalizer: street price $5,999.00 USD
All three products are available in Black or Red models.
SPL has released videos about the new products and technology, view them here:
SPL DMC Video Manual: https://youtu.be/CsGy22ExAd0
SPL MC16 Video Manual: https://youtu.be/QZHRQz_7jg8
SPL PASSEQ Video Manual: https://youtu.be/BppxhoXsSZ4
SPL Mastering Vision: https://youtu.be/W_qsFyixiSM
SPL 120V Rail Technology: https://youtu.be/93liM7d5GlQ
About Audio Plus Services
Established in 1991, Audio Plus Services is a leading North American importer and distributor of premium consumer and professional electronics brands including Focal Professional, SPL of Germany, Lauten Audio, Vovox, IsoAcoustics, Zaor Furniture, Cymatic Audio, Vicoustic, Pop Audio, and EarSonics. Based in Montreal with U.S. shipping facilities in Champlain, NY, Audio Plus has sales personnel located throughout the United States to professionally service their active roster of more than 350 specialty A/V and Pro Audio dealers. Audio Plus specializes in products and services for the professional audio and performing musician markets, as well as the home theater and custom integration (CI) market - both residential and commercial - for North America.
For more information about Audio Plus Services visit their website at http://www.audioplusservices.com/ or call (800) 663-9352.