SLASH FT. MYLES KENNEDY AND THE CONSPIRATORS:
UNVEIL NEW SONG
'MIND YOUR MANNERS'
INSTANT GRAT RELEASED TODAY HERE
"DRIVING RAIN"
FIRST SINGLE OFF NEW ALBUM 'LIVING THE DREAM' IS THE HIGHEST SOLO CHART DEBUT AT RADIO FOR SLASH
Listen to "Driving Rain" HERE
NEW LOS ANGELES SHOW OCTOBER 16 AT THE PALLADIUM ON SALE TODAY, FRIDAY, AUGUST 17 HERE

HEADLINING U.S. TOUR KICKS OFF THURSDAY, SEPT. 13 IN LOS ANGELES
ALL TICKETS HERE
NEW ALBUM
'LIVING THE DREAM'
OUT SEPTEMBER 21 VIA SNAKEPIT/ROADRUNNER RECORDS HERE
Today, Friday, August 17, SLASH FT. MYLES KENNEDY AND THE CONSPIRATORS have unveiled the new song "Mind Your Manners," off their new album titled LIVING THE DREAM out on September 21 via SLASH's own label Snakepit Records, in partnership with Roadrunner Records. The new song follows the release of first single "Driving Rain" now the highest charting radio debut of SLASH's solo career cracking Top 20 at Rock radio with a climb to #17 this week. "Driving Rain" has already generated well over 1 million streams. Listen to "Driving Rain" HERE and "Mind Your Manners" HERE, purchase the songs digitally HERE and pre-order LIVING THE DREAM HERE.
SLASH describes "Mind Your Manners," "I wrote this song on the spot to help the band get up and running once we got back in the studio this past January. It's just a go-for-it type of song. Pretty straightforward rock and fun to play." MYLES KENNEDY adds "'Mind Your Manners' was something I didn't hear until the guys had started jamming together. It's a cool, up-tempo sort of thing and I knew immediately it would have its own place on this record. Lyrically, it's about how when things are going well there always tends to be someone who tries to rain on your parade and knock you down. You have to keep people like that in check and not let them get to you."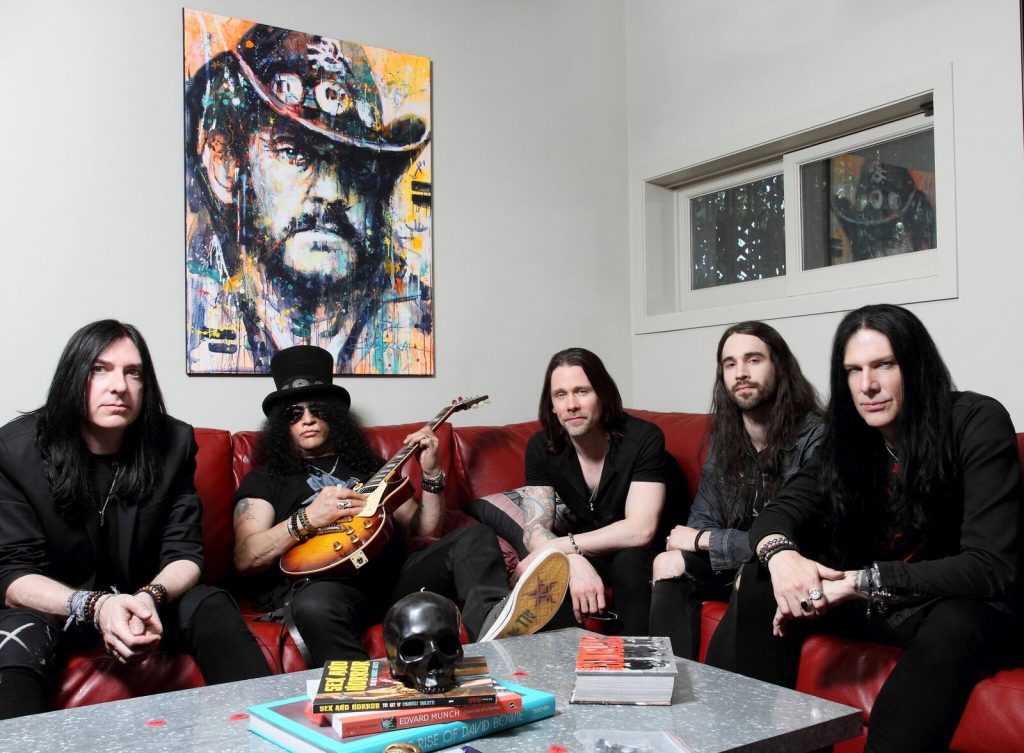 Today, August 17, SLASH FT. MYLES KENNEDY AND THE CONSPIRATORS announced a second Los Angeles show set for October 16 at The Palladium in Hollywood, CA. Tickets for the October 16 Los Angeles show are on sale starting today, HERE. The group's North American headlining tour officially begins September 13 in Los Angeles and will visit 20 major cities including New York, Denver, Philadelphia, Boston, Washington, DC (Silver Spring, MD), Chicago (New Buffalo, MI), Dallas (Thackerville, OK), Austin, Houston, and more before ending October 16 in Los Angeles (all dates below). All tickets for the fall SMKC tour are available at: http://www.slashonline.com.
LIVING THE DREAM is SLASH's fourth solo album, and third with SLASH and his bandmates MYLES KENNEDY (Vocals), BRENT FITZ (Drums), TODD KERNS (Bass & Vocals) and FRANK SIDORIS(Guitar & Vocals). On LIVING THE DREAM, SLASH, and his band re-teamed with producer Michael "Elvis" Baskette (Alter Bridge, Iggy Pop, Incubus) on the powerful 12 song collection. The band's previous albums World On Fire and Apocalyptic Love, debuted in the Top Ten on 12 charts globally, spawned three #1 hit singles at U.S. Rock Radio and earned worldwide praise garnering SLASH some of the best critical acclaims of his career. World On Fire was tagged by Guitar World as "another bold and unapologetically riffy statement" and "a varied, immersive and incredibly hard rocking effort" (December 2014). Rolling Stone described Apocalyptic Love--the band's debut album--as "filled with head bangers and plenty of fancy fretwork" and Revolver declared it "a collection of lean, high-octane rock-and-roll tunes built to be blasted out of open-top sports cars, or more suitably, open-air stadiums" (May 2012).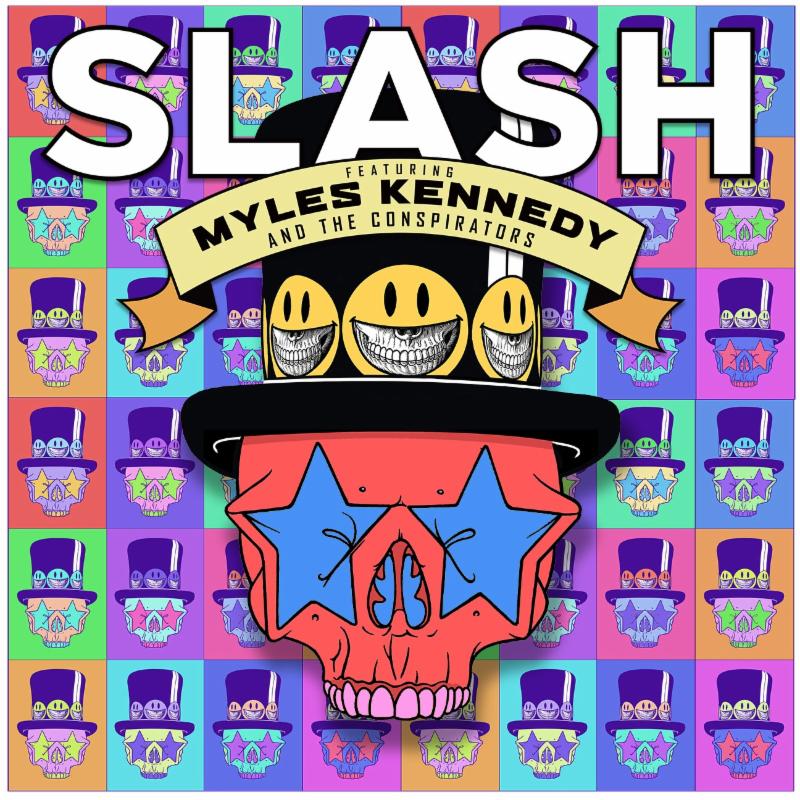 Following is the tracklisting for LIVING THE DREAM:
1. The Call of the Wild
2. Serve You Right
3. My Antidote
4. Mind Your Manners
5. Lost Inside the Girl
6. Read Between the Lines
7. Slow Grind
8. The One You Loved Is Gone
9. Driving Rain
10. Sugar Cane
11. The Great Pretender
12. Boulevard of Broken Hearts
Following are SLASH FT. MYLES KENNEDY & THE CONSPIRATORS tour dates: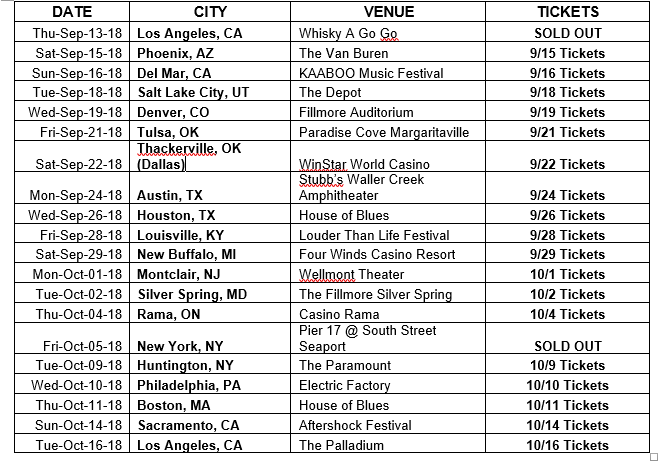 For more information on SLASH FT. MYLES KENNEDY & THE CONSPIRATORS, visit:
WEBSITE | FACEBOOK | TWITTER | SPOTIFY | INSTAGRAM | YOUTUBE
Listen to the new song "Driving Rain" on YouTube:
https://www.youtube.com/watch?v=W1LaQ68tkDg&feature=youtu.be
Purchase "Driving Rain" and digitally pre-order the album LIVING THE DREAM:
https://roadrunnerrecords.lnk.to/livingthedream
About Slash Ft. Myles Kennedy & The Conspirators:
SLASH--the iconic, GRAMMY-winning, American rock guitarist, songwriter and film producer--has amassed album sales of over 100 million copies, garnered a GRAMMY Award and seven GRAMMY nominations and was inducted into the Rock and Roll Hall of Fame. SLASH landed on the top of the charts with his first solo album, Slash (2010) which featured Ozzy Osbourne, Fergie, Myles Kennedy and more. Shortly after, he formed his current band SLASH FT. MYLES KENNEDY & THE CONSPIRATORS--which features MYLES KENNEDY (lead vocals), BRENT FITZ (drums), TODD KERNS (bass/vocals) and FRANK SIDORIS (rhythm guitar)--who've been touring worldwide and making music for over four years. SLASH FT. MYLES KENNEDY & THE CONSPIRATORS released the critically acclaimed Apocalyptic Love (2012) which stormed the Billboard Top 200 Albums Chart debuting at #4 as the top rock album. Apocalyptic Love has the added distinction of spawning SLASH's first-ever #1 rock radio solo hits: "You're A Lie" and "Standing In The Sun." SLASH released Nothing Left To Fear (2013) the first-ever motion picture he co-produced from SLASHfiction, his film/TV production company specializing in the horror genre. He is currently working on a new film project. SLASH FT. MYLES KENNEDY & THE CONSPIRATORS unleashed their second album World On Fire to worldwide praise garnering SLASH some of the best critical acclaims of his career. SLASH's third straight solo album to debut in the Top Ten, World On Fire achieved over 12, Top Ten chart debuts around the world. The album's title track, first single "World On Fire" ascended to #1 at U.S. Rock Radio. In 2016, Guns N' Roses re-united and SLASH joined Axl Rose and Duff McKagan for the ongoing "Not In This Lifetime Tour" which Billboard now ranks as the fourth-highest grossing tour of all time.