THE BRIAN SETZER ORCHESTRA ANNOUNCE NEW CONCERT FILM
'CHRISTMAS ROCKS! LIVE'
OUT NOVEMBER 9 ON HD BLU-RAY VIA SURFDOG RECORDS
Iconic guitarist, songwriter, vocalist and three-time Grammy-Award winner BRIAN SETZER(and his 19-piece ORCHESTRA) has announced CHRISTMAS ROCKS! LIVE, the new concert film to be released on Blu-Ray Friday, November 9--just in time for the holiday season. Filmed in Santa Barbara at the historic Granada Theatre, the 18-song film highlights SETZER's renowned arrangements of holiday classics such as "Rockin' Around The Christmas Tree," "Jingle Bells"and "Here Comes Santa Claus" in addition to hits "Stray Cat Strut," "Jump, Jive An' Wail," and "Rock This Town." Also featured is SETZER's skillful rendition of the "Nutcracker Suite." Click here to watch a trailer.
Pre-order is available now, here.
CHRISTMAS ROCKS! LIVE, which comes with an audio download, is set for release just prior to THE BRIAN SETZER ORCHESTRA's November 16 launch of their 15th anniversary "Christmas Rocks! Tour"--presented for the fourth consecutive year by SiriusXM--that is set to visit 25 cities(all tour dates listed below). Read a Q&A with SETZER about his excitement for the 15thanniversary of the Christmas tour here.
TRACK LISTING:
"Pennsylvania 6-5000"
"Rockin' Around the Christmas Tree"
"Hoodoo Voodoo Doll"
"Stray Cat Strut"
"Boogie Woogie Santa Claus"
"Gene & Eddie"
"Angels We Have Heard On High"
"Jump Jive An' Wail"
"Here Comes Santa Claus"
"Wichita Lineman"
"Runnin' Down A Dream"
"The Christmas Song"
"Rockabilly Boogie"
"Rocket In My Pocket"
"Fishnet Stockings"
"Rock This Town"
"Nutcracker Suite"
"Jingle Bells"
Catch BSO's 15th Anniversary "Christmas Rocks! Tour" in the following cities:
Date                                            City/State                                         Venue
Friday 11/16                            Minneapolis, MN                          State Theatre
Saturday 11/17                        Milwaukee, WI                              Riverside Theater
Sunday 11/18                           Detroit, MI                                     Fox Theatre
Tuesday 11/20                         Cincinnati, OH                              Taft Theatre
Wednesday 11/21                    Northfield, OH                              Hard Rock Live
Friday 11/23                             Mashantucket, CT                        Foxwoods Resort Casino
Saturday 11/24                        Philadelphia, PA                           Academy of Music
Sunday 11/25                           Red Bank, NJ                                 Count Basie Theatre
Tuesday 11/27                         Westbury, NY                                 NYCB Theatre at Westbury
Wednesday 11/28                   Englewood, NJ                               Bergen PAC
Friday 11/30                            Washington, DC                             The Anthem
Saturday 12/1                           Charlotte, NC                                 Ovens Auditorium
Sunday 12/2                              Nashville, TN                                 Ryman Auditorium
Wednesday 12/5                      Clearwater, FL                                Ruth Eckerd Hall
Friday 12/7                               Orlando, FL                                     Hard Rock Live
Saturday 12/8                          Birmingham, AL                             BJCC Concert Hall
Monday 12/10                          Grand Prairie, TX                          Verizon Theatre at Grand Prairie
Wednesday 12/12                    Houston, TX                                   Jones Hall
Thursday 12/13                        Midland, TX                                   Wagner Noël Performing Arts Center
Saturday 12/15                         Phoenix, AZ                                     Celebrity Theatre
Monday 12/17                           Denver, CO                                      Paramount Theatre
Tuesday 12/18                          Salt Lake City, UT                          Eccles Theater
Thursday 12/20                        Modesto, CA                                   Gallo Center for the Arts
Friday 12/21                              Indio, CA                                         Fantasy Springs Resort Casino
Saturday 12/22                         Los Angeles, CA                             Microsoft Theater
Visit www.briansetzer.com for more information and to purchase tickets.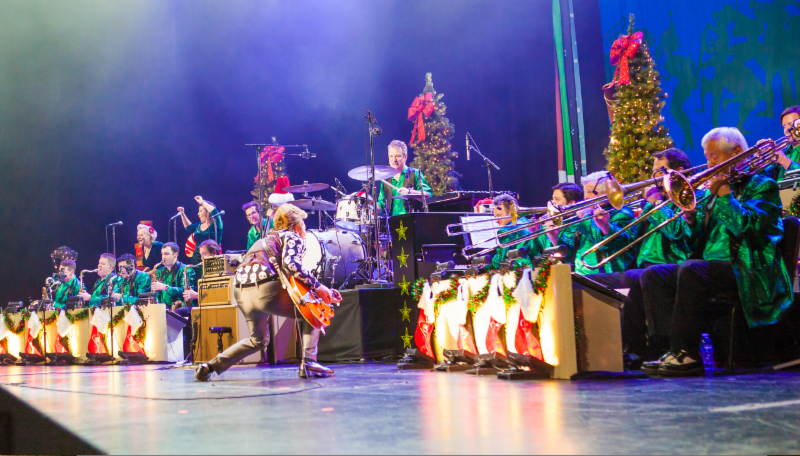 ABOUT BRIAN SETZER:
Iconic guitarist, songwriter, vocalist and 3-time Grammy-award-winner BRIAN SETZER is a "Musician's Musician" credited with continually taking chances with innovative and daring musical styles. Setzer is widely credited for taking two forgotten genres, rockabilly and swing, adding his own blend of gunpowder and rockin style, and completely reinventing and single-handedly resurrecting them in the process. Along the way, he has scored chart-topping hits, sold 13 million records and received the Orville H. Gibson Lifetime Achievement Award throughout his decorated career as founder/leader of the Stray Cats, his 19-piece Brian Setzer Orchestra, and as a solo artist. He is consistently cited as one of the world's greatest living guitarists, and has a best-selling, extensive line of elite Gretsch signature model guitars bearing his name. BRIAN appeared in the 1987 film, La Bamba, portraying rockabilly pioneer Eddie Cochran. In 2002, BRIAN earned the privilege of being one of the few musicians to be animated in an episode of "The Simpsons." That same year, SETZER was personally requested to induct Chet Atkins into the 17th Annual Rock and Roll Hall of Fame. SETZER had the honor of being invited in 2006 to perform at the White House for the President of the United States. In 2014, SETZER received the distinct honor of being asked by the Smithsonian Institution in Washington, D.C. to donate a replica of his original 1959 Gretsch 6120 "Stray Cat" guitar, joining an elite collection of iconic treasures at the museum.
For more information on BRIAN SETZER, visit:
Website | Facebook | Twitter | YouTube | Surfdog Records