This update to a Kenton classic is the perfect interface to marry your synth worlds
Price: £158.40. Available: Now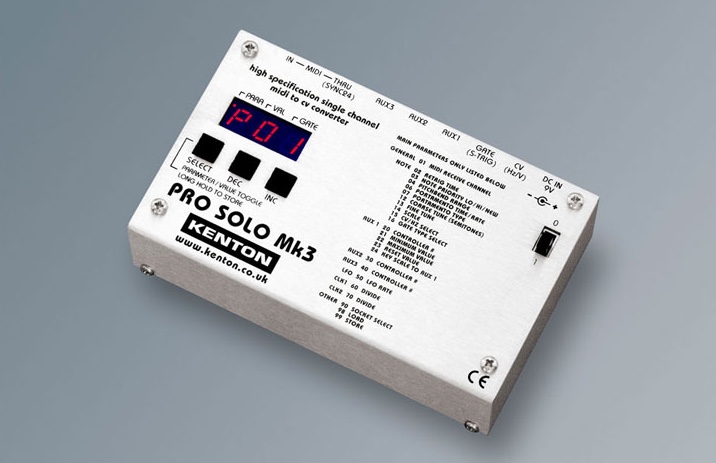 Kenton Electronics has announced the immediate availability of PRO SOLO Mk3, an update to its classic, single-channel MIDI-to-CV convertor, and the ideal device to interface between your MIDI and analogue synth worlds. The PRO SOLO Mk3 features the same high spec and the extremely accurate and flexible MIDI-to-control voltage conversion that the PRO SOLO has become famous for, but adds several essential new features. PRO SOLO Mk3 now includes additional auxiliary outputs, a built-in ADSR envelope generator and the ability to generate trigger outputs for drum synthesizers. While this makes it a must-have accessory for modular owners within the popular Eurorack scene, it is also a highly-flexible tool for many other synth set-up scenarios and, with its rugged case and brushed aluminium finish, it is well suited to life both in the studio and on the road.
PRO SOLO Mk3 features a single MIDI-In to connect your sequencer or keyboard to, plus CV and Gate outputs to trigger both note type and duration at your analogue destination. A MIDI Thru connector also doubles as a software-selectable sync so can be used, for example, to sync vintage drum machines up to a synth. Three Aux outputs complete the connections and now have continuously variable analogue outputs. These can be assigned to an expanded selection of controllers now available within PRO SOLO Mk3, and are commonly used to connect to destinations like the filter, volume or clock inputs on a synthesizer. The Aux outputs now also have adjustable slew rate (rise/fall time) to smooth out any controller jumps.
Two stand-out additions in PRO SOLO Mk3 are the built-in ADSR envelope generator (the controls for which can be assigned to MIDI CCs) and Drum Trigger mode, where the Aux outputs can be set up to produce a velocity-variable trigger pulse for drum synths, each with its own dedicated trigger note.
Other new features and extras include dual clock dividers which can be used simultaneously on different outputs (including the DIN socket when not used as MIDI out); an increased pitchbend range (now 48 notes up and down); variable gate-off time for re-trigger (multiple trigger); and finally MIDI Program Changes can now be used to recall setups. There are also 32 program memories which can store and recall such setups.
With all of these new features and enhancements, PRO SOLO Mk3 looks set to enhance PRO SOLO's reputation as the number one choice interface for a variety of MIDI-to-CV tasks. Company founder John Kenton Price says: "PRO SOLO has become something of a Kenton classic. However, we have updated the spec and added several new features to make it the perfect, flexible interface for today's analogue synth enthusiast – anyone from the vintage mono synth collector to the modular creator within the Eurorack scene."
PRO SOLO Mk3 is available now for £158.40 inc VAT (£132.00 ex VAT)
For ordering and more information click here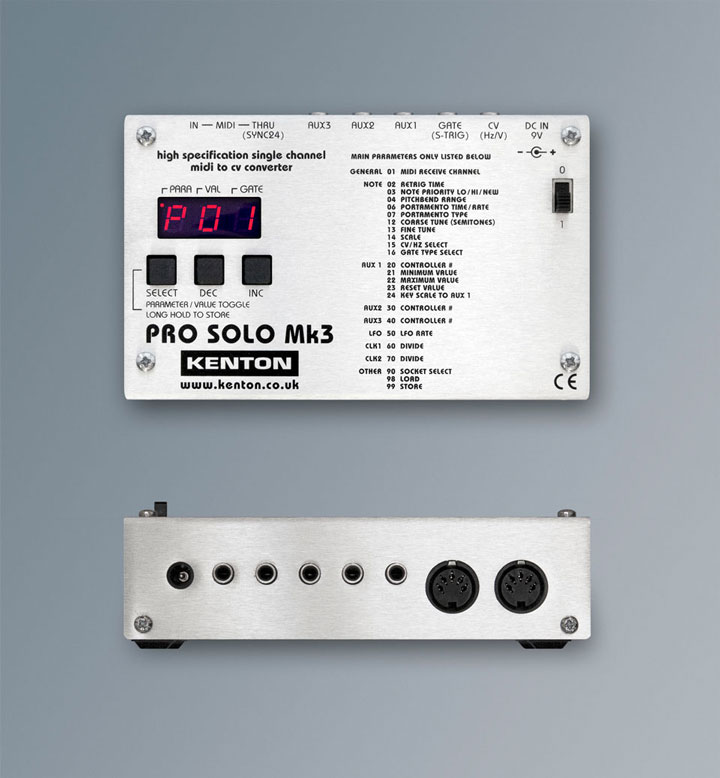 About Kenton Electronics
Kenton has been producing high quality, award-wining convertors, MIDI controllers, wireless MIDI systems, retrofits, spares and accessories for over three decades.