STYX AND LARRY THE CABLE GUY SET TO ROCK AND GIT-R-DONE WITH SEVEN UNFORGETTABLE SHOWS "LAUGH. ROCK. SERIOUSLY." STARTING MARCH 21 IN FARGO, ND
STYX MAP OUT FIRST BATCH OF HEADLINING SHOWS FOR 2019 STARTING JANUARY 11 IN PHOENIX, AZ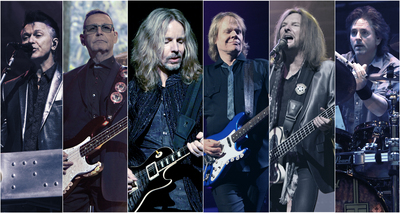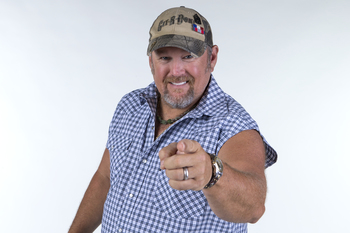 November 26, 2018 -- Legendary Platinum rockers STYX and comedy legend Larry the Cable Guy are joining forces for the first time ever to rock and GIT-R-DONE. They're coming together for seven unforgettable nights of hits and jokes billed as "Laugh. Rock. Seriously." starting March 21 in Fargo, ND at the Scheels Arena. The short trek will bring them to Minot, ND on March 22, Billings, MT on March 23, Lincoln, NE on March 27, Sioux City, IA on March 28, Cedar Rapids, IA on March 29, and Champaign, IL on March 30. Tickets for the shows go on sale Friday, November 30 at 10am local time at Styxworld.com.
Check out the official trailer for the "Laugh. Rock. Seriously." shows: https://youtu.be/XJygxN3Soh8.
"We first ran into Larry the Cable Guy at a convenience store in Sarasota, Florida many moons ago," says STYX guitarist//singer Tommy Shaw. "Now we are pairing up for a fun night of music and comedy, something we could all use a big dose of! I'm ready! Are you? Let's do this!!!"
Larry the Cable Guy, on the other hand, has a hidden agenda as to why he is performing the shows. As he explains, "Ever since I ran into Tommy at a convenience store in Florida, I've always wanted to work some shows with the iconic band STYX. Not only because their music has been a soundtrack to my life, but also to try and get back the 18 bucks I loaned him for honeybuns and coffee from that day in Florida."
In addition to these shows, STYX is already starting to map out their on-going headlining tour in support of their critically acclaimed 16th album, THE MISSION, which was released June 16, 2017 on the band's label, Alpha Dog 2T/UMe. At a very special tour stop, STYX will be performing THE MISSION, which critics have called "a masterpiece" in its entirety for the first time ever on Sunday, January 20 at The Pearl at Palms Casino Resort as part of a two-act concert event. The second act will feature all of STYX's classic hits.
Tickets are $49.95, $69.95, $79.95 and $129.95, plus applicable fees, which are on sale now. Doors open at 7pm, the show starts at 8pm, and guests under 21 must be accompanied by an adult. Tickets can be purchased at the Pearl Concert Theater box office, any Station Casinos Rewards Center or online at Ticketmaster.com. For more information, please visit www.stationcasinoslive.com or www.palms.com.
THE MISSION debuted on various Billboard charts, including: #6 Top Rock Albums, #11 Physical Albums, #11 Vinyl Albums, #13 Current Albums, #14 Top Albums, #Retail, #17 Mass Merch/Non-Traditional, #29 Digital Albums, and #45 Top 200 Albums (includes catalog and streaming). A special two-disc reissue of THE MISSION was released on July 27, 2018 via Alpha Dog 2T/UMe, which includes a CD of the original album, as well as a Blu-ray of THE MISSION mixed in 5.1 Surround Sound by singer/guitarist Tommy Shaw and producer Will Evankovich accompanied by stunning visualizations for each of the album's 14 songs based on the album artwork. Other extras on the Blu-ray include: "The Making of The Mission Documentary" of exclusive interviews of SHAW and Evankovich, four music videos—"Gone Gone Gone" (official video), "Gone Gone Gone" (video created by NASA), "Radio Silence" (lyric video) and "Radio Silence" (live video from Syracuse, NY)—and three hi-res audio playback modes.
STYX has the unique distinction of being the first band in rock history to have four consecutive certified multimillion-selling albums in a row: 1977's THE GRAND ILLUSION, 1978's PIECES OF EIGHT, 1979's CORNERSTONE, and 1981's PARADISE THEATRE. STYX draws from over four decades of barn burning chart hits, joyous singalongs, and hard-driving deep cuts. STYX set covers a wide range of stylistic cornerstones.
Larry the Cable Guy is a multi-Platinum recording artist, Grammy® nominee, Billboard award winner and one of the top comedians in the country. He has his own line of merchandise and continues to sell out theatres and arenas across the United States. Larry has created The Git-R-Done Foundation, which was named after Larry's signature catchphrase, and has donated more than 7 million dollars to various charities. In addition, Larry has his own comedy channel, "Jeff and Larry's Comedy Roundup" on SIRIUSXM. The channel is a partnership with SIRIUSXM and Jeff Foxworthy which showcases the best in great American comedy. Larry has starred in numerous television shows and feature films including voicing the character, Mater, in the Golden Globe® winning animated feature films Cars (2006) and Cars 2 (2011) and Cars 3 (2017) from Disney/Pixar.
Check out STYX at the following tour stops, including the shows with Larry the Cable Guy, with more dates to be added to Styxworld.com in the coming months:
DATE                                     CITY                                      VENUE
Fri 1/11                                Phoenix, AZ                         Celebrity Theatre
Sat 1/12                               Phoenix, AZ                         Celebrity Theatre
Sun 1/13                              Santa Clarita, CA                Santa Clarita PAC at College of the Canyons
Tue 1/15                              Bakersfield, CA                   Fox Theater
Fri 1/18                                Anaheim, CA                       City National Grove of Anaheim
Sat 1/19                               Beverly Hills, CA                 Saban Theatre
Sun 1/20                              Las Vegas, NV                     The Pearl
Fri 2/8                                 Milwaukee, WI                    UW Milwaukee Panther Arena
Sat 2/9                                 Waukegan, IL                      Genesee Theatre
Tue 2/12                              Joliet, IL                                Rialto Square Theatre
Sat 2/16                                Lake Charles, LA                 Golden Nugget Casino
Wed 3/6                               Plant City, FL                       Florida Strawberry Festival
Thu 3/21                               Fargo, ND                             Scheels Arena (w/ Larry The Cable Guy)
Fri 3/22                                Minot, ND                             All Seasons Arena (w/ Larry The Cable Guy)
Sat 3/23                                Billings, MT               Rimrock Auto Arena at Metrapark (w/ Larry The Cable Guy)
Sun 3/24                              Cheyenne, WY                      Cheyenne Civic Center
Wed 3/27                              Lincoln, NE                           Pinnacle Bank Arena (w/ Larry The Cable Guy)
Thu 3/28                               Sioux City, IA                        Tyson Event Center (w/ Larry The Cable Guy)
Fri 3/29                                 Cedar Rapids, IA                  US Cellular Center (w/ Larry The Cable Guy)
Sat 3/30                                Champaign, IL                       State Farm Center (w/ Larry The Cable Guy)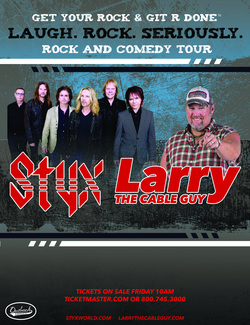 www.styxworld.com
www.facebook.com/styxtheband
www.twitter.com/styxtheband
www.instagram.com/styxtheband
www.youtube.com/styxtheband
www.larrythecableguy.com
www.facebook.com/LarryTheCableGuy
www.twitter.com/GitRDoneLarry
www.instagram.com/gitrdonegram
www.youtube.com/user/larrythecableguy