With the new 600 Series, Yamaha has upgraded the TRBX bass and turned it into a great choice for players in need of a quality, versatile, bass that doesn't break the bank. The 600 Series are available with a gorgeous body finish: translucent black, dark red burst, matted amber, or natural satin. But beyond the sweet aesthetics, this bass offers an array of useful tones that will cover a variety of musical styles.
Category

Value

Rating

Features

20%

Usability

25%

Sound

25%

Documentation & Support

10%

Price

20%

OVERALL RATING = 3.3 Stars


3.6 stars or better: Outstanding, WIHO Award




3 stars or better: Worth considering




2 stars or better: Suited to specific needs




1 star or less: Not recommended
We get a lot of messages from music educators asking what reasonably-priced bass we would recommend for students who are ready to move beyond their first instruments into something more legitimate, and the new TRBX605 easy makes that short list. We're also constantly on the hunt for "beater basses" – instruments we can take to the club gig and not panic that a misplaced ding or two will kill the beauty and value of our pricey boutique instrument. This is a perfect bass to fill that role for us, where we still require solid tone and the right feel, but without worrying that we're going to ding up our pricey studio instruments.
We've reviewed and regularly play some flagship models (like Yamaha's amazing Nathan East signature bass, reviewed here), and the characteristic Yamaha feel is present here at a fraction of the cost. We could take this TRBX605 to the gig as an alternate and feel right at home on the instrument, despite some differences in the finer details.
Features
The Yamaha TRBX605FM reviewed is a modern, attractively designed instrument with a shape that is familiar and inviting. The neck is a bolt-on design with four screws, and the 24-fret neck is a five-piece, maple/mahogany-laminated construction. The nut width is 43mm (1-1/16"). We like this spacing for our five-string basses as it's not too wide and still plenty fast to play when you've got the need for speed.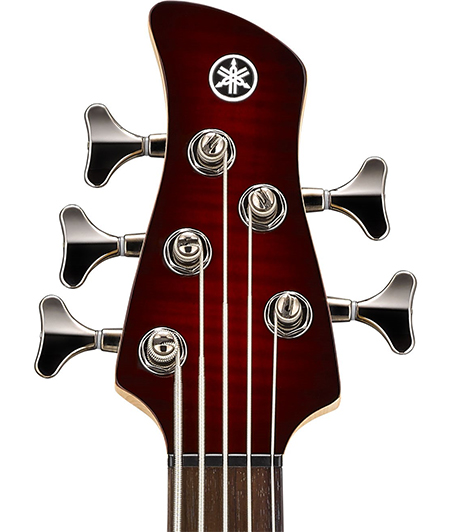 The headstock has the iconic Yamaha TRBX shape with three tuning pegs on the top and two pegs on the bottom. The straight string pull from the nut to machine head reduces overtones and aids tuning stability. The finish of the headstock matches the finish of the body. It is an alder/maple-laminated body and the finish on our 600 Series was a dark red burst, which we felt was definitely worth the upgrade in price from the basic 500 Series instruments.
The standard jack socket is located on the bottom of the body. On the back of the body there is an easily accessible nine-volt battery compartment. We love that you don't need a screw driver to make battery changes. There is also a very useful, low battery alert, red light on the back of the electronic access plate. If you ignore the red light and the battery does run out, you'll be relieved to know that this bass has both active and passive electronics, and it will still function! The battery powers two double-coil YGD pickups (YGD is a Yamaha-design pickup). The active/passive, quad-pole design with Alnico magnets makes these two pickups very tonally versatile for both active and passive modes.
The preamp features three tone controls: Bass boost and cut, Middle boost and cut, and Treble boost and cut, which also works as a dedicated tone control when the pickups are played passively. There is a master volume and pickup balancer for blending (or not) between the bridge and the neck pickup.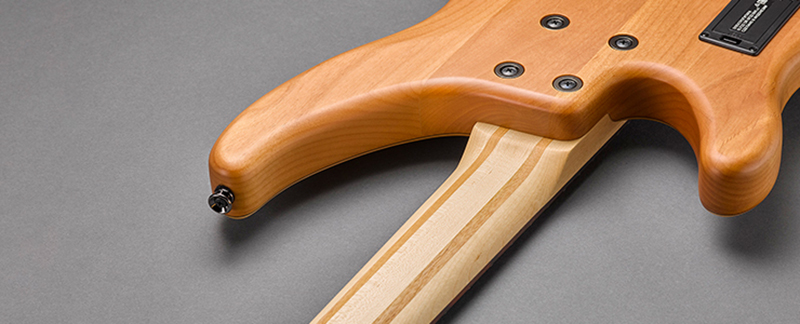 Usability
The neck and fretboard were very smooth to the touch, and with very low string height and medium-gauge strings, this bass was very easy to play right out of the box. The spacing between the strings really allowed us to dig in while playing, and made it comfortable for slapping and popping, as well traditional finger movement. The electronics were very intuitive, and each of the three EQ knobs, and the balance knob, had center detents.
In passive mode, the Treble control worked well as a passive tone knob. The standard high mass bridge and tuning pegs made changing strings easy. The truss rod was accessible without having to remove the neck, making for easy setups and adjustments.
The guitar is of average weight and was well balanced against our body both standing and while seated.

Sound
We played this bass through a number of different rigs from Mesa/Boogie, Markbass, and EBS. We also ran a variety of effect pedals in our signal chain to color the tone. We tested the TRBX605FM bass in a variety of locations from the high school band room to the recording studio to the local coffee house gig.
We preferred the active sound to the passive, but it was nice to have an optional passive tone there for a backup in case we lost the battery, or when we desired a more vintage sounding tone. For younger players who have fewer basses than the older guys, this versatility is a great thing, as the active tone delivers significantly different, clean, pop sounds, while the passive tone is more reminiscent of classic Fender tone.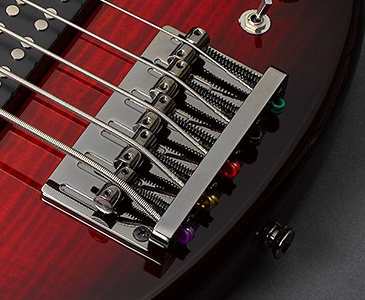 Even without the pricier name-brand pickups and hardware found on more upscale models, the TRBX605 bass sounds good (and plays great). If you need one bass to cover a wide range of musical styles, this bass covers a lot of territory.
As you would expect from humbuckers, this bass has a low noise floor, and has a fat/full sound when blending the neck and bridge pickups.
When you roll off the bridge pickup and favor the neck pick up, you actually get a larger, heavy bass sound. Conversely, when you roll off the neck pickup, you get more of a high end/treble type sound.
The low B string was always tight and authoritative sounding, and it exhibited excellent definition.
Documentation and Product Support
We really appreciated the plastic Control systems cheat sheet that shipped on the bass. This is a fine way to explain illustratively what the knobs do, and we wish every bass came with something like this.
The printed documentation covers care, setup, maintenance, etc. related to all Yamaha basses. It contains useful general maintenance information, but we wouldn't mind some additional information regarding the electronics of this bass (though you can find much of this on the Yamaha website).
Price
The TRBX605FM (MSRP $1070) sells for approximately $650 and ships with D'Addario EXL170-5/0.045-0.130 strings. It's well priced for such a versatile and well playing instrument.
Contact Information
Yamaha
usa.yamaha.com