Subconsciously, we all pick up on energy—it's felt all around us in the conversations, interactions, and day-to-date moments that make us feel human and remind us that life's not so bad. Energy is powerful, and its presence is impossible to ignore. Wielded correctly, it has the potential to initiate change, start a movement, and spread important messages. Am I about to write how the following album is ready to uproot the very fabric of physics itself? No, but it's an incredibly admirable work of art that's energetic as hell.
Dream Eternal Bliss, Picture Glass
Genre:
Alternative Rock
Musicianship:
Songwriting:
Production & Engineering:
Vibe:
Overall Rating:
3.75
Picture Glass, the latest release by Dream Eternal Bliss, checks all the boxes: the cumulation of fantastic efforts from incredibly talented musicians and engineers, a level of sonic and emotional depth (which is often absent from experimental alternative rock), and songs that universally appeal to the masses without falling into familiar tropes of pop. The amount of strategic layering yet simplification of instrumental textures throughout Picture Glass alone warrants major replayability—and that's not even to begin to scratch the surface of what this album has to offer.
To put it plainly, this album wastes no time by punching you in the face (in the best of ways, of course) with their aptly named opener "Loud." The energy birthed from that metaphorical assault seemingly forgets to let up as Picture Glass progresses, as the album's narrative and musical flow remain engaging and consistently pleasing. I like to think that if you find yourself humming or even repeating certain lines from not one but SEVERAL songs off the same record, that's something special.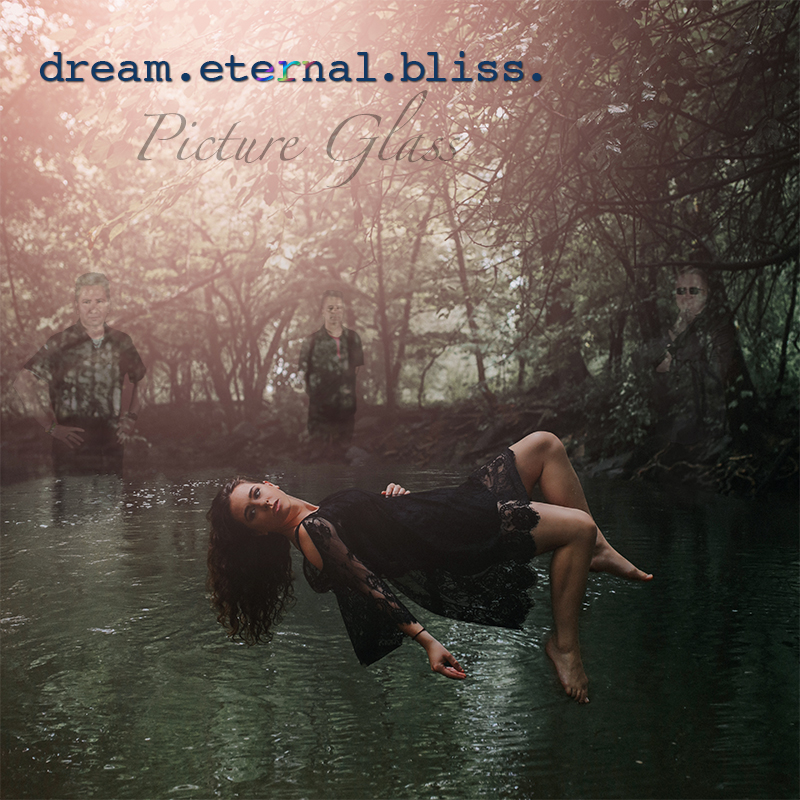 Experimentally, carefully-curated synths from Scott Kahn lay atop layers of vocalization from the fantastic and dreamy sounding, Faith Banca, in a way that echoes the best sentiments of progressive rock while remaining consistent to this album's more pop/alternative rock theme. But don't think this is some retro sounding synth record, because Derek Davodowich's guitar work is exemplary in all the right places.
At times, you find yourself questioning how something like this could be pulled off live—a question I had the privilege of experiencing early last October as I saw Dream Eternal Bliss perform a live set featuring many of the songs off Picture Glass at an outdoor festival in East Rutherford, New Jersey. I'm not here to judge the quality of a live performance; however, it's noteworthy to mention how such a well-groomed studio album sounds just as mesmerizing in a live setting.
The charm of Dream Eternal Bliss's newest release lies in several areas, but my favorite is its slow-building rising actions and prolonged sense of catharsis unexpectedly presented in each of the eight songs on Picture Glass. Vocals at times feel conversational, others confrontational, guitars feel reassuringly melodic at times, then captivatingly aggressive, and Byron Barbieri's rhythms feel consistent until he takes you in new directions—and you're just happy to go along for the ride (fantastic bass grooves throughout the record, too, from a few players including Kel Pilshaw, Pete Blomstrom, and Josh Petraglia).  Compare it to a rushing high or a life-affirming moment; it all comes back to its wielding of energy.
Picture Glass has incredible energy and manages to straddle a fine line between sounding familiar and unique at the same time. It's seemingly kinetic by nature, akin to unstoppable forces causing a physical reaction. That's what it felt like. That's what it continues to feel like. And that's the magic of it.