Category

Value

Rating

Features

20%

Usability

25%

Sound

25%

Documentation & Support

10%

Price

20%

OVERALL RATING = 3.5 Stars


3.6 stars or better: Outstanding, WIHO Award




3 stars or better: Worth considering




2 stars or better: Suited to specific needs




1 star or less: Not recommended
RJM has a solid history of making niche products that are desperately needed for the professional musician and tour-grade guitar rigs in particular. Their MIDI- and pedalboard-based controllers, switching systems, and other accessories are "must haves" for many different scenarios.
Interestingly, Ron Menelli, president of RJM, built his first effect pedal back in his teens, but pedals were never the focus of his business. Fast forward a few decades and we find Menelli bringing RJM's first effect pedal to market, the Overture programable distortion pedal, and it's a great spin on an essential pedal for many guitarists.
Considering how important overdrive is for modern guitar tones, having access to a variety of different tones in a single pedal proves quite useful, and having convenient access to select among different overdrive sounds makes the Overture even more useful. For those players forced to dedicate space on their pedalboards to multiple unique overdrive and distortion pedals, could the Overture be the one pedal to clean things up a bit? Let's find out!

Features
The RJM Overture is an all analog, MIDI programmable, overdrive pedal. Typical mono In/Out TS quarter-inch jacks as well as MIDI I/O are found on the back of the unit (a plus for tight pedalboards). A standard 9v (boosted internally to 18v) barrel type power jack (also on the rear) draws only 150mA of current, which is quite conservative and will be easily powered by any popular pedalboard power supply. A Solo and On/Off button are the only two footswitches on the pedal.
A total of six overdrive modes are available: Clean Boost, Classic, Boutique, Versatile, Smooth, And Crunch. If you're just looking to hit the amp a little harder with a more transparent signal, a 12dB pre boost is also selectable independent of the overdrive options. Overdrive modes are all universally attenuated with Gain, Volume, Bass and Treble knobs (although the Bass knob is not available in all of the modes by design). Two of these modes are RJM originals, while the other four are based off classic designs. It is important to note that "classic designs" are far different from typical amp-in-a-box pedals. More on this in our Usability section.
A well thought out programming scheme exists in which to save presets and switch on the fly. Using only the pedal, you can save eight presets across two banks. But when connected to a MIDI foot controller, you can directly access up to 100 stored presets!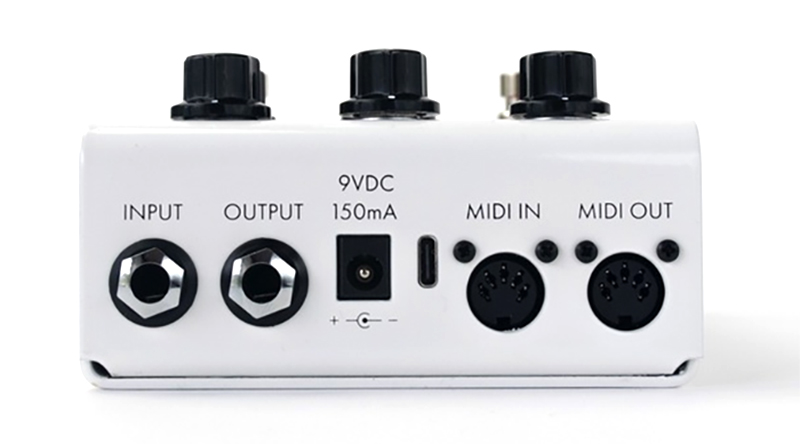 Usability
The RJM Overture aims to bring an enormous amount of control and flexibility to an otherwise simple design. This comes with both benefits as well as some negatives which we will discuss further. Setting up the pedal is as easy as any other stomp box for basic operation (plus connecting a foot controller or switcher to the MIDI In jack if you're going to take advantage of this pedal's full capability).
Full real-time control over all of the pedal's parameters is possible if your foot controller has an expression pedal. We need to note this is a significant feature for the power user. If you ever wanted to dial in (or out) the gain or other EQ settings in real time, you can do that with the Overture.
Storing presets couldn't be any easier. Select a preset on your foot controller, dial in your settings on the pedal, and then simply hold the mode button for three seconds to save. Most if not all of RJM's "gizmos" work this way, which is really a foolproof and simple approach. Scrolling through presets is a little less practical, however, if you're using the pedal without a MIDI foot controller. Stepping on two stomps at once, especially in a live situation isn't the easiest thing in the world to do, but it's necessary in order to select the next preset among the eight you have pedal-only access to.
We do understand given the small footprint there has to be some compromise in usability. We experienced a nearly identical functional hurdle in the Eventide H9 when used on its own. Asking a user to step on two buttons at once is always going to be tough. But again, this issue is entirely eliminated with the RJM PBC or any other MIDI foot controller.
We were grateful for the Solo button, which switched banks to access presets 5-8. Acting as a toggle switch, we could at least store two favorite presets (#1 and #5) and toggle between the two, which should satisfy most typical guitar players. How many classic overdrive sounds can you use in one night? (OK, don't answer that). [Editor's Note: RJM have informed us that for subsequent pedal builds, they have re-labeled the Solo button as "Bank," which is more appropriate.]
We loved that the pre boost was separately assignable. As we stated earlier, this is not a "turn my clean amp into a metal amp" boost. This pedal is inspired by classic overdrive, which by design does leak a little clean signal through the overdrive, but a tweak of the pedal design is going to have slightly less clean bleed-through (in the pedals with the new Bank labeling). In short, you probably don't want this pedal in front of a pristine clean amp like a Roland JC120 or a Fender Twin Reverb. But this pedal is perfect for any amp with some tube saturation including high-gain amps.
Sound
We initially mated the RJM Overture with our Fender American Ultra Stratocaster and our Fender Twin Pro Reissue Amp. Switching throughout the gain modes on the Overture, we found a commonality discussed above: there was a tiny bit of clean blended along with the overdrive. This did give us an unintended love it or hate it result as it wasn't the intended use for the pedal, but delivered some unique tones. Consider it a happy accident.
The overdrive in Crunch mode was nice and thick, but thanks to that hint of clean there was still a sharp transient poking through. This effect can definitely have some value, especially in a dense live situation with keyboards, horns and a million things happening on stage where you want the notes overdriven but with an exaggerated attack.
With the Clean Boost and the Pre Boost selected, we found we could get the Fender amp to break up at a bit of a lower volume (thank god). We particularly liked the Smooth and Crunch modes with this amp, as they gave the most contrast and allowed us to really hear the quality of the overdrive itself (we already know we love the amp). The overdrive definitely had that gritty, saturated sound of the classic overdrive pedals we've grown up with (such as the TS808). Balancing the tone controls on both the amp and the pedal gave us many different options and was extremely useful in extending the range of this particular amp.
Our next sound, test as you will hear in the demo video, included our Knaggs Doug Rappoport Kenai model guitar and Mezzabarba Mzero Overdrive 100W sledgehammer of an amp. If you are unfamiliar with the Mzero Overdrive, it needs exactly ZERO help getting into stupid amounts of high gain. However, the purpose of an overdrive pedal doesn't always have to radically change the sound of an amp. Just as important as sound is feel and response, and this was changed immensely with the Overture pedal.
Many guitarists like an amp that has a little fight, while others prefer effortless sustain, note bloom and harmonic content that seems to jump off the fretboard. This is a purely personal preference and something you can change to polar extremes with the Overture. Notice the tone of the amp at 1:58 when the pedal is engaged. It does not change the sound of the amp all that much. It did add a tiny bit of additional low end and definitely seemed to compress the sound, but using the crunch mode with the gain dialed in around four really took any fight the amp had away and just made playing some improv that much easier. The feel of the amp changed radically!
During sound testing, dialing in any more gain than this made this particular amp unusable. Feedback and all sorts of unwanted anomalies abounded with too much overdrive dialed in on a high gain amp. In short, know your gear, take time to dial in your sounds and you'll definitely expand your tonal palette with the Overture.
Documentation and Product Support
RJM has an online manual that thoroughly explains the pedal and also includes important MIDI information if you want to control the smallest detail parameters. There are many ways to contact RJM, although they suggest the fastest way to gain product support is to open a support ticket. They also offer a local phone number and address on their website, which is well designed and quite robust. We would describe their social media presence as limited, although they did host a Q&A regarding the pedal at launch, which was well done. We'd love to see more of this for product launches instead of the typical pattern of influencer "everything I use is awesome- led campaigns that are becoming all too common.
Price
The RJM Overture sells for $399.00. This places the pedal in what we consider the top tier for single-effect-type pedals, so it needs to really deliver. Taking into consideration nearly unprecedented flexibility in an overdrive pedal, we feel the Overture is worth the price of admission for players who need multiple overdrive, distortion, and boost options from a single pedal solution.
Contact Information
RJM Music Technology
www.rjmmusic.com