Treat, Tunguska
Genre:
Hard Rock/Melodic Metal
Musicianship:
Songwriting:
Production & Engineering:
Vibe:
Overall Rating:
3.5
Following up on their great 2016 record, Ghost of Graceland, Treat once again delivers a hard-rocking tour-de-force on Tunguska, released in the fall of 2018. A more straightforward rock record than their previous effort, Tunguska is a pure demonstration of how Treat can captivate audiences with their brand of Swedish hard rock. With catchy lyrics and just a hint of synth accompanying head-banging riffs aplenty and strong vocalization, the album is sure to get fans of melodic hard rock pumped for any occasion. We might be a few months late in reviewing it, but any chance to review this album was worth the wait!
Treat emerged out of the 1980s Swedish Hard Rock scene, and you can certainly hear influences from other fellow Swedish acts such as Europe in the synth undertones and guitar work on Tunguska. It's just a taste of Treat's roots and reminds us that the band has not forgotten them. In contrast, it's also a reinvigoration of their early sound at the same time.
Tunguska is Treat's third album this decade (the previous ones being 2010's Coup de Grace and the aforementioned Ghost of Graceland), which all showcase an exceptional rock band that has matured in every way more than a decade after their first breakup way back in 1992. In the wake of their reunion, these albums demonstrate Treat's new style, flair, and development of form all while paying homage to the melodic style and technique they were built on; Tunguska is certainly no exception.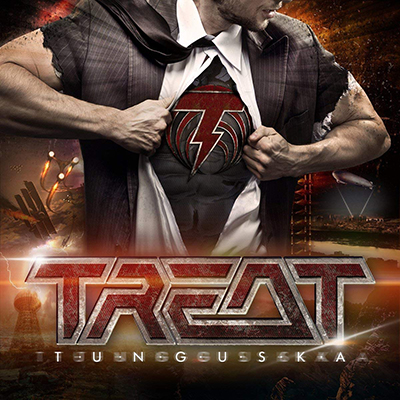 The album has a lot of high-points and is able to keep a consistent, hard rocking pace. Some of the songs start off with a slow orchestral intro for build-up, then launch you into a fist-pumping and head-banging frenzy, while other tracks kick off right into it. Most of the first half of Tunguska highlights the buildup effect and sets the tone for what's to come, and really gets you pumped for the rest of the album.
The musicianship is a contributing factor toward this record's ability to channel energy into the listener, particularly from the combination of strong, melodic guitar playing and lead work, and powerful vocals delivered respectively by primary Treat guitarist Anders "Gary" Wikström and longtime frontman, Robert Ernlund, not to mention fantastic harmonies and group backing vocals delivered by multiple musicians in the band. Combine that guitar and vocal talent with some great synth work underneath from recurring keyboardist Patrick "Green" Appelgren, solid bass grooves from Treat newcomer Pontus Egberg, and steady rhythm provided by the group's veteran drummer, Jamie Borger, and this band is able to get you excited. In fact, your humble reviewer listens to the opening track, "Progenitors," nearly every time he starts up a day of work at the MusicPlayers.com office!
The rest of the album is also able to keep up with the start. For instance, as with most hard rock bands, being bound to having "mandatory" ballad tracks, Treat conveys the emotions of the usual ballad, but are able to keep it strong all while eliminating sappiness on "Build the Love" and "Tomorrow Never Comes." The album wraps up with more of the tracks that kick right into the action and suddenly conclude, leaving us having enjoyed the record but wanting even more.
It may not be a groundbreaking album, but Tunguska is certainly a memorable one. It certainly demonstrates what Treat is still capable of—producing quality, melodic hard rock. We only wish they were more well known here in the United States so that we could see them perform their material live; we too want to ride on the "Riptide!" Overall, Treat's latest album, Tunguska, is well worth a listen, or several, especially if you're in the mood for a fresh, hard rocking pick-me-up with that classic, Scandinavian rock vibe.
Treat yourself to this record today!