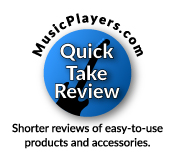 Those of us old enough to remember, fondly recall the Casio CZ synthesizer series from the '80s, but players today are more familiar with Casio's solid Privia piano series. The thing is, some have argued that while the newer Casio prodocts are solid synths and pianos, there's not often anything particularly unique that sets them apart from hundreds of other alternatives…
And that is where the new CT-S1000V comes in.  This keyboard is particularly different, and, we do have to admit, a lot of fun to play.
So what is it that would make a MusicPlayers.com reader give this consumer-ish looking keyboard a serious look-over? We will get to the features shortly, but the CT-S1000V's biggest claim to fame is that it is a "singing keyboard." If you're thinking of the classic Roland Vocal Designer keyboards, you're in the ballpark, but Casio took vocal design to the next level. Classic synths and vocoders generate vocal sounds by running your voice through various filters, with pitch controlled via the notes you play, but if you lack the ability to sing, they are relatively useless.
Category

Value

Rating

Features

20%

Usability

25%

Sound

25%

Documentation & Support

10%

Price

20%

OVERALL RATING = 3.3 Stars


3.6 stars or better: Outstanding, WIHO Award




3 stars or better: Worth considering




2 stars or better: Suited to specific needs




1 star or less: Not recommended
With the Casio CT-S1000V, the voices you play are completely generated by the synth itself, but this not vocal patch synth playback. This is performance of real words, phrases, and consonant sounds, through various synthesized/modeled sounds ranging from vocal singing to vocoder to talk box to robot voice and beyond!
The pitches are determined by what notes on the keyboard you're playing, but the syllables and words are your own creation, first entered into the keyboard via an app that you load on your smartphone/tablet. Once you have the words and timing set via the app, you save them as vocal presets. There are 150 slots for vocal presets, with the first 100 already populated by Casio from the factory.

The Casio CT-S1000V also includes an additional 800 instrument presets accessed separately, and you can toggle between the vocal and instrument presets from dedicated Tone Mode buttons, just to the left of the backlit LCD screen. The sounds cover a fairly wide range including pianos, electromechanical pianos, synths, pads, and the obligatory strings, guitars, organs, and orchestral instruments. It's a good thing that they are all respectable (and many are quite good), as there aren't a lot of editing capabilities on tap here. This was done purposely, to make this synth a streamlined, easy keyboard to use. Most of the time you get around by using just five buttons underneath the LCD and the large encoder to the right of the LCD.
What isn't large is the weight. The synth only weighs 4.6 kg (10 pounds), and has 61 synth-action keys. No aftertouch, but not surprising given the fantastic (low) price point. The power adaptor uses an external wall wart; however, if you don't like that you can alternately use six AA batteries for power instead.
An interesting feature is that there are two built-in speakers, sporting a 2.5W amplifier each. While some may appreciate this, others may not. You can turn them off, but we would have preferred a dedicated on/off button on the front panel for this, rather than having to dive through several layers of menus on the screen to toggle the setting.
Although we didn't use it, the keyboard also includes a detachable sheet music stand.


Getting back to the sound generation, there is also a rhythm section and additional accompaniment.  To the right of the LCD is a Rhythm button which gives you access to 293 rhythms (drum beats), which also included intro, variation, and fill-in selections to keep things interesting. We were impressed that such a wide variety of rhythms were available, even including Indian, Latino, and 6/8 rhythms. We also noted that when the accompany button was selected, the additional "backing band" in most cases, was also quite competent and entertaining. Some fun highlights included the "80's PopStar" preset, clearly a take on Michael Jackson's "Billie Jean", and the "80's SynthPop" was clearly a take on Depeche Mode's "Just Can't Get Enough." For players performing cover tunes in a one man band scenario, there is a lot of useful sonic material on tap here. And, if there's something else you need, there is a simple MIDI recorder that allows up to 40,000 notes for each song, with up to six tracks, and up to five songs.
Speaking of your own, although it is beyond the scope of this review, the Casio does offer sampling, in 44kHZ/16-bit quality. Using the menu button, you scroll to the sampling option, and can choose between an actual instrument to sample via the input jack, or you can load a .wav file from a USB drive.  You may also choose to loop the sound.

On the back of the Casio, there are several ports. This includes a USB to host, USB to device, the power terminal, 1/8-inch phone jack, 1/8-audio in jack, quarter-inch left and right audio outs, and two pedal/expression jacks.  The USB to host can be used to connect the keyboard to a smart device directly, which is required to transmit data from Casio's lyric app on a smart device (phone/tablet) into the keyboard. Interestingly, the keyboard includes a wireless MIDI and audio adapter (dongle) that can be plugged into the USB to Device port. Regrettably, this does not work for the lyric data, which has to be a wired connection. While not a deal breaker, we certainly thought that this was an odd omission, given that entering custom lyric, "singing" data into the keyboard would be such a commonly used feature, so why not make that wireless too?
The app itself, called Lyric Creator, which we used on our iPhone, was easy to use. We decided to try it out on backing vocals for an upcoming release from the band, Dream Eternal Bliss. We needed the vocals to say "ooh-la-la" in a particular rhythm. In the app, we typed these words out, and then assigned each syllable a note length or rest. We saved it, then imported into our Casio, and were able to play right away.  Playing the correct notes and chords for the backing vocals triggered the phrase just as we had hoped. One very nice detail in the Casio is that there is a selection for every vocal preset that allows you trigger the whole phrase by pressing a note or just trigger a syllable from each note press.
Additionally, there are 23 "voices" to choose from including choir, male, female, vocoder, robotic… and even some wacky things like "animals." Again, remember that the vocoder selection is not processing your voice via a mic on the audio input: it is self-generating vocals in a particular style you choose. (We wouldn't mind if Casio added a live vocal input feature, as there is an input jack present for sampling purposes). Additionally, you can also choose the age of your virtual vocalist.
We liked what we were able to generate, so we decided as a test to replace our human backup singers on the Dream Eternal Bliss track mentioned above. One thing we did notice was that the output from the Casio into our DAW was surprisingly low, and we had to jack up the Casio volume and increase the level of our preamp to get acceptable sound levels. Once recorded, we set the tempo of the Casio to match our track (it even responds to MIDI clock signals), and played our "ooh-la-la" phrase with the correct notes. Even the other members of the band were impressed!
While the app is easy to use and works as intended, we were a little disappointed there was no computer-based version of the app. Not everyone wants (or even likes) to have to use small screens and finger-tap input.  We would like to see a computer-based version of the app, which we think for those using computer-based DAWs may find easer and less cumbersome, especially if the app can transmit wireless data over Bluetooth.
So at the end of the day, what did we think?  There really are two sides to the answer to that question. Although lyrics and harmonies can be generated, it is by the synthesizer, not your own voice with harmonies then added. So, the end product is more artificial than natural sounding. And in many cases, that's great! A great example of the Casio "singing" is "Into the Dark", linked here:
While there are subtitles to read on the screen, if you close your eyes and just listen, can you understand all the words? We couldn't understand everything, though much of it was clear too.  If you're creating EDM or pop music, though, there are tons of opportunities to utilize artificial sounding voices.
The Casio CT-S1000V (MSRP $749.99) sells online for just $449.00! You get 800 instrument sounds, 61-keys with a full accompanying section, CD-quality sampling, built-in speakers with optional battery power, and of course, the claim to fame of custom lyric creation and "singing." As a fun bonus, you can also strap this keyboard on and use it as a keytar! The glass half-empty person might argue about some key missing features, but at this price point, it is hard to complain. Casio has created a very fun, low cost, and easy-to-use keyboard that is particularly unique and guaranteed to create fun and original vocals. In the right setting and with a little creativity, it can produce some very professional results, and we expect that a lot of EDM producers will end up making this a "secret weapon" of sorts in their studios.
Contact Information
Casio
https://www.casio.com