Paris, March 21st, 2019 - UVI releases Key Suite Acoustic, delivering the dynamic, powerful and often charactered sounds of 20 acoustic keyboard instruments including grand pianos, uprights, plucked strings and metallophones. Designed to be a one-stop-shop for acoustic keys, Key Suite Acoustic provides a full palette of colors from modern, precision grand pianos to detuned saloon uprights and early classical designs. Key Suite Acoustic is available through April 1st, 2019 at a special introductory price of $149/149€).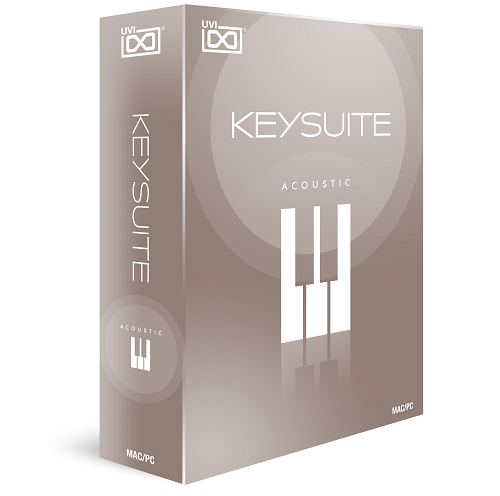 Leveraging UVI's 20+ years of experience in crafting sample-based instruments Key Suite Acoustic delivers the highest-caliber sound quality, with deep multi-sampling and powerful professional features such as control over individual mic levels, a pro-grade effects chain with IR reverb, drive, EQ, multimode modulation, delay and Sparkverb, and creative sound shaping tools including envelopes, filters and more.
Key Suite Acoustic includes 20 instruments presented in 4 groups:
Grand Pianos: Model D, Italian F278, Japanese C7, Hybrid Custom, Baby Grand
Upright Pianos: Grand Upright, German Upright, Tender Upright, The Compact, Tack Upright, Honky-Tonk Upright
Plucked Strings: Harpsichord, Clavichord, Spinet, Blanchet Cembalo
Metallophones: Celesta, Keyboard Glockenspiel, Papageno Bells, J-Celeste, Dulcitone
Key Suite Acoustic offers native 64-bit standalone operation by way of Falcon or the free UVI Workstation, providing comprehensive support for all modern DAWs and simultaneous authorization on up to 3 computers or iLok keys.
Pricing:
Key Suite Acoustic is available immediately at an introductory price of $149 / 149€ through April 1st, 2019 (regularly $199 / 199€).
Additional information on FM Suite is available at:
https://www.uvi.net/key-suite-acoustic.html