Wantagh, NY –  From late June through the end of August, Westbury-based NEFCU, in coordination with hospitality provider Centerplate and the Rick Eberle Agency/GNR Events, will present a full slate of music concerts, line dancing performances and special children's music and movie events to be held under the famed bandshell at Field 4 on the Jones Beach Boardwalk.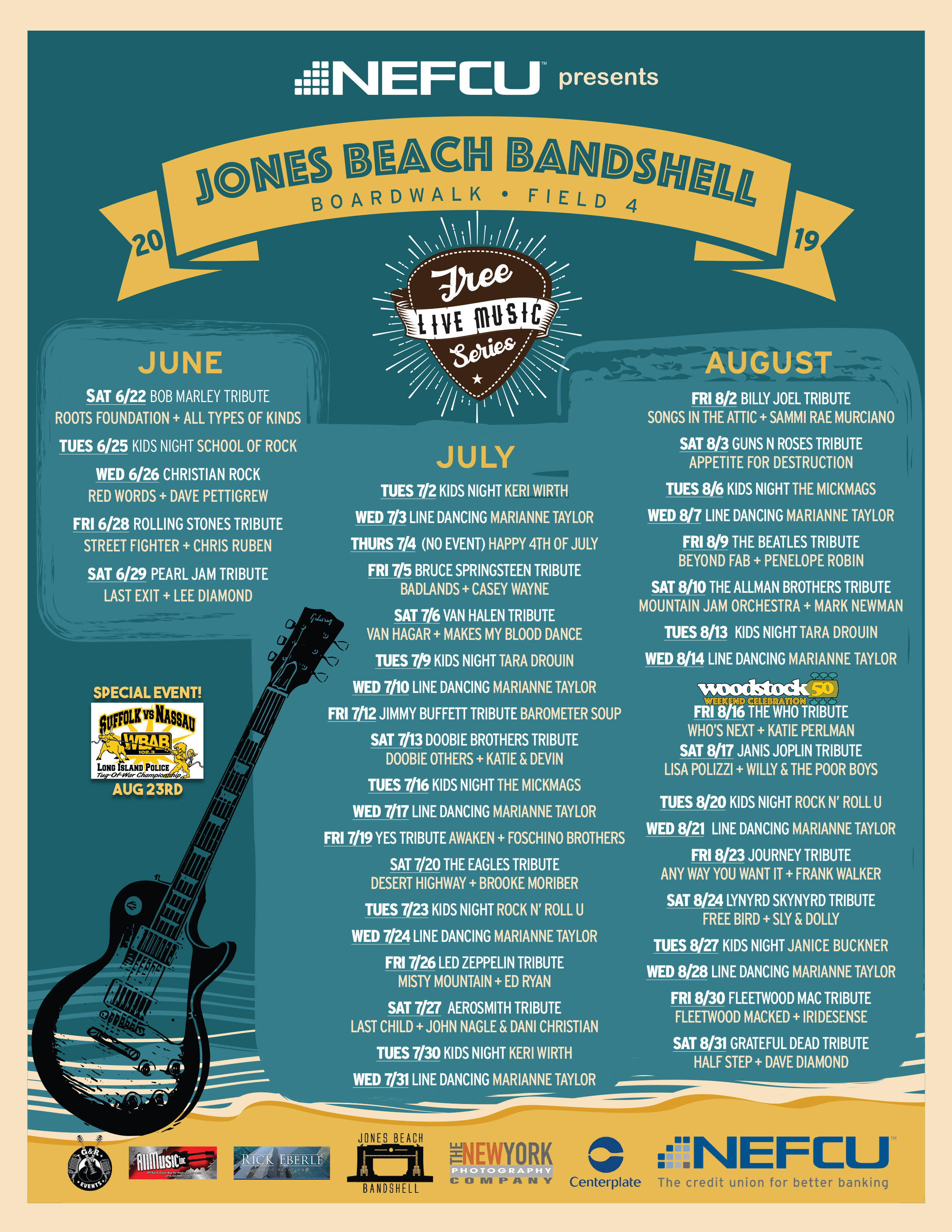 In partnering with the Huntington-based music impresario Rick Eberle and Guy Brogna at All Music Inc (collectively GNR Events), NEFCU will be presenting an impressive lineup of free events for the community.In total, Eberle's agency division GNR Events has put together 32 nights of performances running from June 22 through August 31, and a weekly "Family Cinema Night" comprising nine family-friendly movies starting at sunset every Thursday (excluding July 4) beginning June 27. A complete schedule of events can be found here.
"Our home has been Long Island since our founding more than 80 years ago, and when presented with the opportunity to bring a full menu of free entertainment to Long Islanders at this iconic local landmark, we knew it was the perfect fit for us, for our members and for the community," said Valerie Garguilo, vice president of marketing and community relations for NEFCU.
The sponsorship deal signed by NEFCU is for the 2019 season, with a renewal option for 2020.NEFCU inked the deal with Centerplate, the company that runs concessions at Jones Beach, and oversees operations for the bandshell.
The newly revamped Boardwalk Café, an $18 million project which opened in 2018, sits adjacent to the bandshell. Guests can enjoy locally-inspired menu items like seafood chowder, crab cake sandwiches, salmon burgers, paninis, salads, handmade wraps, and local Long Island craft beers. For more traditional fare, the Central Mall concession offers a number of classics, and guests can also visit the Mr. Softee windows located on the east side of Central Mall to cool off with some soft-serve ice cream, milk shakes and Ralph's Italian Ices.
"This is one jam-packed schedule of great music, films and family entertainment," said Rick Eberle."This is Long Island at its best: a local organization stepping up to provide free, high-end entertainment for all Long Islanders to be enjoyed all summer long under the stars at one of the greatest beaches in the world."
The musical concerts are predominantly tribute bands of such performers as Bruce Springsteen, Billy Joel, The Rolling Stones and Bob Marley.There will also be a weekend celebration of the 50th anniversary of Woodstock (Aug. 16-17).The "Kids Night" concerts will be held Tuesday nights (excluding July 2), while line dancing with Marianne Taylor will take place every Wednesday night.
The free film series includes screenings of "Aquaman," "Mary Poppins Returns," "Avengers: Infinity War," and "Incredibles 2," among others.


"Jones Beach is such a special place for families to enjoy on summer days, and with these performances and events scheduled for virtually every night, now it's the perfect place for families when the sun goes down," said Garguilo.
About NEFCU
NEFCU is one of Long Island's leading credit unions that proudly offers its affordable banking services to all Long Islanders. With more than $3 billion in assets and over 195,000 members, NEFCU has branches and a shared branch network throughout Nassau and Suffolk counties. To join NEFCU, eligible members must live, work, attend school, or regularly conduct business in Nassau and/or Suffolk counties (excluding the townships of East Hampton, Southampton and Shelter Island). Existing NEFCU members may also sponsor immediate family members or household members.
For more information, visit www.myNEFCU.org, call 516-561-0030 or find us on Facebook at www.facebook.com/NEFCU.
About The Rick Eberle Agency/GNR Events
A division of Rick Eberle Agency, in partnership with All Music Inc, GNR Events handles talent booking, sound and stage production, artist development and coordination of industry networking opportunities for concert venues, film festivals, musicians, actors, authors and companies of all kinds. Visit us at www.rickeberleagency.com

About Centerplate
Centerplate is a global leader in live event hospitality, "Making It Better To Be There®" for more than 116 million guests each year at more than 300 prominent entertainment, sports and convention venues. Strategically acquired in December 2017 by world leader in Quality of Life services Sodexo, Centerplate has provided event hospitality services to more than 30 official U.S. Presidential Inaugural Balls, 14 Super Bowls and 22 World Series. Visit the company online at Centerplate.com, connect via Twitter @centerplate, Instagram @Centerplate_ or Facebook.com/centerplate.